360 Mobile Security For Android Offers Per-App Malware Scan & Floating System Maintenance Window
Android security issues make headlines just about every day, ranging from malicious apps to data vulnerabilities and other types of malware. There's always been some debate on whether you really need antivirus apps on mobile devices or not, and also about the effectiveness of all the security apps available on Play Store. Though the fact remains that like any computing platform, security is a concern on mobile platforms as well, and users need to take the measures to keep their devices and the data they carry secure. Previously we've covered some genuinely useful security apps for smartphones and today, we are going to take a look at another one. 360 Mobile Security is a free app available for both Android and iOS that offers an impressive range of security tools including a robust antivirus and a system cleaner. The app scans your device to provide details about what your apps are actually up to, and if they pose any threat to  your device's security. The Android variant is quite different from its iOS counterpart in that it sports a few additional features and is more flexible. In what follows, we will be taking the former for a spin.
360 Mobile Security is designed to protect your smartphone from malware including viruses, system vulnerabilities and privacy leaks. It provides real-time protection for not just your installed apps, but also any packages found on your phone. The developers cite that it utilizes dual-layer protection to keep malicious threats at bay using 360 QVS + cloud engine.
Based on my hands-on experience with the app, found it to be quite stunning not only in terms of functionality, but also in its design and usability. The interface looks clean and simple, and presents everything it offers in an intuitive manner. The app boasts two types of scan methods: Quick and Full. Quick scan, as the name implies, is the faster of the two that looks for specific common threats but for a more thorough scan of your apps, you can always use the Full Scan option. Even the quick scan is fairly effective though, and quite adequately inspects your apps for vulnerabilities and malware.
After the scan is over, you can either tap 'Resolve All' to get rid of all the detected problems in one go, or tap each component (Malware, Vulnerability and Protection) to individually fix the underlying issues. The app provides a summary on what kind of damage the threat can cause, if not removed.
Swiping left on the home screen will bring up a sidebar on the right carrying a few additional features such as Full Scan, System Cleanup and Privacy Advisor. You can also check for app updates from here without leaving the interface. System Cleanup is also a handy tool to free up some space on your device by getting rid of temporary or junk items. Akin to virus scan, the memory cleaner also works pretty fast, effectively freeing up unused space. The Privacy Advisor, on the other hand, shows you the permissions for your apps.
The app's settings screen doesn't offer a truckload of options; it contains toggles for auto update, auto start, and customer experience improvement program, allows you to set the user language, share the app with others, and view its About section. But the most interesting bit you will find here is Floating Window, which, when toggled from the settings screen, displays a minuscule applet for the app that can be accessed from anywhere in the OS, or if you choose to restrict it, only from the launcher (the home screen and app drawer).
Dragging it into view brings up a small floating ring that also shows you used and remaining system memory, and dragging the applet to the center of the ring instantly starts optimize your device.
Tapping it displays a panel with essential system toggles and a task manager. You can choose which line of toggles the panel displays from the Floating Windows settings screen.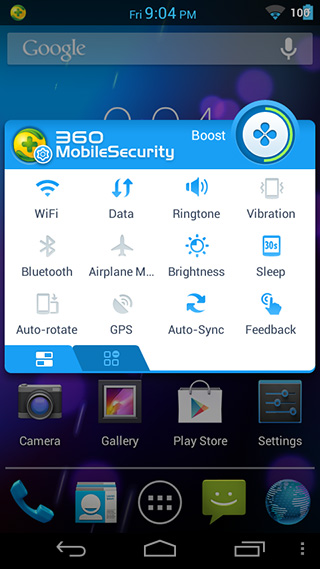 Overall, 360 Mobile Security is a decent contender in the field of security and optimization apps for iOS and Android, and its price tag of free is a major plus as well. You can download it for your device via the link provided below.
Install 360 Mobile Security for Android
Install 360 Mobile Mobile Security for iOS