Bitdefender USSD Wipe Stopper Protects Against 'Dirty USSD' Remote Reset Hack On Android
Android might be making steady progress as a hyper-customizable and user-friendly mobile operating system, but on the other hand, it also doesn't seem to part ways with the various system-level vulnerabilities that keep rearing their heads at frequent intervals. The latest threat to haunt Google's mobile OS is perhaps the most destructive of the lot. Initially detected in just a handful of Samsung phones (starting from Samsung Galaxy S III), the problem has reportedly spread across a broad range of devices, including Motorola Defy (running the custom CyanogenMod ROM) and HTC One X (running HTC Sense 4.0) etc. Apparently, it's the Android's stock dialer app that is reported to be accepting certain unauthorized USSD codes (from malicious code that could be hiding behind links on webpages), which results in your device being wiped completely. Numerous security companies have been releasing solutions to tackle the issue, and the familiar name of Bitdefender too has come to the forefront. The company's latest security tool, USSD Wipe Stopper, does exactly what its name implies. Once installed, the app displays whether your device is infected by the 'dirty USSD' attack or not. In addition, it lets you select the default dialer app that should confront any such remote attacks.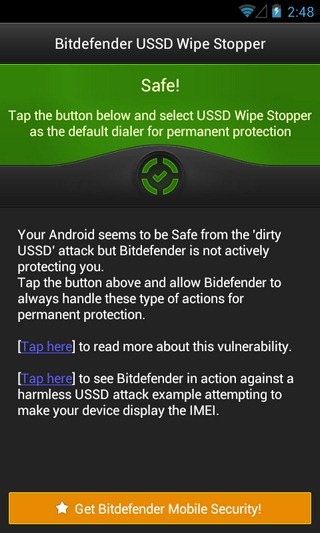 While the problem on the Samsung Galaxy S III is said to have been fixed through a security patch, other devices, especially those connected to the internet, are still susceptible to attacks from the malicious code. Therefore, it is only advisable to have an app like Bitdefender USSD Wipe Stopper installed on your device. In certain cases, installing an alternative dialer app is also said to be helping users with keeping the attacks at bay, but why take the tedious route when you have an effective tool from a reliable security provider, which has the capacity to quietly run in the background without disrupting overall usage.
As mentioned earlier, the app lets you select the default dialer app in case a USSD code tries to access your device. To help the users learn about its working, the app also demonstrates a scenario where a USSD code tries to access your device, and how the app itself responds in said situation.
Bitdefender USSD Wipe Stopper is a free app that runs on Android 2.0.1 and up. You can grab it from the Google Play Store by hitting the link provided below.
Download Bitdefender USSD Wipe Stopper For Android