Float Multiple Widgets Over Any App In Android With Widgets Everywhere
Widgets are one of the best features of Android. Unlike other mobile platforms, Android allows users to place these anywhere on your home screens and even on your lock screen if you are running Android 4.2 or later. Examples of these include several types of clocks, Wi-Fi and other system settings toggles, browser bookmarks, picture slideshows – you name it, there's a widget for it! Widgets Everywhere is a small Android app that allows you to place Android widgets anywhere you want on your screen, even on top of running apps. This makes it great for multitasking as well, since you can effectively be using two apps together on the same screen. It's quite similar to our previously covered Overlays and works in a pretty similar fashion. Details after the jump.
By default, widgets are placed only on the home screen or lock screen on Android. Widgets Everywhere removes this constraint and unlocks the power of using widgets simultaneously with other apps. The usage of Widgets Everywhere is as simple as it gets; all you have to do is tap its app icon, which in turn will launch a widgets menu. Next, simply tap your desired widget and it will instantly appear on your screen. You can resize the widgets as per your requirements via pinch to zoom gestures. Likewise, you can drag the widget to any place on the screen. Now, when you launch an app such as Facebook or a web browser, the widgets that you added using Widgets Everywhere will appear on top of the app you've launched.
You can even place multiple widgets on the screen. Since the widgets remain visible even on full-screen apps, you can even play full screen games or watch videos and still keep an eye on important things like your text messages using the appropriate widget. Widgets Everywhere itself keeps running in the background to keep any widgets added through it displaying. If you want to hide all those widgets, you can do so at any time by tapping its notification icon.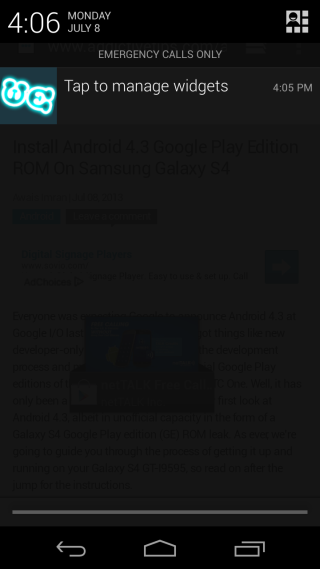 Overall, it's a really nice app for using multiple widgets anywhere on the screen on top of other apps. Widgets Everywhere is still in beta and can be downloaded absolutely for free using the link below.
Install Widgets Everywhere from Play Store