We are reader supported and may earn a commission when you buy through links on our site.
Learn more
Bitdefender DEAL: Antivirus Plus 2018 with a 58% Discount (Valid Dec 6th)
Black Friday and Cyber Monday are at our doorstep. And with that comes amazing special offers from technology vendors. Veteran security software vendor Bitdefender, one of the world's leaders in virus protection has some great offers of their own. Their Bitdefender Antivirus Plus 2018 is one of their flagship products. It is halfway between a full malware security and privacy software suite and a basic antivirus. You can think of Bitdefender Antivirus Plus 2018 as an antivirus on steroids, with lots of extras.
And right now, Bitdefender is offering a great discount on their Antivirus Plus 2018 software suite. From now and until December 6th, you can get a one-year Bitdefender Antivirus 2018 subscription at 58% off. That means you can get one full year of protection for just $24.99 (and it's for 3 PCs, not just one).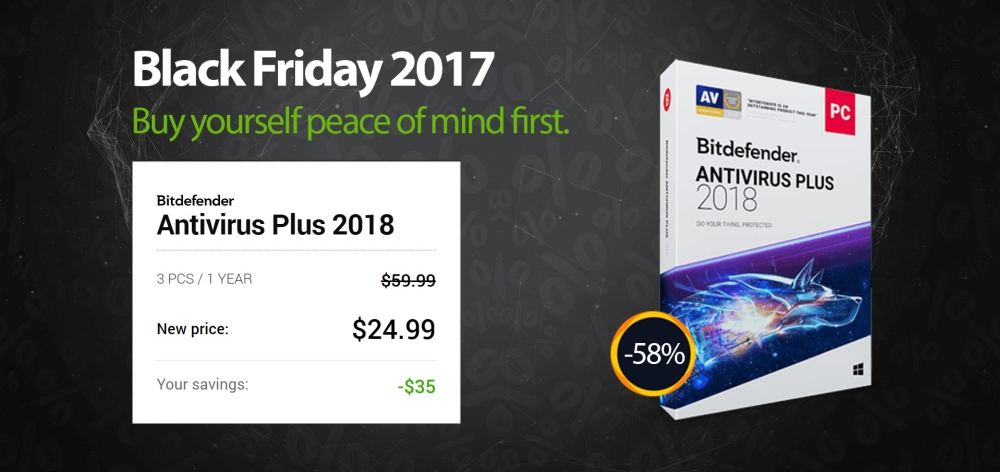 A Quick Look at Bitdefender Antivirus Plus 2018
Antivirus Plus 2018 is Bitdefender's offering for Virus protection. It doesn't just stop there, though, and it includes a handful of extra features that set it apart from its competition. It is also a product that seems to consistently score in the top tier of most independent antivirus testing labs. And to put the icing on the cake, it is one of the easiest antiviruses to install and use, thanks to its user-friendly autopilot mode.
Main Features of Bitdefender Antivirus Plus 2018
Bitdefender Antivirus Plus 2018's primary purpose is protecting your computer from viruses, it doesn't stop there, though. It's got the usual real-time scanning, behavior monitoring, URL filtering and cloud integration. But it also has a few more useful features: Ransomware blocking will help protect your local files. A password manager handles filling forms and automated logins. A secure browser provides added privacy. A vulnerability scanner ensures other software on your computer doesn't have gaping security holes. Finally, a file shredder allows you to safely and completely delete confidential files.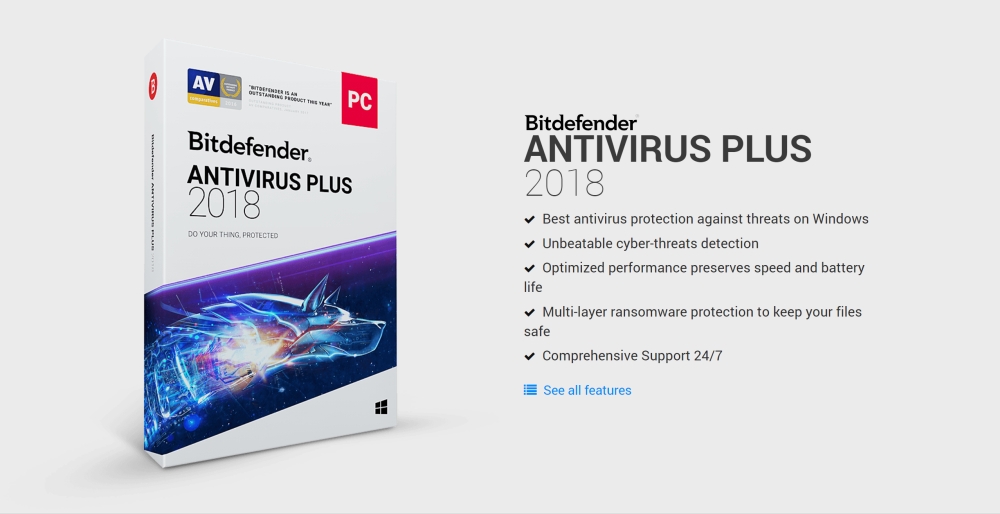 Lab Test Results
Bitdefender has been making virus protection software since 2001. They are no newcomer in their field. And their products have consistently scored amongst the top antivirus products for a long time. Bitdefender Antivirus Plus 2018 is no different from their previous offerings.
SE Labs who attempts to emulate real-world situations by capturing real malicious websites and hitting each product they test with the exact same attack gave Bitdefender Antivirus Plus 2018 the AAA rating, their highest.
AV-Comparatives, another well-known tester of Antivirus solutions who runs multiple different tests of each product they test gave Bitdefender Antivirus Plus 2018 and Advanced+ rating in four of their tests.
MRG-Effitas, another lab that tests antivirus solutions has a more basic approach. based on their tests results, products either pass or fail–and many fail. Bitdefender Antivirus Plus 2018 passed.
The AV-Test Institute rate the products they test in three areas: protection, performance, and usability which refers to keeping false positives to a minimum. Six points are possible in each category. Bitdefender Antivirus Plus 2018 nearly hit the top score with  5.5 points for usability bringing it down to 17.5 out of 18.
Ease of Use and Installation
Installing Bitdefender Antivirus Plus 2018 could hardly be easier and the installer doesn't require users to make hard to figure configuration decisions. The software installs by default in autopilot mode where pretty much everything is handled automatically. Most of the time, you won't even know it's there.
And if you prefer a more "hands-on" approach, you can turn off autopilot and make all decisions yourself. And between these two extremes, you can view Bitdefender's activity report which records everything the software does and when.
Overall, Bitdefender Antivirus Plus 2018 offers one of the best protections, ease of use and the possibility to tweak it to your liking if you are so inclined.
A Great Offer on Bitdefender Antivirus Plus 2018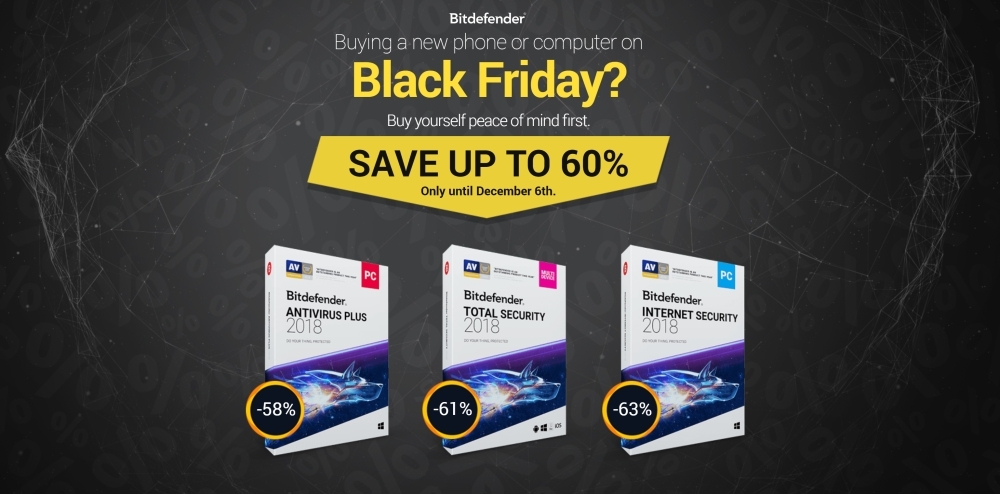 Until December 6th, Bitdefender is offering their Antivirus 2018 software at 58% off. This is the same software people pay up to 60 dollars for, not a scaled-down or feature-limited version. This is the real thing. You'll get continuous updates, 24/7 support, and outstanding protection. And to make it a risk-free endeavor, you even get a 30-day money back guarantee. Who could ask for anything more?
This is not like some special offers from other vendors which require complicated registration or ask you to visit several affiliate links to products you really have no use for. You will take advantage of this offer with this link — add the product to your cart, and checkout.
In summary
Bitdefender proposes an amazing offer on a product that is just as impressive. If you're looking for a high-quality virus protection software, Bitdefender Antivirus Plus 2018 might be just what you need. It is one of the best product on the market.
You better act quickly as this is a limited-time offer. After December 6th, the offer will be gone.
And if you like great deals, be sure to check out all of Bitdefender's Black Friday offers.