Create And Save Notes To Google Docs Using QuickFox [Firefox]
QuickFox Notes is a well known Firefox extension for creating notes in your browser. It lets you add text directly from a webpage or enter text yourself. The extension works with other file and bookmark syncing extensions to automatically sync your notes across different systems. Now you can send notes that you create using this extension directly to Google Docs by adding a small script in the extension's folder.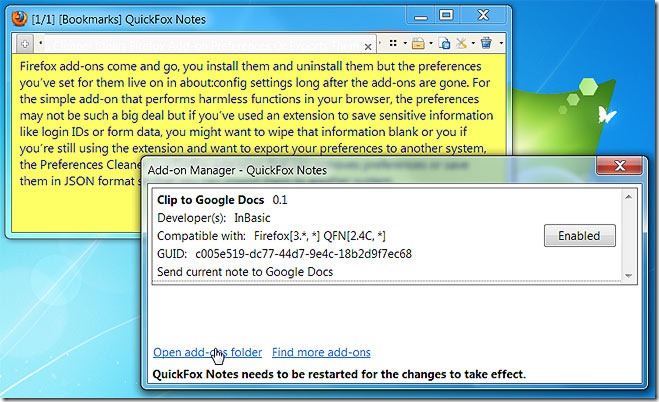 To add the script, visit the link at the end of the post and save it, the link will save a file in JS format. Paste the file in the following directory.
C:\Users\<User>\AppData\Roaming\Mozilla\Firefox\Profiles\q9z0k4c5.default\qfn-scripts
The extension will not detect the change automatically and prompt you to restart, you will need to do it manually for the changes to take effect. After restarting Firefox, open an existing note or create a new one, a new button for Google Docs will be added next to the archive button.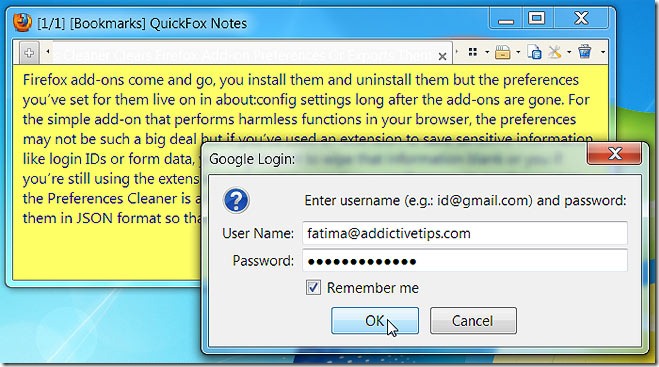 To send a note to Google docs, click the Google Docs button and sign in with your account. The note will be added automatically and saved with the same name it was saved in QUickFox.
Install QuickFox Note For Firefox