Create And Share Image, Video, Text Based Booklet With Simple Booklet
Simple Booklet is a web application that allows users to create and share  text, video, audio, image or an entire website based booklet with an easy to use and interactive user interface. These booklets can also serve as presentations, ads, brochures, etc and are easily printable.
There is no need to sign up with the Simple Booklet service, however, you can do so optionally to keep track of your booklets. Choose a name and booklet type to start creating your booklet. The options for creating a booklet range from blog booklet, a portrait/landscape page, portfolio, brochure, invitation, etc.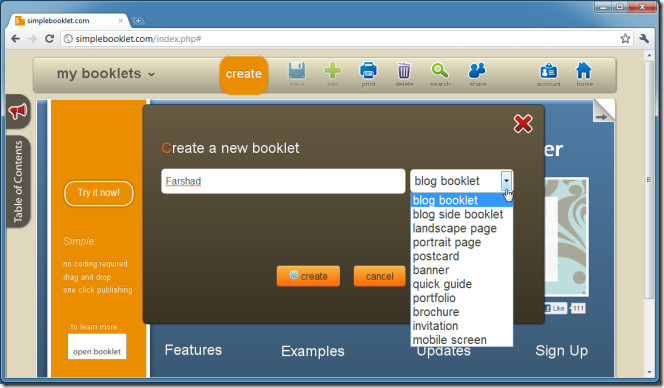 Select and add images, file, background, video, webpage, text, a new page,etc. You can create the booklet using a multitude of options (as shown below) and publish it after you are done by clicking on the Publish button. You can also save and print your booklet.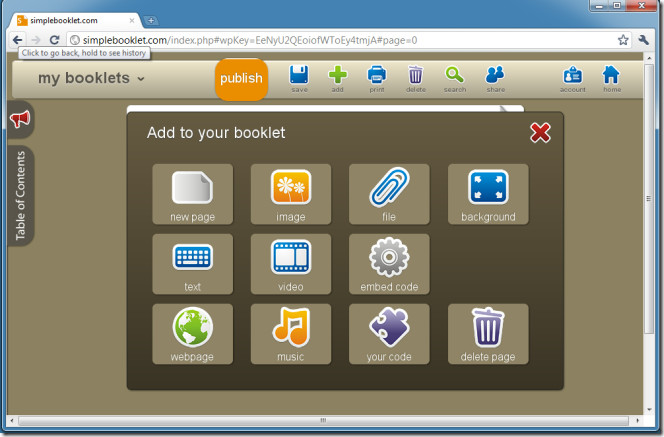 After your booklet is complete, you can share it via email or social networking websites such as Facebook and Twitter. Simple Booklet generates an embedded code and short URL that you can use to share the booklet with others.
Simple Booklet is a simple, yet dynamic web application that allows users to quickly integrate audio,video and text based content in multiple pages of a virtual booklet which are not just visually appealing but also easily shareable. One can add an entire web page to the booklet. Other than using this web service for fun, you can also create brochures, ads, presentations, invitation cards, post cards and the like, to be printed and shared.