Create Music With Boxed-Up Aviary's Roc Music Creator
As web is turning out to become a primary focus of the users, some companies are changing tracks to meet the users' demands. Aviary's Music Creator is a web application, however, not full-featured music creator but provides ample boxed-up options and features to create out a desired piece of music. What makes it a bit distinctive from rest of free tools is that the interface is quite easy to get by and sequential procedure of creating music really helps any music enthusiast to start making his own type of music instantly.
To start out with, visit Aviary's Music Creator (link provided at the end of this post), you'll be prompted to choose an instrument that you need to record, however, you can always change the instrument from main interface.  If you are confuse with which instrument to initiate with, you can check sample music for trying to get align with  specific instrument sounds. Now click Open to enter the main interface.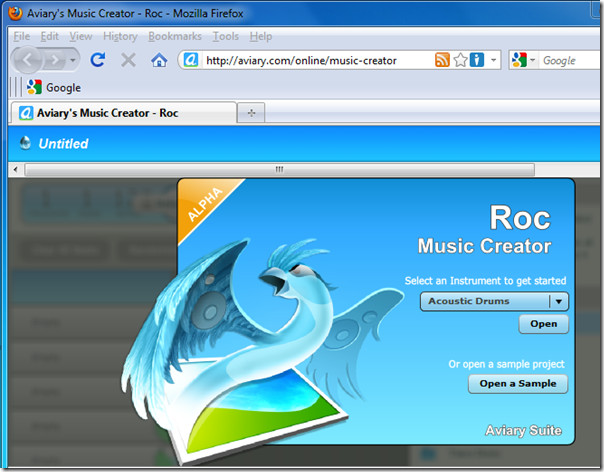 The main interface is divided into three panes. From left sidebar, you can view all the instruments ranging from different kind of drums, percussions, guitars, and whole lot of others as well. From lower part of left pane, you can drag sounds of selected instruments into main grid (center pane) to start filling-in beats. Beats are triggers of your sounds and you can toggle them on/off anytime you want. From right-side you can play the sound individually, change volume of selected sound, and apply pan value (either negative or positive).
Start dragging as many sounds as you want of specific instrument into grid and fill-in specific beats to get the desired sound. You can change volume, apply pan value and turn desired beats on/off on the go. Once you've done creating a track, you can listen to the whole track from the top by clicking Play button. You can also set tempo of track and change beats' values.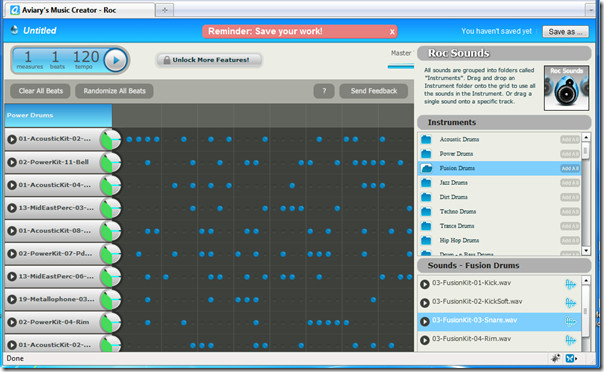 Customizations can be done anytime and in any way you want. To save the project click Save as from top-right of the window. Enter name of the project and fill in other required information. It may take some time to save the whole mixdown in its SoundBank, so have patience.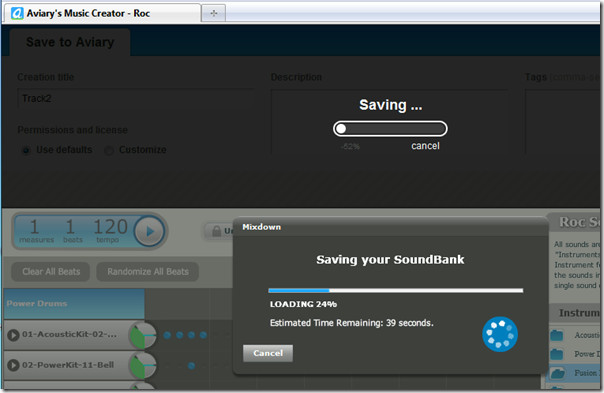 Once project is saved, it will list down some direct URLs to quickly access the project along with embed code to embed the track anywhere on blogs, forums, websites, etc. You will also find options to download the track in MP3 & WAV format and publish it on Aviary's web site.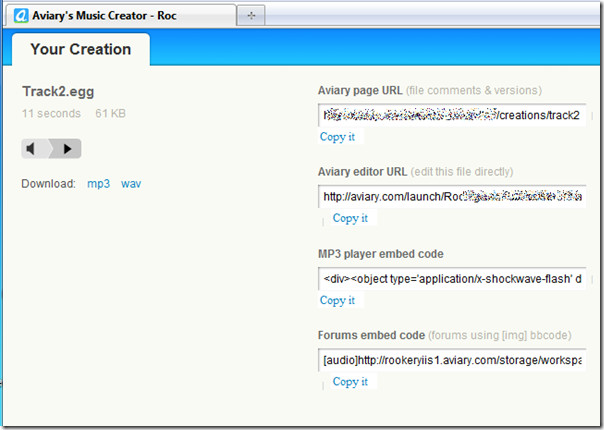 In short, it facilitates user in creating tracks or small piece of music on-the-fly. The usage can vary, one can take a ride for fun, while others keep it under for creating professional piece to share with others.
For more, also check out Aviary Chrome Extension for taking screenshots.