frtr.me Video Blogging For Twitter; Make & Upload 1 Minute Videos
Twitter may not have been the first micro blogging service but it certainly is the most popular and it's getting better everyday. Whether it is because of third party services or its own features that, the site nevertheless offers a lot for micro bloggers. Frtr.me is a web service that lets micro bloggers make and upload videos of 1 minute each and share them on Twitter and offers unlimited storage. Videos can be deleted any time from your account.
Sign in to the service with your Twitter ID and allow it to connect with your account. The service is meant for live blogging which means you make videos on the spot instead of uploading them from your hard drive. The video limit is 1 minute. To start recording, click the big red button just below the camera view, allow the service to access your camera. The service gives you a quick count down from 3 and starts recording.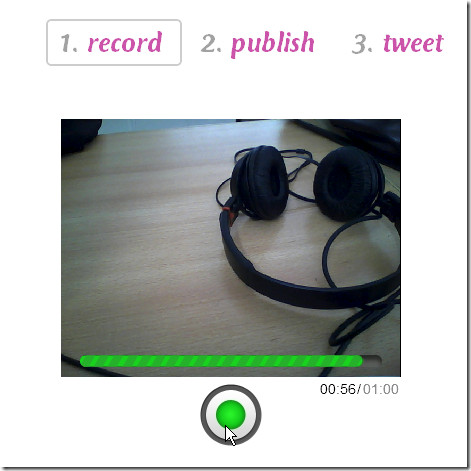 Record whatever it is you want; a quick birthday message, a round up of some conference you might be attending or perhaps just a quick instructional video. The video length is limited for the same reason the characters in a Tweet are; so you get to the point.
Once you've made the video, it is uploaded to the site. Upload time depends on your connection speed. Once a video has been uploaded, you can preview it, delete it and record a new one or just proceed with Tweeting it to your followers. Click Publish Video (big button with green outline ) to publish it.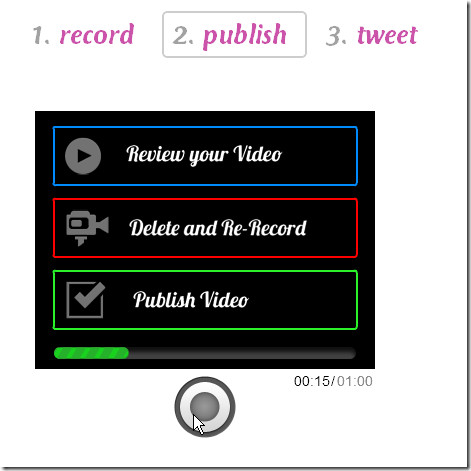 You can edit what you tweet before sending it out. The service by default checks you in to following them on Twitter. Do with it what you will and click the blue Twitter birdie to send out the Tweet.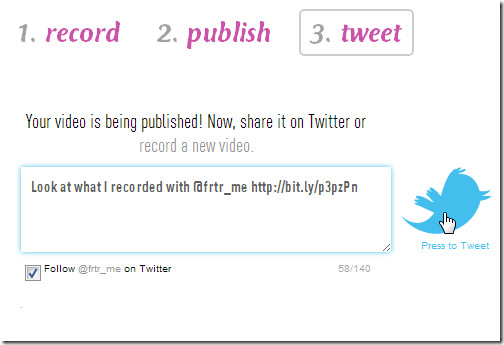 Anyone who clicks on the link will be able to view the video without signing in to the service. The service also tells you how many times a video has been viewed.