Get Instant Facebook Notifications On Any Website With MyStatusBar [Chrome]
Facebook addiction can take reach astounding heights; some people are satisfied with just checking their feed once in the morning and once in the evening while others seem to think everything they do or are thinking of doing is worth sharing with the world. If you're somewhere between these two spectrums  and are looking for an easier way to keep up with your feed, try MyStatusBar. It is a  Chrome extension that adds a bar at the bottom of your window and notifies you of all activity that takes place on your Facebook account. This includes friend requests, comments and likes on a picture, pokes, invitation to an event and messages. The extension also features a search bar but does not allow you to share directly to your account. It's simply a way to keep up with new activity and not to interact with friends on Facebook.
After installing the extension, you just need to be logged into Facebook in order for it to work. Since the extension will provide notifications for just about every kind of activity it will need access to just about all of your information. You can decline to provide access but that will limit the extension from what it can do. Once you've logged in, you will be able to view friend requests, messages and notifications. Additionally, you will be able scroll through the latest news feed by using the up/down arrows and launch Facebook directly from the status bar. With it, you can immediately reflect on messages, shares and be right in the middle of the events.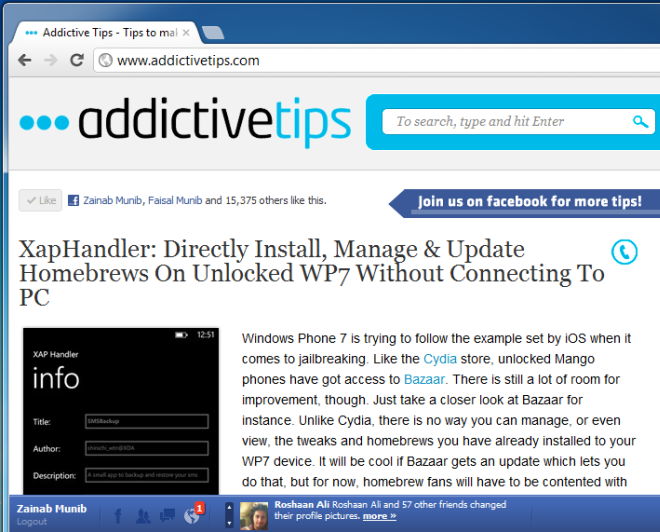 This extension works smoothly and lets you stay connected without having to open Facebook in a separate tab. There are still flaws with the extension; interface wise toolbars have become something that users loath and no matter how addicted to Facebook you are, an omnipresent toolbar as tall as this one is going to scare off quite a few users. Another problem with the extension is that the very large toolbar features an ad in the right corner. The developer no doubt wants to monetize the extension but few extensions feature adds and since this one already has a large toolbar, the ad would have best been left out. If you don't hate toolbars like the majority of users and are okay with the ad, give the extension a go.
Install MyStatusBar For Google Chrome