Open Multiple Webpages In Panels With Panelize For Chrome
Panelize is an extension for Google Chrome that enables you to open multiple websites in separate panels. While the extension comes with some predefined links to mobile version of Google Apps, it includes Reopen current tab as panel option for moving the content of the current tab to a standalone panel, which stays visible when you switch between the tabs or windows. Moreover, the extension allows you to synchronize all opened panels using Google Chrome native Sync feature. This makes it easy to reload all the panels you opened in recent sessions. Read past the jump for more.
The panels can be easily be resized by dragging them or by changing the default size from its options menu. Using Panelize, you can load frequently visited websites in different panels, and launch all the panels at a same time.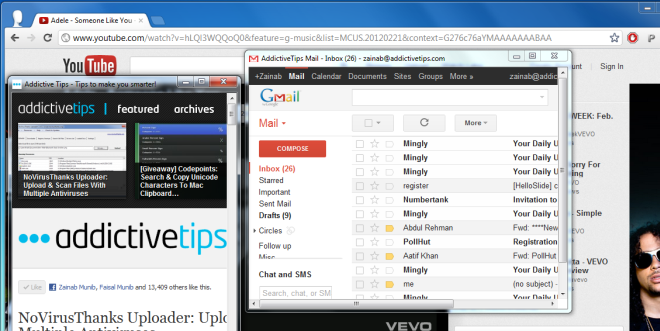 Once the extension is installed, click the button in the toolbar to reopen current tab as panel, and access Google Apps, including Google Reader, Google Tasks, GMail, Google Calender etc., in panels. If you don't want to manually adjust the size of each panel, just enter the default size (Width x Height) to create panels with specified size.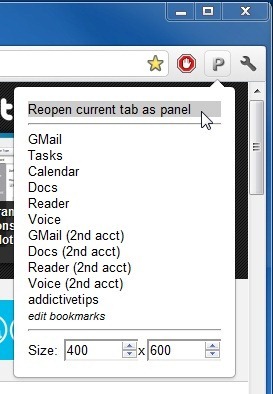 You can add links to the pop-up by adding a Name and URL to the Chrome Bookmark Manager. Panelize allows creating customizable bookmarks to quickly open frequently visited websites in panels. For the first time usage, click the Panels button in toolbar, enable Add default panel collection option, and then click Create to create a bookmark folder with sample panel links. Once created, you can access Google Apps and other saved bookmarks by just clicking the Panelize button.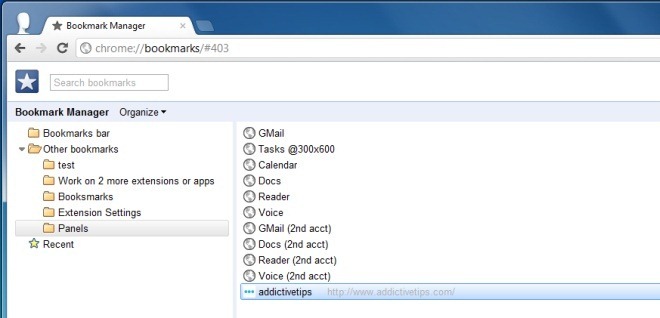 Panelize certainly helps users increase productivity by allowing them to open multiple websites in panels. You can install the extension by hitting up the link below.
Install Panelize For Google Chrome