Recover Text/Form In Firefox When Browser Crashes With Lazarus Add-on
So you were filling a web form and the Firefox browser crashes immediately, you restart the browser but only see a blank form. In other words, all your hard work is lost. So how would you recover all the text that you wrote in the last few minutes? Thanks to Lazarus, a Firefox add-on now you can recover all the lost text instantly.
Once installed, it will save all text that you enter in a form or basically anywhere. It encrypts the text before saving, thus making sure that it is securely saved in the database. You can also disable it for certain websites, to do so, right-click it's icon in the status bar and select 'Disable Lazarus for this site'.
If you have lots of saved text, you can use the Search Lazarus option to search for a specific text. In Options you will find options such as, delete all saved text, save passwords, remove text after a predefined time, and much more.
To recover any text or form, simply right-click the blank area and select the desired option as shown in the screenshot below.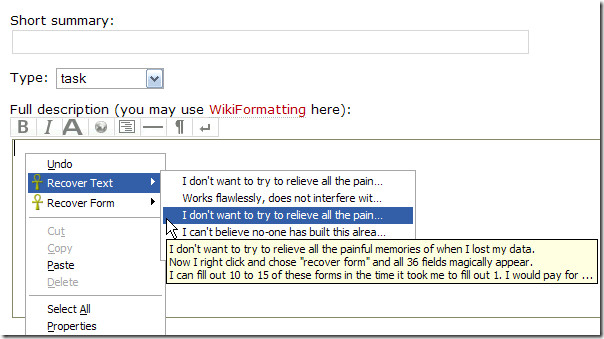 Above screenshot is taken from developer's website
It is quite a must-have addon for every Firefox users, since a browser can always crash during an unexpected time.
Download Lazarus Add-on For Firefox
Enjoy!