How To Hide Purchases On iOS And Unhide Them
Every app that you've ever purchased is associated with the Apple ID you used to purchase it with. If you uninstall an app, and need to install it again your Purchased list can help you find it. It's especially useful if you're looking for an obscure app. That said, if you don't like your list of purchased apps to be so easily accessible you can hide purchases on iOS.
Hiding an app doesn't delete it, nor does cancel any of your subscriptions.
Hide Purchases On iOS
Open the App Store app on your iPhone or iPad. App purchases are tied to the account that was used to download them. If you have more than one Apple ID, you will need to sign in to whichever one you used to download the app purchase you want to hide.
Once signed in, tap your Apple ID avatar at the top right. On your Account page, you will see an option 'Purchased'. Tap it and you can see a list of all apps that you've downloaded, and that are installed on the current device. To view apps that you've downloaded but later uninstalled from the current device, go to the Not on this iPhone tab.
Scroll through the list and look for an app you want to hide. When you see an app you want to hide, swipe left to reveal a Hide button. Tap it to hide the app.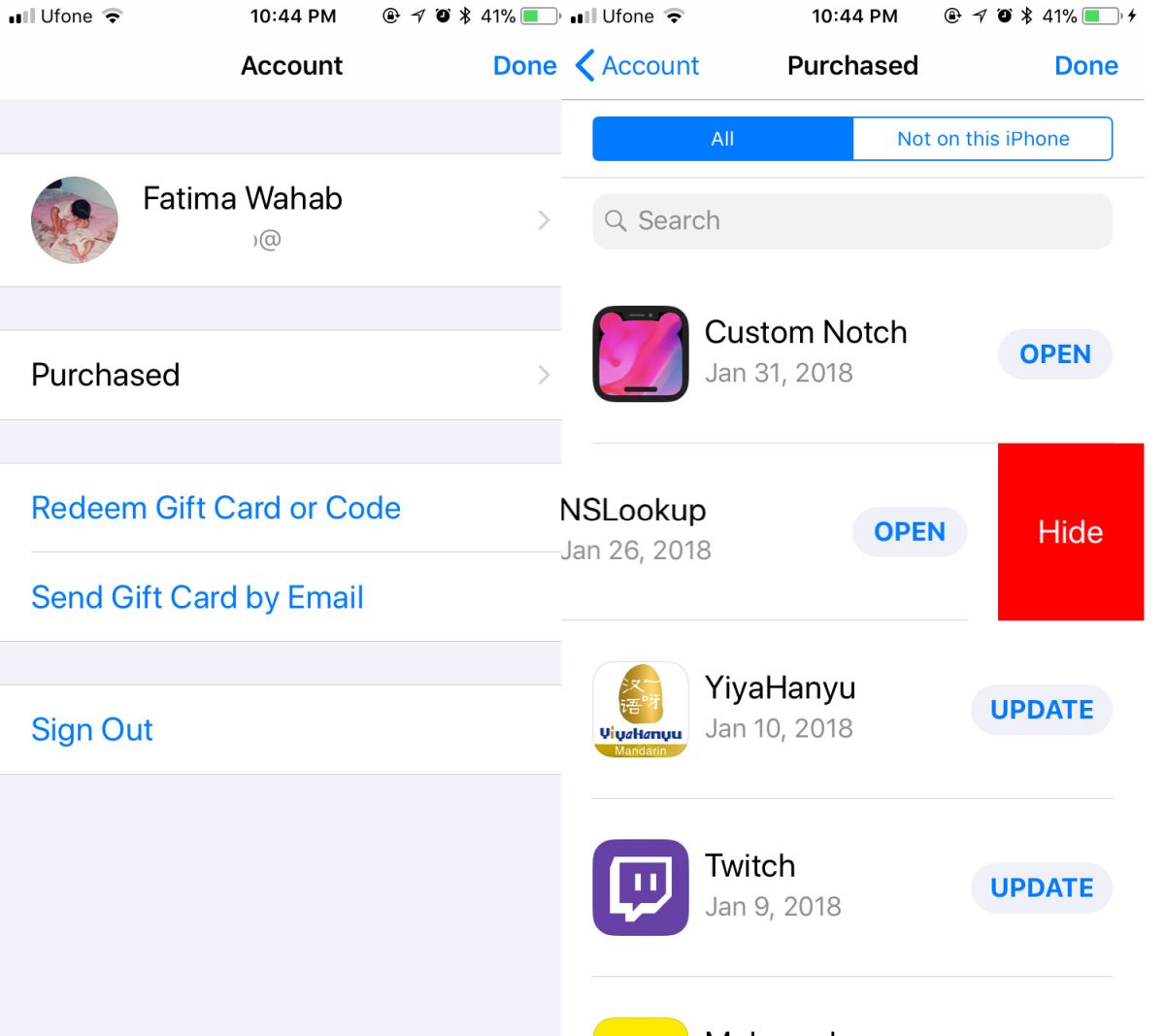 To view your hidden purchases, open the App Store app, tap your Apple account avatar at the top right, and tap View account on the menu that appears. Tap your account ID and enter your password, Touch ID, or Face ID to authenticate. On your Account page, scroll down and you will see a 'Hidden Purchases' section. Tap it and you can see all hidden items. You can redownload an item if you want.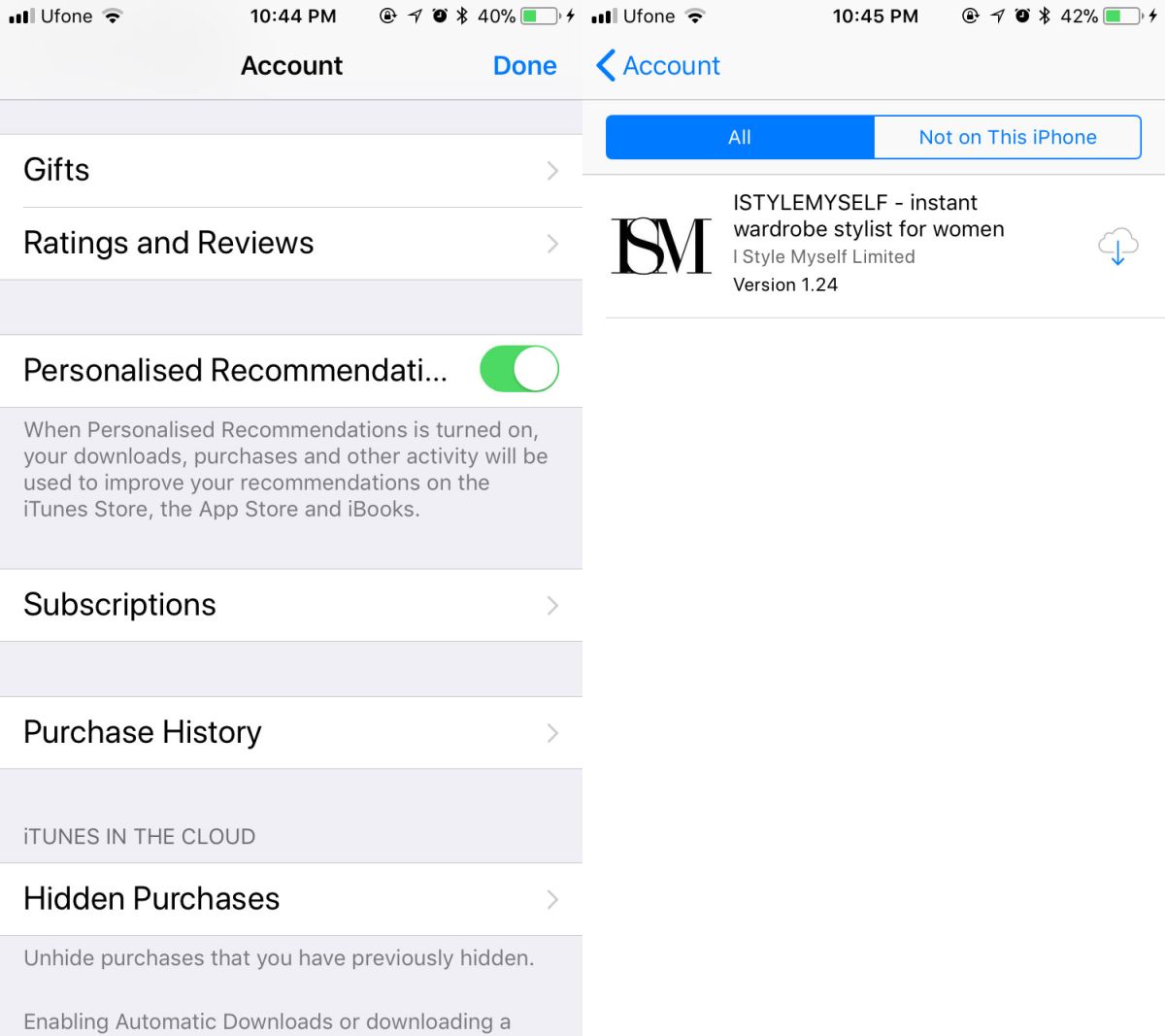 Unhide Purchases On iOS
To unhide a purchase, you're going to have to go through iTunes. There's no way to unhide a purchase from your device alone.
Open iTunes and go to Account>View Account. Sign in to the same Apple account that you hid purchases on.
On the Account Information screen, scroll down to the iTunes in the Cloud section. Here, you'll see an option called Hidden Purchases. Click Manage next to it.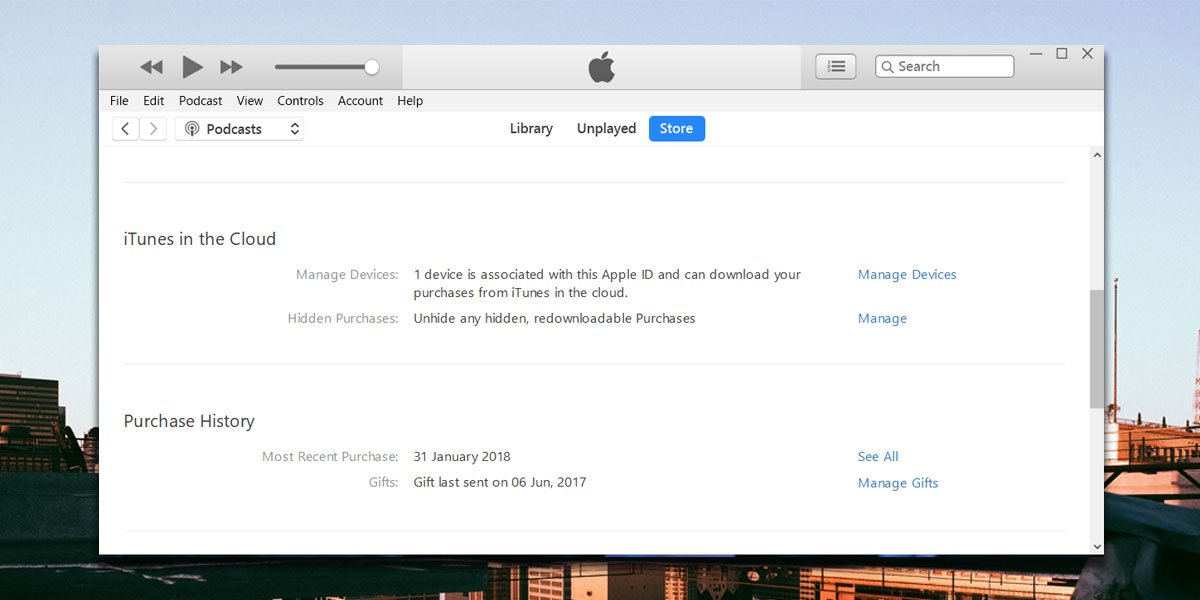 You will be taken to a screen that lists all your hidden purchases. Click the 'Unhide' button under a purchase to unhide it.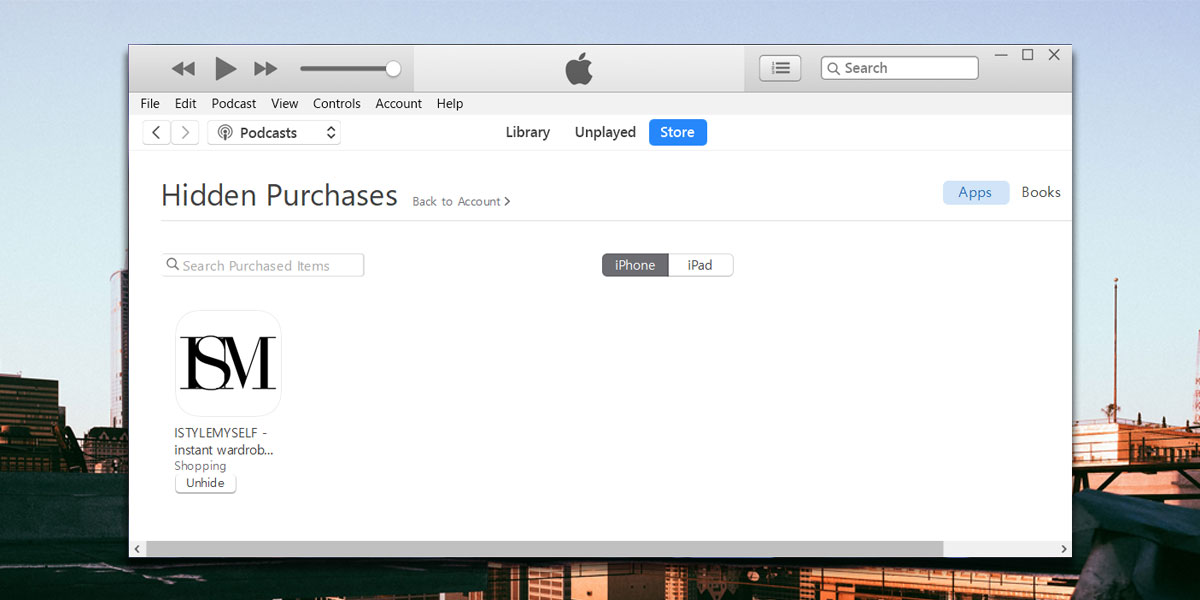 An older version of this post incorrectly stated that iTunes 12.7 didn't allow users to unhide purchases. Thanks to reader Fede777 for the correction.