How To Use Vine's New Sharing & Embedding Options
Since its release, Vine has enjoyed a decent run, but it hasn't become as big as Instagram or some of the other older services available to smartphone users yet. There might be other factors involved as well, but Vine's absence on Android and its lack of easy sharing options has certainly hindered the app from becoming even more popular than it currently is. Twitter finally seems to have realized this, and decided to do something about it. No, there is still no Android app but starting today, you can conveniently share any public Vine post with your social network. In addition, users can also embed Vine videos into websites now. This means any of these popular six-second animations can now be shared via social media, email or on any third-party website with ease.
We have already discussed a rather indirect way of embedding Vine videos into any website, but now there is no need to go through all that hassle. Previously, it was possible to post your own Vine videos to social networks, but with the app's latest update, the coveted three-dots icon has been made available for posts from other users as well. The sharing menu includes three options: Twitter, Facebook and Embed. For Twitter and Facebook sharing, you can add a description to go with the video, or choose to keep the original poster's title.
For embedding, Vine lets you export a link to the video via email. You can copy the embedding link and use it anywhere, even simply  mailing the link to anyone you want, and letting them do all the work. So, how exactly can you embed a Vine video in a website?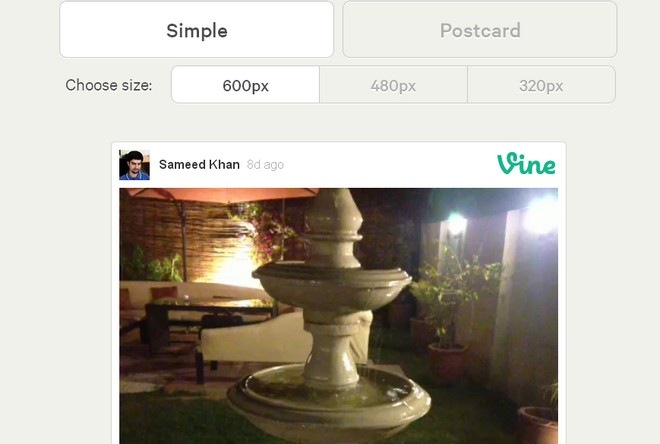 Vine has a great and easy-to-use web interface that facilitates embedding. There are two modes in which a video can be embedded. You can create a postcard out of the animation, or go for the 'Simple' option. You can choose between these two modes using the buttons provided at the top of the web interface. The videos support three sizes: 600px, 480px and 320px. To make sure everything is the way it should be, you can preview the animation within your web browser.
If you are satisfied with how it looks, just scroll to the bottom of the screen and copy the embed code available there. This code can be used in any website or email message. We've used it to embed a Vine below.
Apart from these major changes, the Vine app is also more stable now than it has ever been. You can enjoy the new features by updating the app or heading to the following link.