iOS 6 Safari Adds iCloud Tab Syncing, Offline Reading List, Full Screen View & More
In this age of mass connectivity and high speed wireless broadband access, one of the most major parts of any smartphone OS is its web browser. While there are several third party web browsers available for most platforms, most of the users stick with the default. That's why Safari is the most used mobile web browser in the world and in iOS 6, Apple has added some much-needed features to enhance the browsing experience for its users. In what follows, we will take a look at the new features introduced in Safari in iOS 6.

Tab Syncing with iCloud
A major feature added to Safari is iCloud integration. As everyone and their grandmothers make the transition towards cloud computing, simply having access to our saved files on the cloud isn't enough. That's why Apple has taken a page out of Google Chrome's book and integrated tab syncing support.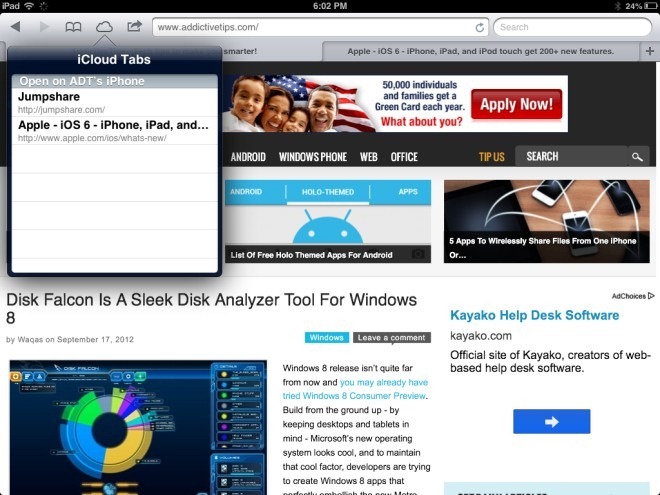 All the tabs that you have open on all the devices that you have signed into with your Apple ID are now synced to iCloud, and are accessible from a handy menu. This means you can leave browsing on one device and resume it on another right where you left.
On the iPad, the menu is directly accessible in the top toolbar, while it can be found in the Bookmarks menu on the iPhone. If you don't see it initially, you must first enable Safari syncing in iCloud settings from the Settings app.
Improved Bookmarks Interface
The bookmarks interface has been enhanced to integrate history and reading list as separate tabs on the iPad. It's still the same on the iPhone though, just with the 'iCloud Tabs' option added.
Offline Reading List
Your Reading List items are now available for offline access. This feature can come really handy for catching up on your reading while in a spot without Wi-Fi or 3G access, for instance during a flight or a trip into an area without network coverage. Coupled with the Reader feature introduced in iOS 5, the Offline Reading List basically integrates the functionality of third-party apps like Instapaper, Readability and Pocket (formerly Read It Later) right into iOS 6.
Your Offline Reading List can also sync with iCloud, making it available across all your devices. If you don't want your cellular data to be used for retrieving items saved on other devices for offline reading, you can disable it using a new option named 'Use Cellular Data' under 'Reading List' in Safari Settings.
Integrated Photo & Video Upload
You can now upload photos and videos from Safari to the internet using an upload option directly integrated into the browser, without having to leave Safari. When you select to upload a media file on any website, Safari will show you the list of photos on your device, including your albums, Camera Roll, and Photo Streams.
Upon selecting an album, you can select one or more files to upload by simply tapping on them. Hit 'Done' when you're ready, and the files should start uploading. It's a pretty useful feature for those of us who often find ourselves uploading our photos and videos online using the web interface of file sharing services.
Full Screen Landscape Mode
On iPhone and iPod Touch, Safari now supports full screen in landscape mode, hiding the entire browser interface and providing you a distraction-free browsing experience to make best use of the screen space. When in landscape mode, you get an extra toolbar button on your device to switch to full screen mode.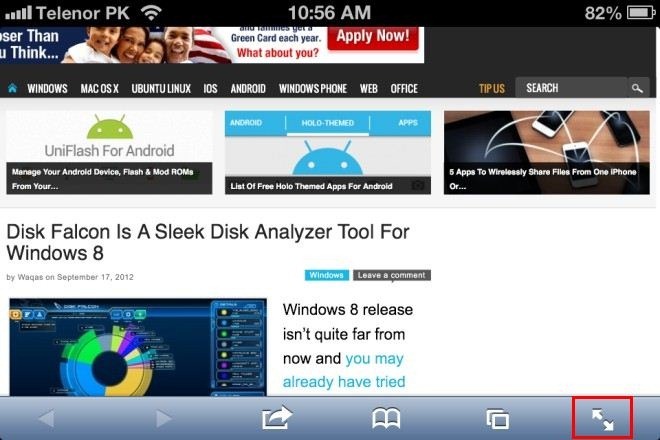 Here's the full screen mode in action on an iPhone. As you can see, the entire user interface is hidden, except for a button to exit full screen mode.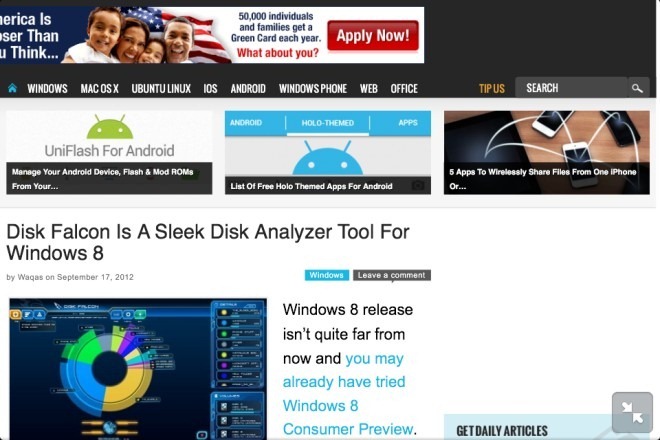 The full screen option does not seem to be available on the iPad.
New Sharing Interface
The new sharing interface introduced in iOS 6 is also present in Safari, replacing the old, boring, menu-like interface with a visually appealing grid of icons. All the old sharing options are still available and in addition, the new Facebook integration for sharing has been added, along with sharing via Message, and an option to quickly copy the link to clipboard for sharing manually.
Web Inspector
Aimed at web developers, a new option of 'Web Inspector' has been added, replacing the 'Debug Console' option from iOS 5. It allows you to connect Safari on your iOS device to Safari on your computer and access developer options for inspecting website elements on your iOS device. To use this option, you must enable it on your iOS device in 'Advanced' section of Safari Settings. You must also enable the Develop menu in Safari on your computer, from Safari's Advanced Preferences.
This sums up the new features introduced to Safari in iOS 6. Stay tuned as we bring you more coverage of the latest and greatest iOS 6 features.
---
This guide is a part of our guide to new features in iOS 6, which covers the following topics:
Safari Improvements (Currently viewing)