Accent: Quickly Insert Accented Characters, Copy URL Escape Codes On Mac
Inserting accented characters in Mac isn't really difficult, as we explained in a tip just last week; all you need to do is hold down a particular character key, and the letter will appear. The one caveat of this tip is that you must have disabled repeating a letter, and that can lead to some inconvenience when typing. There is still the option to use the Option key, but that is obviously the long way that most might want to avoid. For just these unique situations, there is Accent, a Mac app worth $0.99 in the Mac App Store that lets you view all accented characters and some basic symbols that are normally difficult to insert. The app lists them in a large, tiled layout, and you can copy a character for pasting anywhere by just clicking it. Additionally, the app lets you copy URL escape codes for any of the characters.
Accent's interface is very straight forward, with the characters being listed as large tiles in the app's window. There are three buttons at the top right that let you change the case of the letter, or switch to the symbol set window.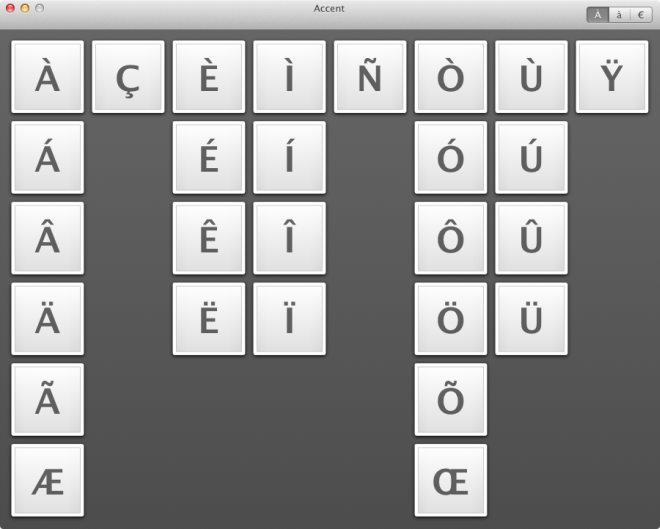 To use an accented letter or symbol, hover your mouse over a character and click it. The character's tile changes to give you the option to simply copy it, or copy its escape code. The code is copied to your clipboard and can be pasted anywhere using the traditional Command+V shortcut

The app needs little explaining as far as working is concerned, and the interface is simple. It might be of more use to you if you aren't going to type in English. In addition to helping you quickly insert characters, it also gives you a quick overview of all accented characters.