Bring HTML W3C Markup Validator To Mac With Validator S.A.C
World Wide Web Consortium (W3C) primarily provides two web document validators: HTML Validator and CSS Validator, to check whether the web page conforms with W3C defined standards and technical specifications or not. The HTML validator is responsible for doing in-depth analysis of given web page in order to detect potential issues and HTML related anomalies, whereas the latter is used to check the references to HTML and class usage in style sheet document. In short, these web page validators play a vital role in maintaining the technical quality of website. Validator S.A.C is an application for Mac which lets you validate local HTML documents as well as pages on local websites via drag & drop. You just need drag the HTML file or web link over the application to check the validity of HTML document or HTML source link.
Validator S.A.C offers a simple usage. After specifying the HTML document, you can either specify the Character Encoding and Document Type for the specified HTML document or let it automatically identify these details. Like validate.w3c.org online validator, it provides advance validation options, such as, List Messages Sequentially, Group Error Messages by Type. Show Source and Outline, and Validate error pages.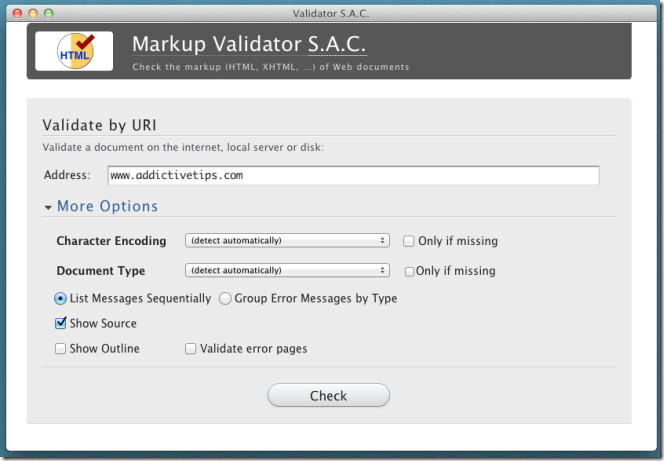 Once you've set up the required options, click Check to begin validating your HTML document. You will see number of errors and warnings it found during the validation process.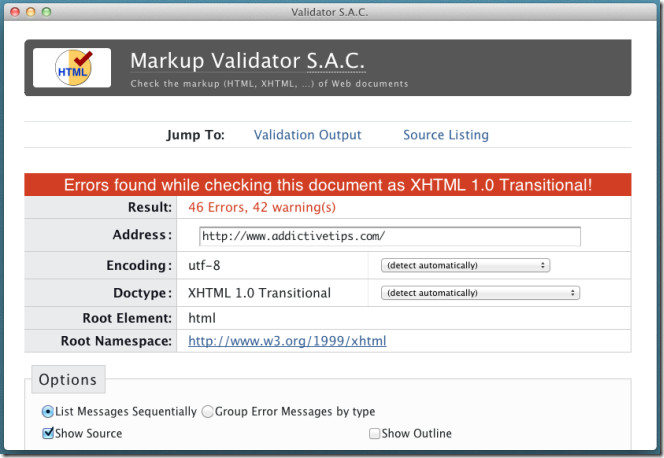 You can scroll down the page to view the validation output. It marks errors with red and warning with yellow warning sign.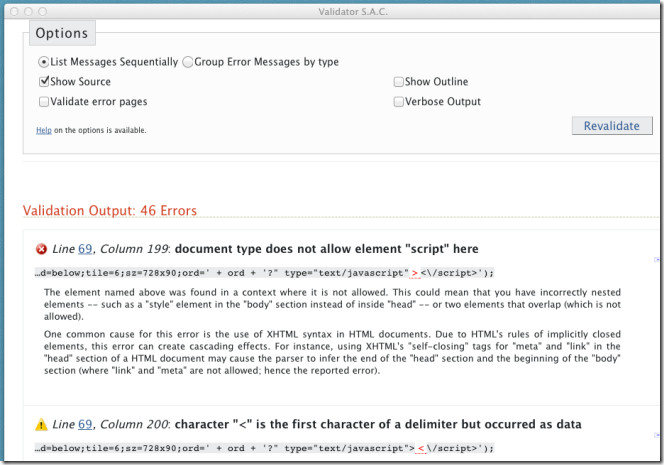 Clicking a error / warning link will display the exact line number of source code where the error or warning was found.

Validator S.A.C makes it quite easy to validate HTML file from local web server and online web pages. With this application installed, you don't need to open validate.w3c.org validator in your browser to validate HTML files. Just launch the application, specify the HTML document and configure settings to check markup of HTML documents.