Control iTunes From Mac Menu Bar With myTunesControl
Looking for an iTunes controller which, along with play/pause tracks from current Music library, allows you to search iTunes library and playlists items, find lyrics, set audio EQ, and rate tracks too? myTunesControl is a remote control for iTunes which works from system menu bar. As name hints, the application was developed to control some basic iTunes functions, such as play/pause tracks, control volume, etc. Apart from providing the track and playlist navigation controls, it also has a library and real-time search for playlist to easily navigate between playlists and play the required track. A small lyrics feature is also incorporated which automatically fetches lyrics of track being played in iTunes. Unlike many other iTunes on-screen controllers, it doesn't require users to first launch the iTunes to play and search library items. Furthermore, if you have multiple iTunes libraries, with myTunesControl, you won't have to change path in iTunes, simply open Preferences window and replace the default path with new one.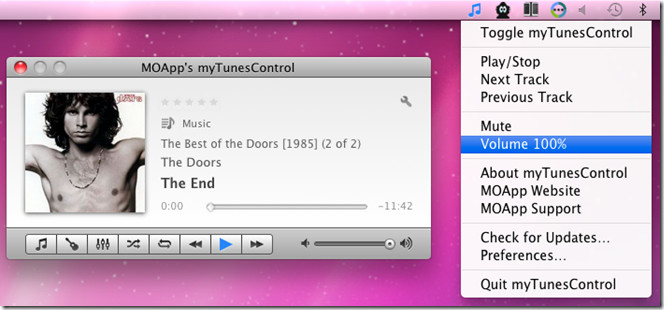 The main controls are lined up at the bottom of myTunesControl UI. The lyrics feature needs some time to fetch lyrics of current track from online sources. The EQ options lies next to lyrics which allows tweaking with iTunes audio equalizer.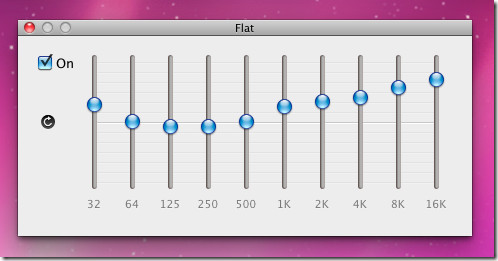 The Search window can be brought up by clicking Music link present besides the album art. From underneath the search window, you can find playlist items, navigate through library, and items in current playlist.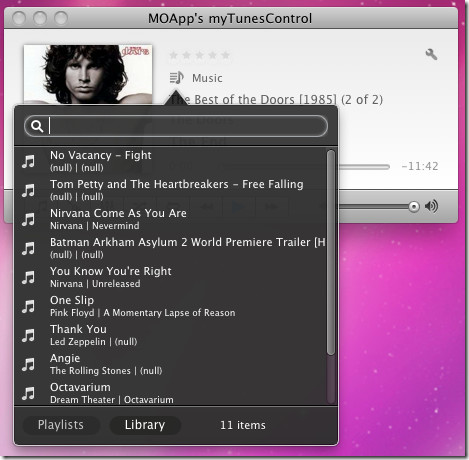 Click wrench-imaged button on main screen to access Preferences window. Here, you can change the iTunes library path, record shortcuts, and view pre-set hotkey combinations from How to use –> Shortcuts section.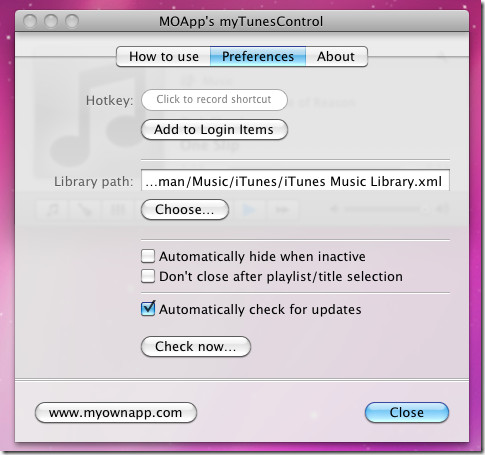 myTunesControl works on Mac 10.6.4 or later.