MultiFirefox: Run Multiple Versions Of Firefox At Once [Mac]
Around the mid of 2010, we reviewed Utilu Mozilla Firefox Collection, a windows application that allowed you to run multiple versions of Firefox at the same time. Normally, it isn't possible to install and use more than one version unless you are on the Nightly or Beta channel. MultiFirefox is a Mac app that functions similarly on Mac; it allows you to create profiles and run any number of different Firefox versions at the same time. The app has both a Dutch and an English version, and occasionally, the Dutch bits leak over and show up on the English version, but other than that, the app works without a glitch.
When you first launch MultiFirefox, it will ask you to create a profile. The app will automatically exit and launch its own profile manager. During the tests, it was observed that the profile manager, when launched for the first time, is all in Dutch. Pay close attention to the following screenshots to use the profile manager if it shows up in the Dutch language. The placement of the buttons doesn't change, just the language does, so you should still be able to use it. Of the three buttons on the left, the first one will allow you to create a profile, the second one will let you rename it, and the third one will allow you to delete a profile. Once you've created profiles, click Exit, or the first of the two buttons given at the bottom.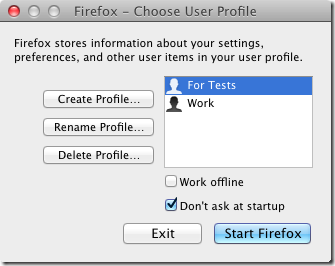 Launch the app once again, and all profiles will be listed. The app will automatically detect versions of Firefox in your Applications folder and lists them. Choose a profile and the version of Firefox that you want to run, and click Launch Firefox. You can revisit the profile manger by clicking the button at the bottom, and it is most likely that the manger will open in English this time around (it did so in our experience).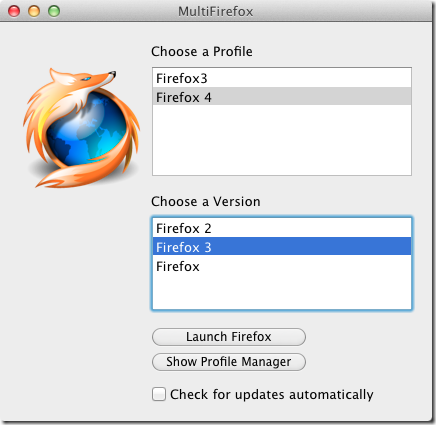 You can set the app to check for downloads automatically. Note that the app will not let you run Firefox 3 and Firefox 4 (or any other two versions) at the same time. You can switch to another version without a worry by using this app, and there will be no conflicts. This app is useful for developers mostly, and probably not the casual user. It must also be noted that MultiFirefox does not download and install any version of Firefox itself, and you will have to do that yourself