We are reader supported and may earn a commission when you buy through links on our site.
Learn more
Best Kodi Add-ons for Movies, Still Working in 2021
Since its conception as Xbox Media Center 15 years ago, Kodi has been used to play movie files. While much has changed since XBMC became Kodi, the advent of digital streaming has seen Kodi's primary utility remain as a dedicated movie-viewing service. Today, users employ a dizzying array of add-ons (software built to run alongside the core Kodi programme) to stream their favourite content from around the globe.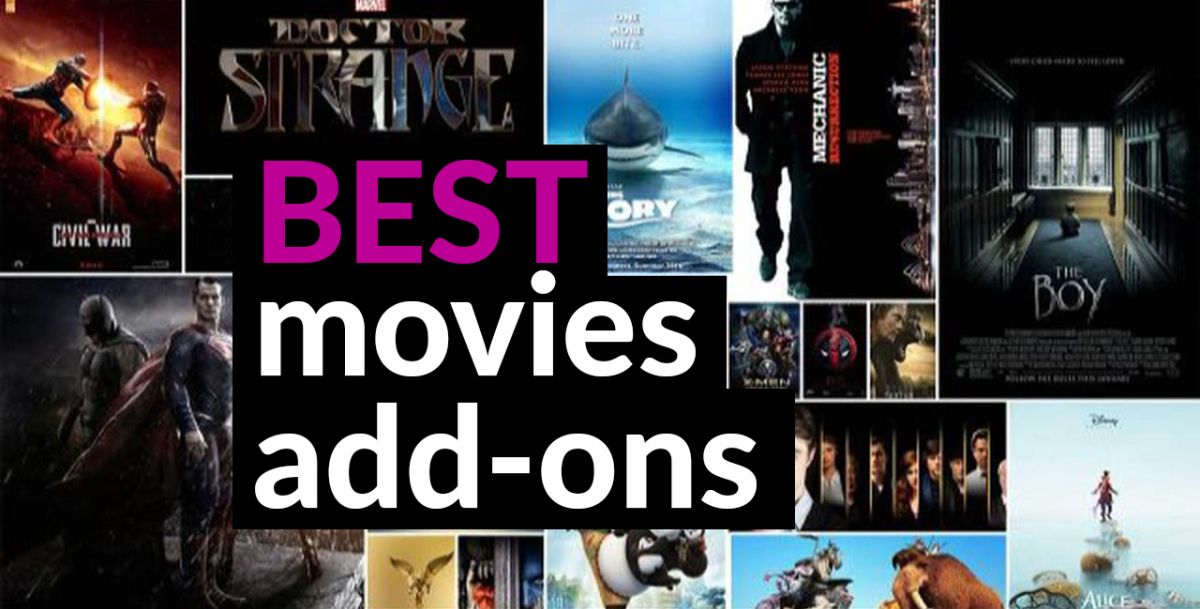 With ample choice comes indecision, and Kodi users may find themselves overwhelmed by the plethora of add-ons built to facilitate streaming of movies. Some offer HD streaming, some have their own libraries, and some will allow users to access live movie channels. It can seem like an impossible choice, but we're here to help!
We've used Kodi to stream movies and other content for years. As tech geeks, we have delved into the details of the myriad add-ons to bring you our top recommendations. We have pooled together our experiences and debated at length to compile this comprehensive list of the very best Kodi add-ons for movies. In this article, we will outline exactly what the different add-ons offer, as well as why we like them, so you can customise your Kodi movie-viewing experience to your tastes!
DISCLAIMER: AddictiveTips.com in no way condones the use of unofficial Kodi add-ons to access copyrighted content, and bears no responsibility for what you decide to do with the contents of this article. Software piracy is not something we support and we strongly advise users to only access content they are legally entitled to through all Kodi add-ons. We urge all Kodi users to take steps to ensure they are not in breach of copyright law.
30-days money back guarantee
Before we proceed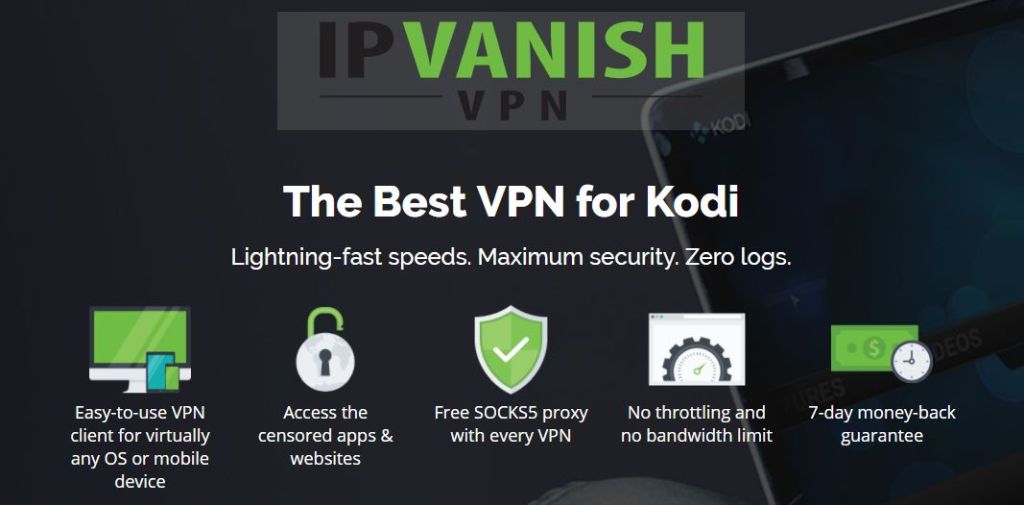 Kodi add-ons are not regulated, and as such some add-ons may make movies available in breach of copyright. It is not unknown for Kodi users to receive legal notices related to breach of copyright, and we therefore advise all users to make use of a VPN when streaming movies through Kodi — IPVanish is our recommended service.
IPvanish offers a 7-day money back guarantee which means you have a week to test it risk-free. Please note that Addictive Tips readers can save a massive 60% here on the IPVanish annual plan, taking the monthly price down to only $4.87/mo.
Best add-ons for viewing movies on Kodi
Before we begin our rundown of the best Kodi add-ons for movies, it is important to note that many Kodi add-ons are currently in something of a state of flux as a result of an ongoing crackdown against copyright infringement on Kodi. This has resulted in a number of add-ons and libraries shutting down in June.
While it is possible that some of these could return at some stage (many already have), for the purposes of this article, we are only recommending add-ons which are still available at the time of writing. A couple of our personal favourites, such as Exodus and Phoenix, are sadly not included on this list. However, the following six add-ons lack nothing for features and functionality, and should nonetheless provide for a fantastic movie-streaming experience!
SALTS (Stream All the Sources)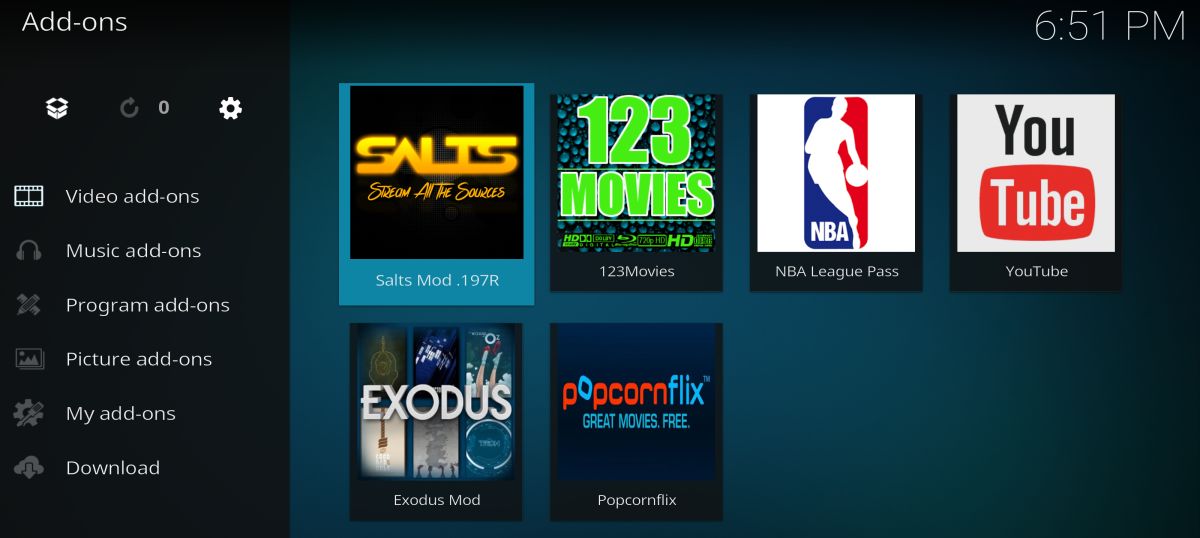 SALTS offers a similar service to the hugely popular (but currently unavailable) Exodus add-on. Like Exodus, SALTS is a multi-scraper, which means it will search through more than 50 different streams in order to find one that works for you, and seamlessly begin playback thereafter.
This auto-resolver function is a godsend to users frustrated by poor stream quality, an all-too common complaint among such services. You can change this auto-resolver's settings to suit your needs; we recommend that you search for high-quality streams first as a general rule unless you have a particularly slow internet connection.
SALTS offers both TV shows and movies, with the two categories containing a variety of handy submenus, such as genre-specific lists and "Movies most played/watched/etc. this week."
There are very few things to criticize SALTS over, though my one bugbear is that some of the genres have no content, which can be annoying to come across in browsing. However, that is a pretty minor nitpick considering how well this exceptional add-on serves movie fans.
Velocity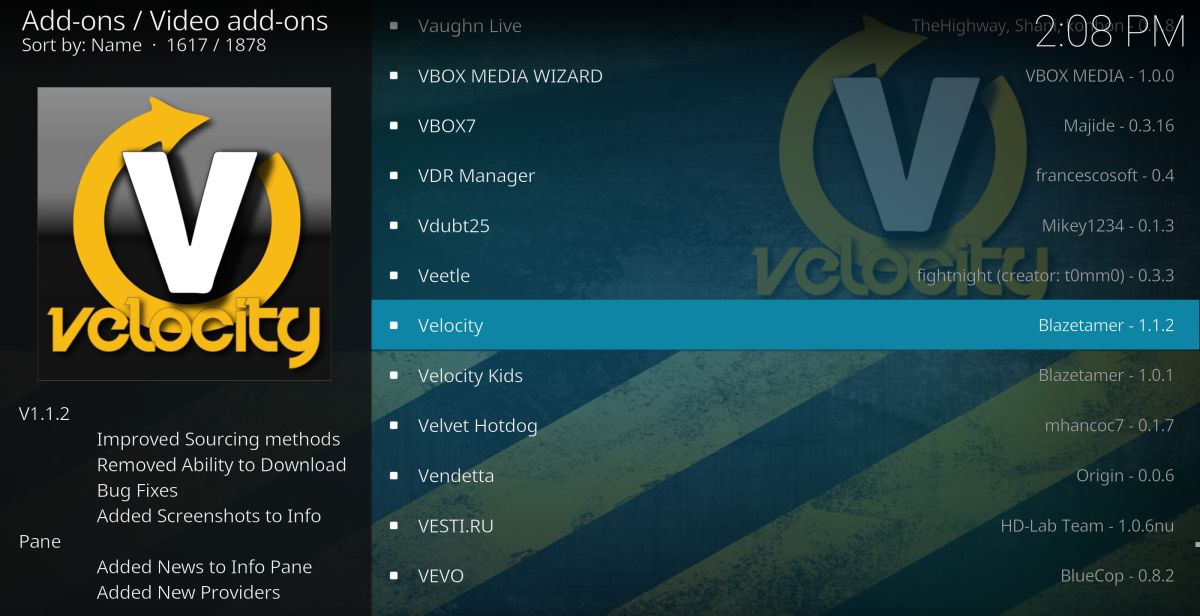 Velocity is a less well-known add-on than some of the others in this article, but it nonetheless offers excellent access to a wide variety of high-quality movie streams.
Unlike some add-ons which claim to offer and frequently fail to deliver HD-quality add-ons, all of our experts agree that Velocity is as good as its word the majority of the time. Not only does it offer genuine HD feeds, it also loads the streams a lot faster than you might otherwise expect, true to its namesake.
Velocity has more options for user customization than SALTS, with users able to fine-tune the settings for the URL resolver, the scraper and a whole host of other settings.
Velocity offers streams of both movies and TV shows, both of which are separated into their own sections for ease of use. Sadly, Velocity doesn't offer genre-based categories for users to search through, but rather more general categories such as "Box Office," "Trending," "Most Watched" and "Most Played." This can make finding a more obscure or less popular movie a little harder than you might hope.
The crucial difference from SALTS is that whilst a number of stream links are usually identified for each movie selected, you still have to set up the URL resolver yourself. It is a bit less user friendly to be sure, but that drawback is counterbalanced by the speed and wide availability of genuine HD streams. We can thus firmly stand behind our recommendation of Velocity as an excellent movie-playing add-on for Kodi.
Specto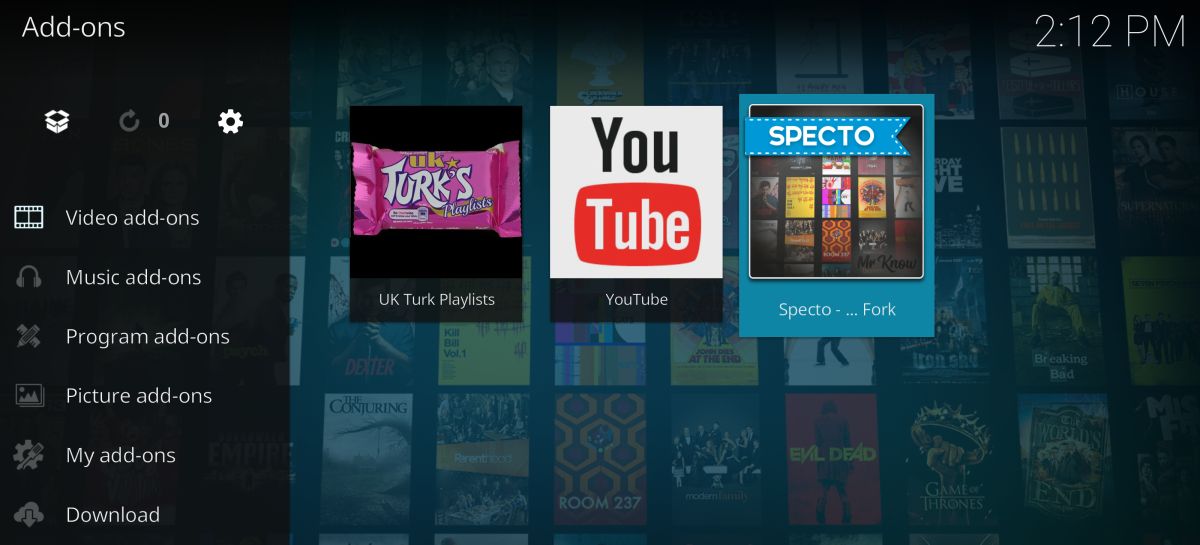 Specto is a popular, easy-to-use, and extremely customizable add-on which is regularly updated by the developers and offers a great service. Like its progenitor add-on Genesis, Specto maintains a sterling reputation for great service among Kodi users.
Perhaps unsurprisingly, it offers streaming access to a wide variety of movies and TV shows, which are divided cleanly within the interface's menus. The Movies menu contains a long and exhaust list of submenus and search options, including:
Genre
Year
People
Features
People Watching
Most Popular
Most Voted
Box Office
Oscar Winners
In Theaters
Latest Movies
The genre selection is similarly extensive, and there is also a nice feature which allows you to "favourite" movies and then go back to watch them at a later date.
When you select a movie, the list of streaming sources gives an indication of the quality of the stream which is a nice touch. Most of the streams seem to work pretty well, and a surprisingly high number of them are of true HD quality.
The biggest advantage of Specto is the regular updates it receives to remove bugs, add new features and to clean up broken links. This makes it a reliably great Kodi add-on for movie lovers, and a worthy addition to this list.
Openload Movies

Openload Movies is a relatively new, but remarkably easy-to-use Kodi add-on for movie and TV streams alike. It offers a wide selection of movies which are easily navigable through its simple and intuitive interface.
Movies can be streamed with just a single click, and users can customize the add-on to specify the quality of stream they want to use. Its menus include all of the options you would hope for, including genre searches as well as searches by year released, new, and latest added.
For sheer simplicity and reliably high-fidelity streams, Openload Movies offers a great service that is hard to top.
Quasar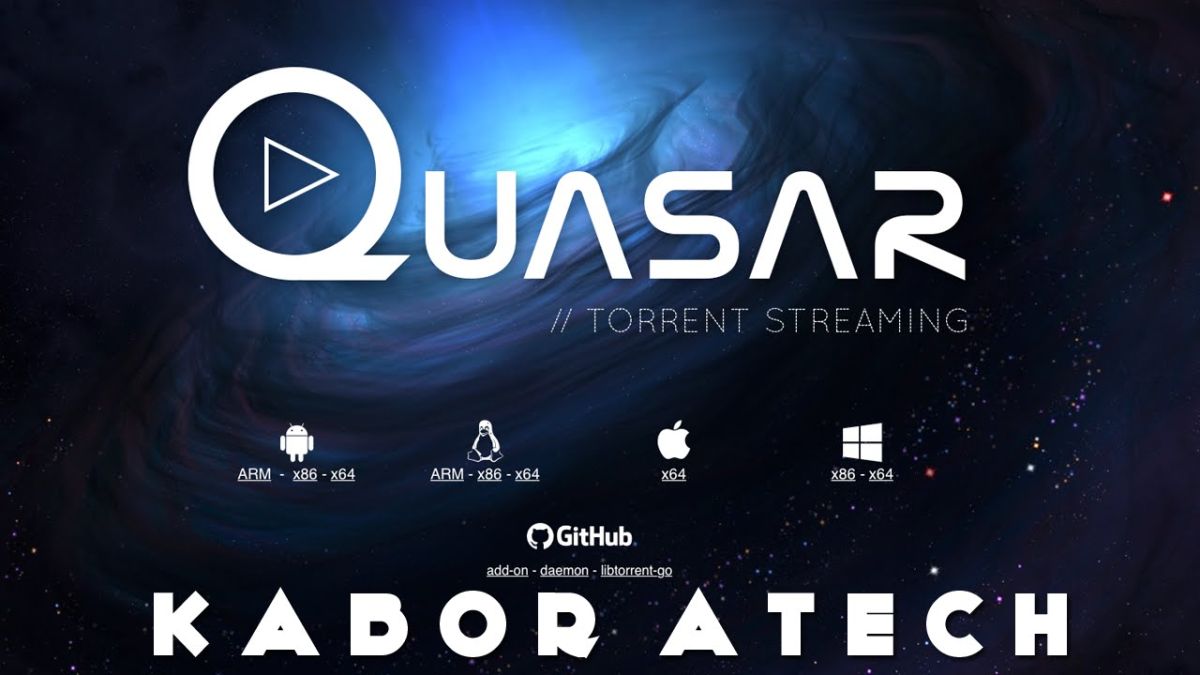 DISCLAIMER: A quick disclaimer before we review Quasar. This is a torrenting add-on, which means it works by downloading and simultaneously streaming video torrent files. There are risks associated with using torrent files, especially if the content is potentially in breach of copyright. While we at AddictiveTips.com in no way condone any actions which might be in breach of the law, we nevertheless strongly recommend the use of a VPN at all times when using Quasar.
Quasar is perhaps one of the most popular torrenting add-ons available for Kodi. It offers an extremely user-friendly interface, a massive library of available movie and TV show titles, and it also fetches movie information directly from the excellent IMDB website.
This add-on is regularly updated and, unlike several other similar torrenting add-ons, mostly offers fast streaming speeds. This makes for a buttery-smooth content viewing experience.
However, setting up Quasar is a bit of a hassle and once it is installed, you then have to select and install content providers before you can watch anything. You can install as many as you want, but many only offer a certain type of content and it can be hard to find one that exactly fits your needs.
But once you have got through the setup, Quasar is a joy to use and has the added bonus of guaranteeing no dead links.
cCloud TV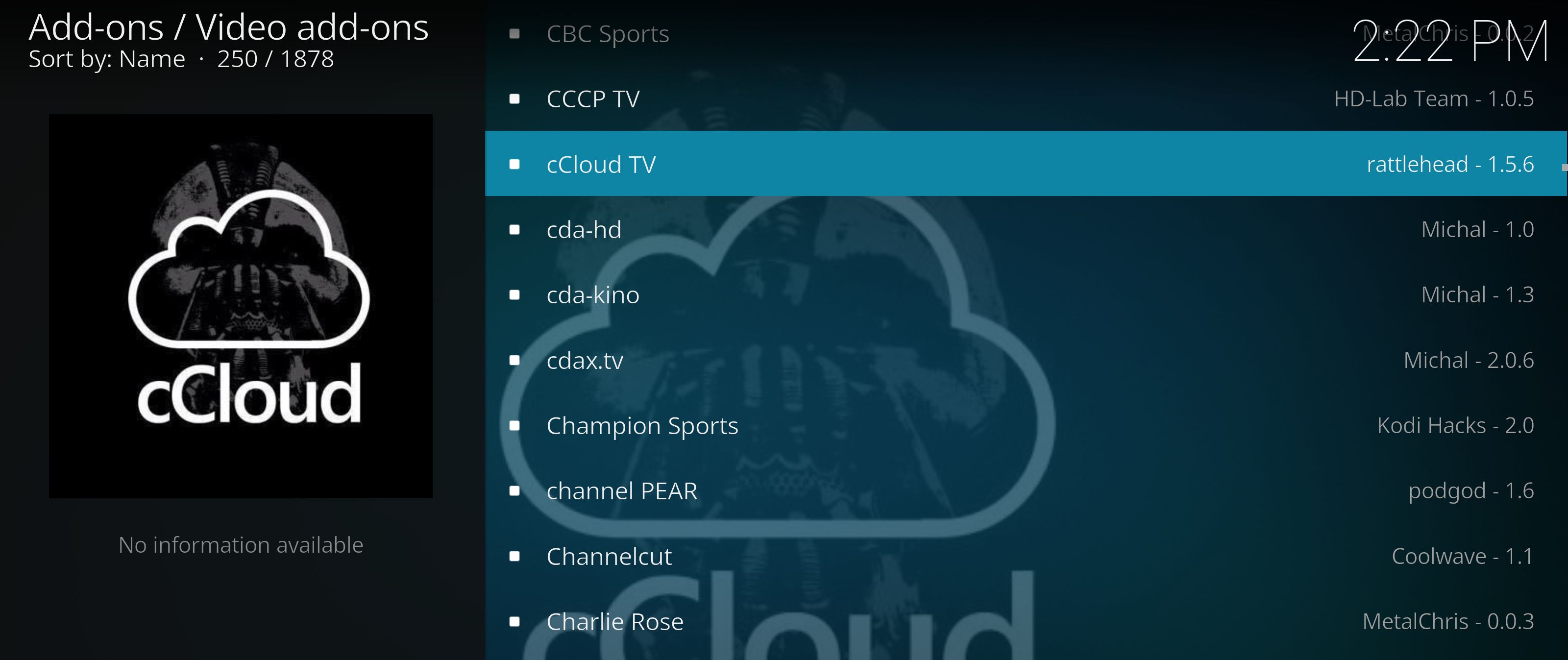 cCloud TV is an add-on which offers access to hundreds of live TV channels from the USA, the UK, and around the world. In addition to regular terrestrial and cable channels, cCloud TV offers a range of news, sports, and entertainment channels, with this latter option including a number of specific movie sub-channels.
Within cCloud TV, there is also a dedicated Movies on Demand section. This feature offers mostly Bollywood movies, though there is still a fair few other to choose from. The biggest draw, however, is the multitude of easily navigable movie channels available. While they won't be showing any of the latest releases, they will have an extensive back catalogue to choose from.
While the connections are not always perfect, in our experience, the dedicated movie channels rarely offer too many playback problems. You likely won't be using cCloud TV much for on-demand viewing, but if you're looking for a streamlined interface to access a ton of TV and movie channels from around the world, you'll love this Kodi add-on.
What is Kodi?
Kodi began its life as the Xbox Media Center or XBMC back in 2002. As the name suggests, it was intended as a media management tool for the Xbox games console, but never actually received approval from Microsoft. As a result, only Xbox users who hacked their device to allow the installation of unofficial software were able to benefit from it.
15 years on and Kodi has evolved considerably from that first incarnation. Today, Kodi is one of the most versatile and user-friendly media players on the market. It can be used on pretty much any operating system and device you would care to mention. Kodi can also play virtually every file format in existence with ease.
Crucial to Kodi's development over the years is its virtue as a piece of free and open-source software (FOSS). This means that the coding which underpins Kodi is freely available online and developers are able to play around with and adapt the programme as they see fit. This has resulted in modified versions of Kodi being used, for example, in such diverse devices as set-top boxes, Smart TVs, hotel TV systems, other media players, and even digital signs.
For regular users, this has added two crucial and much-loved facets to the modern incarnation of Kodi:
Its appearance can be completely customised with a huge number of available skins
Countless add-ons have been created to enhance Kodi's capabilities
Add-ons are software components which can be added to Kodi which enable users to carry out a particular function or action through the Kodi software. Most commonly, these add-ons are used to enable Kodi users to stream live or on-demand media content.
Once you have downloaded Kodi onto your device, you can find an add-on which allows you to stream just about any media content you could ever want. However, some of these add-ons allow access to copyrighted or geo-restricted content, causing Kodi to come under sustained attack in recent times.
Needless to say, here at AddictiveTips.com we do not in any way condone the use of Kodi add-ons to break copyright laws. After all, plenty of add-ons allow access to perfectly legitimate content, and these are well worth taking a look at.
Is Kodi legal?
If you only knew Kodi by its portrayal in the mainstream media, it would be easy to think that Kodi was an illegal piece of software that was used by pirates to share copyright-protected content.
This is not the case in actuality. Kodi is itself merely a piece of media management software, making it 100% legal to both download and use. Its developers are also extremely transparent about how the software works, and endeavour alongside different bodies to ensure Kodi is always in compliance with the law.
However, Kodi's open source nature makes it impossible for the developers to police what add-ons are being created to work with Kodi. Inevitably, some developers have exploited this to create add-ons which allow users to stream and download copyrighted content. Downloading copyrighted content is almost always illegal virtually anywhere you do it in the world. However, the law around streaming copyrighted content is not as black and white.
For example, a 2014 ruling in the European Court of Justice found that streaming was not in breach of copyright because the copyrighted data was only stored on a device temporarily. The same appears to currently be the case in the USA. Although there have been efforts to amend the law there, all have failed so far.
So, while Kodi itself is legal, some if its add-ons may not be. We advise you to exercise caution and better judgement when installing and using add-ons, and to always ensure you are using a VPN when using Kodi.
Is Kodi safe?
As a piece of open-source software, which is most often used with unofficial add-ons from external developers, it is impossible for Kodi to be 100% safe to use.
There are of course rogue developers out there who see Kodi as an opportunity to hack into users and plant malicious software on their devices. And you can count on some add-ons to do just that! Furthermore, Kodi is susceptible to man-in-the-middle attacks.
These threats can be tackled by using a VPN alongside Kodi to encrypt your data and hide your identity. Alongside protecting your privacy, a VPN is also a valuable security tool for Kodi and well worth investing in.
A VPN will not make Kodi 100% safe, but it will make a significant difference.
What is a VPN?
Throughout this article, we have made continual mention of an essential tool to use alongside Kodi when watching movies: a VPN. But what exactly is it?
A VPN, or Virtual Private Network, is an online security and privacy tool which has seen its popularity grow substantially in recent years. For the price of a small monthly subscription, a VPN will both protect your online data and hide your identity online.
It works by redirecting all of your internet traffic, without exception, down an encrypted pathway and through an external server, before it heads off to the website or service you want to use. The encrypted pathway ensures that none of your data can be seen by either snooping government officers nor hackers. This serves to protect both your security and privacy.
Once that data passes through the VPN's server, it is then tagged with a new IP Address (this is the bit of data that websites use to determine where in the world you are). By rerouting your data through an overseas server, it is possible to get around geo-restrictions by pretending you are somewhere you are not.
The change in your IP Address also renders you completely anonymous, making it impossible for anyone to track your online activity back to you; they can only trace it as far as the VPN server. Equally, all your ISP can see is that you are connecting to the VPN server, so they don't know what you are doing online either.
What is the best VPN to use with Kodi?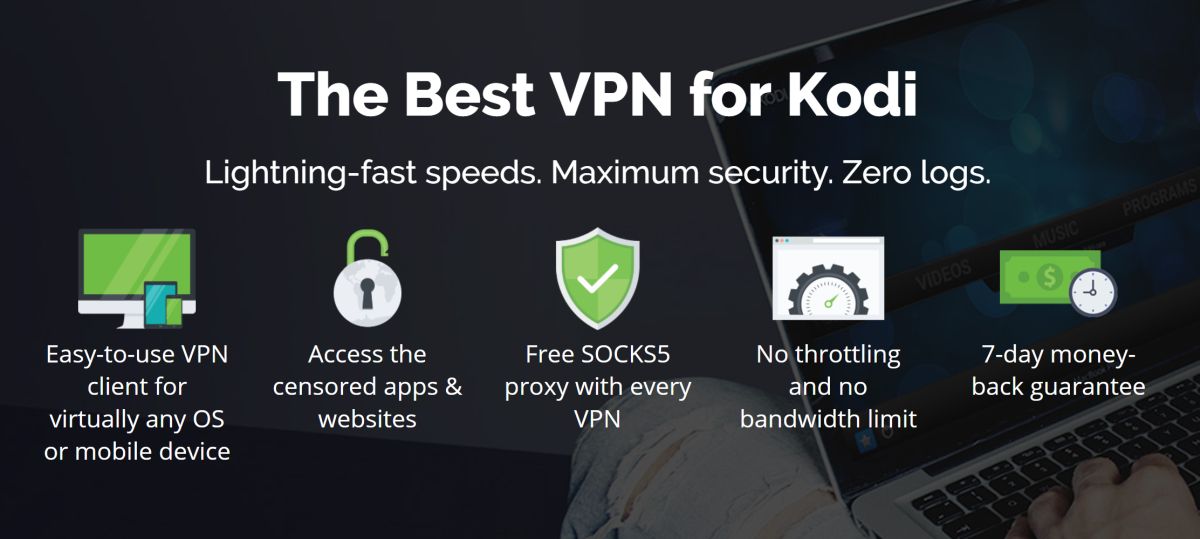 VPNs are remarkably easy to setup and use, and most subscriptions cost only a few dollars a month. While there are lots of choices on the market, some suit different users more than others.
For Kodi users, who are likely to be wanting to stream movies, our recommendation would be IPVanish for its fast network speeds, encryption, no-logging policy and numerous available worldwide servers.
Perhaps most significantly, they have also recently launched a dedicated Amazon Fire TV Stick app, the most common and popular device for Kodi users. This is a real bonus as installing a VPN without a dedicated app can be a complicated process.
With services movie streaming aficionados actually need and an incredibly friendly UI, it's easy to see why IPVanish is by far and away the best VPN for use with Kodi.
IPVanish allows Kodi users to stream movies securely. AT readers get an EXTRA 60% discount on yearly plans for monthly payments of just $4.87 per month! If you're completely satisfied after your first 7 days using IPVanish, get your money back with no questions asked.