We are reader supported and may earn a commission when you buy through links on our site.
Learn more
Super Bowl (52) on Kodi: Live Streams for the 2018 Super Bowl
The NFL's impressive spectacle that is the Super Bowl only rolls around once a year, and when it does, the fans are ready. Two teams at the top of their divisions face off for the league's biggest prize, all while taking part in one of the most-watched television events in history. And thanks to streaming software like Kodi, you can watch the Super Bowl on any device, no matter where you live.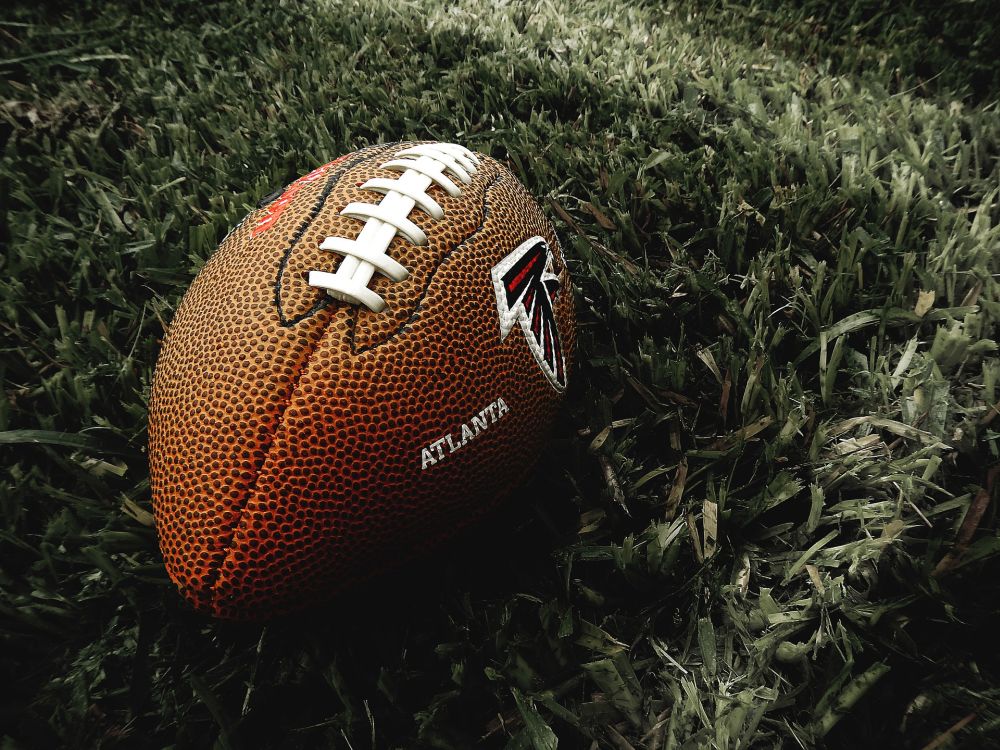 30-days money back guarantee
Super Bowl LII – What You Should Know
The 52nd Super Bowl is scheduled for February 4, 2018 at the U.S. Bank Stadium in Minneapolis, Minnesota. The game features the New England Patriots going up against the Philadelphia Eagles in what amounts to a rematch of the 2004 Super Bowl. The Patriots walked away with the trophy back then and they're still the favored team now, but can they pull off another big win?
Television rights to the Super Bowl bounce back and forth between networks on a yearly basis. To watch the Super Bowl on TV or on Kodi, you'll first need to know which network is airing it. NBC showed the 2015 Super Bowl, then CBS followed in 2016 with Fox snagging the 2017 contract. The 2018 Super Bowl goes back to NBC, with CBS and Fox taking the following years.
See also: How to get a US IP address, in case you need it.
Commercials are almost as big of a deal as the game itself. A 30 second ad during the Super Bowl costs around $5 million. Companies that grab a coveted spot often pour months of work into their promos, resulting in some of the most creative and entertaining advertisements ever. If you watch the Super Bowl for the commercials, don't worry, you'll still get to see them if you stream through Kodi!
Before you start streaming
The Kodi software is safe, easy to use, and completely free. It doesn't come with any kind of content and doesn't break any laws, no matter where you live. Because some of the add-ons you can install bend those rules, however, the entire Kodi community has fallen under scrutiny. This has led to ISPs throttling streams, copyright infringement notices, and even governments shutting down add-on creators.
The good news is you can protect yourself from these invasions of privacy by using a good VPN. VPNs create a private tunnel between you and the internet by encrypting every packet of data that leaves your device. No one can tell what you're watching, and no one can tell who you are or where you're from, creating the perfect environment for safe and secure Kodi streams.
IPVanish – the best VPN for Kodi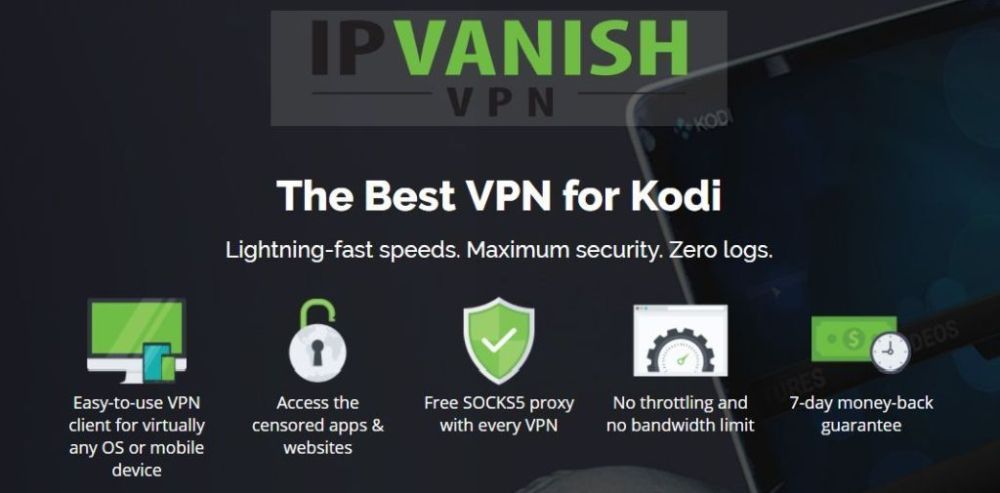 Picking the right VPN is tough. There's a lot of information to compare, everything from encryption methods to privacy policies to software availability. This is made even more difficult by Kodi's wide availability. After all, you need to run a VPN on the same device as Kodi, which can be a challenge on streaming sticks or TV box devices! We looked at the best VPNs on the market and concluded on IPVanish as the best one for Kodi. IPVanish hits the right balance between speed and security, offering fast connections around the world without sacrificing your privacy. You'll have access to over 950 servers in 60 different countries with IPVanish, and every packet of data will be protected by 256-bit AES encryption and a zero-logging policy on all traffic. IPVanish's software also runs great on a wide variety of devices, and it offers DNS leak protection and automatic kill switch features, too!
IPVanish offers a 7-day money back guarantee which means you have a week to test it risk-free. Please note that Addictive Tips readers can save a massive 60% here on the IPVanish annual plan, taking the monthly price down to only $4.87/mo.
Watch the Super Bowl (LII) on Kodi – Official Add-ons
Kodi's add-on community is divided into two sections: official and unofficial content. People usually associate Kodi with the latter, as unofficial add-ons make up the majority of extras you can install. These add-ons have a reputation for being unreliable, difficult to use, and even downright illegal, which is why sticking with official content whenever possible is a good idea.
NBC Sports Live Extra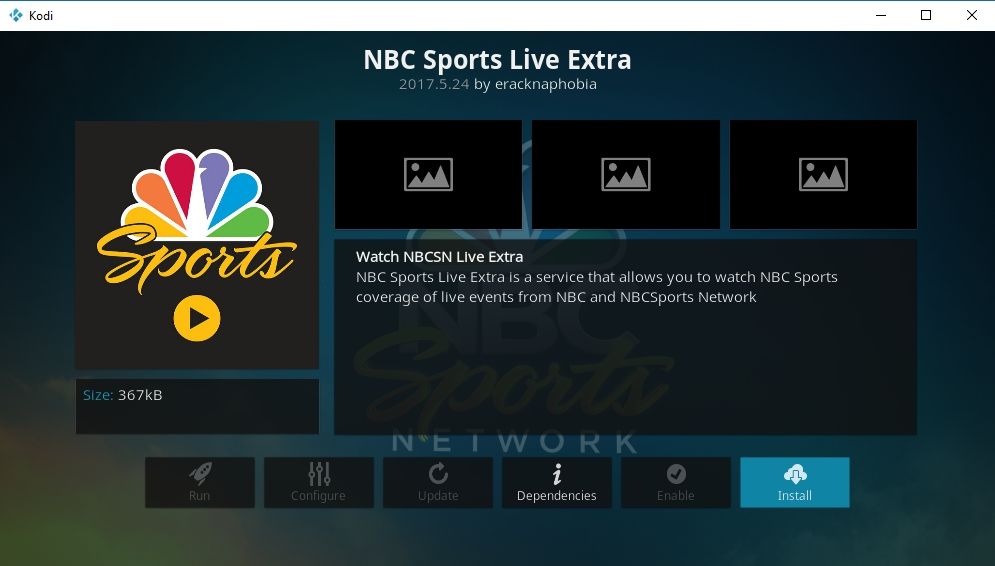 NBC Sports Live Extra is a Kodi add-on that pulls in content from the network's official online broadcasting sources. The channel itself is home to a wide variety of sports, including NASCAR, the PGA Tour, NHL games, the Olympics, and Premier League soccer. More importantly, Live Extra will be streaming the Super Bowl in 2018, making it an ideal first stop to get your football fix.
There are a few catches to the NBC Sports experience on Kodi. Yes, you'll get incredibly high quality streams and yes, it's all perfectly legal, but you do need an existing cable subscription or an account with NBC Sports Gold to watch live content. Both of these come with some pretty strict VPN blockades, too, making it difficult or even impossible to watch the Super Bowl from outside the U.S.
If you meet the requirements to use the NBC Sports Kodi add-on, read on for full installation and activation instructions.
Install NBC Sports Live Extra
NBC Sports Live Extra is included in Kodi's official repository, making installation a breeze. You won't need to add any source URLs or hunt down any repositories, as it comes pre-installed with every version of Kodi. Follow the quick steps below and you'll be set.
Run Kodi, go to the main menu, then choose Add-ons.
Click the open box icon and select Install from repository.
Scroll down and click Kodi Add-on repository.
Choose the Video add-ons category, then select NBC Sports Live Extra.
Click the Install button in the lower right corner of the window. Moments later the add-on will be ready.
Activate and Watch NBC Sports Live Extra
NBC Sports Live Extra requires activation via NBC Sports Gold or your cable provider's login page. Install the add-on first, then Kodi will prompt you to pair your device by following the instructions below. After the add-on is activated, you'll be able to launch the stream and watch live content, including Super Bowl 52 on game day.
Visit activate.nbcsports.com
Enter your device and cable provider.
Type in your activation code listed in the Kodi pop-up window.
When activated, NBC's website will redirect you to your cable provider's login page.
Enter your details and sign in.
Once activation is complete, go back to Kodi, close the pop-up, and start streaming.
Note: If you use a VPN, even if it's based in the U.S. and you're connected to a server in the same country, NBC Sports Live Extra may not work for you, as the service blocks a number of VPN IP addresses. If you can't get a stream to start, disable your VPN and try reloading.
FOX Sports GO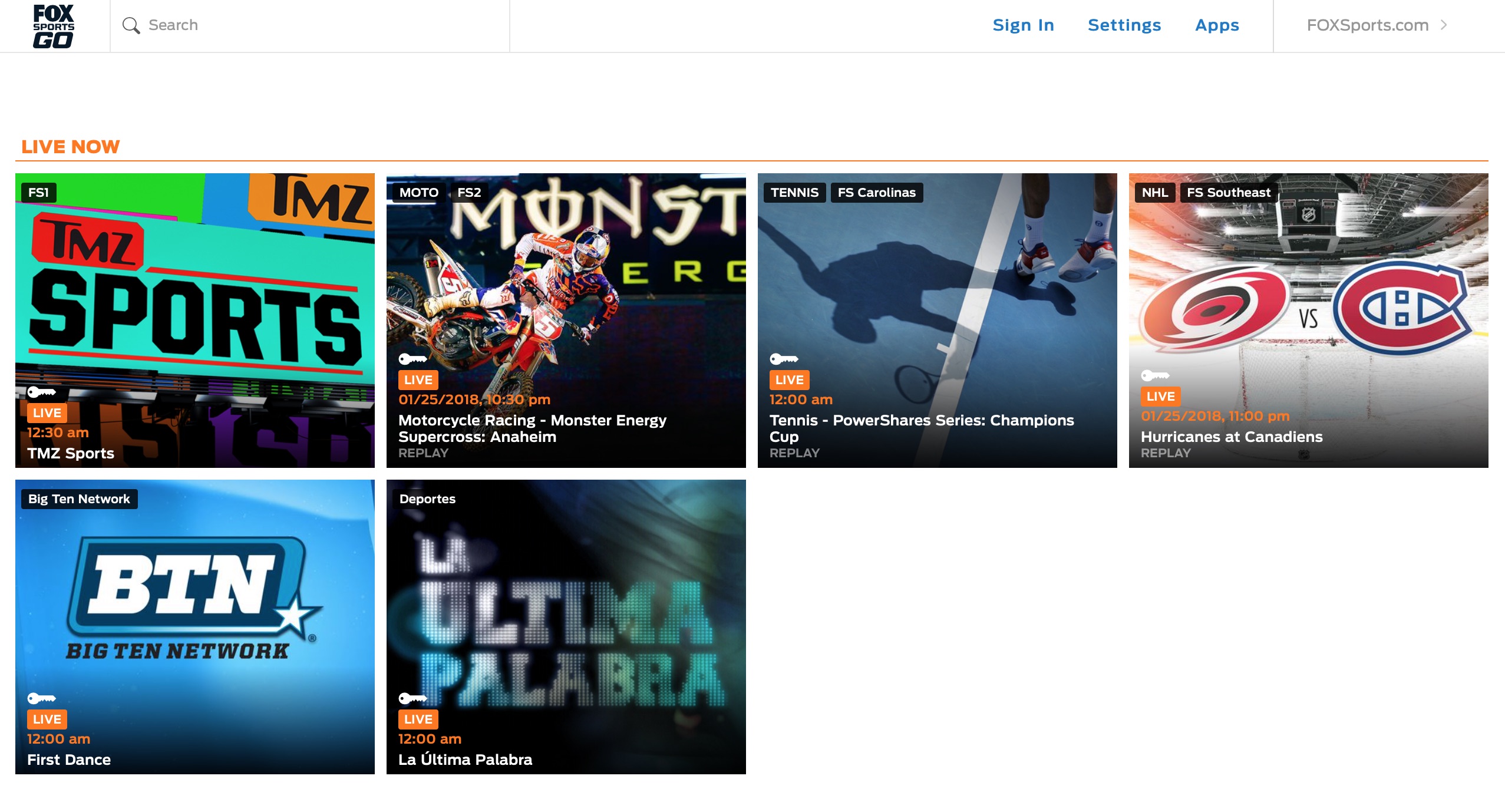 The official add-on for FOX Sports GO accesses content from FOX's TV Everywhere service, bringing all the live content and sports streams to mobile devices. The official FOX Sports GO add-on makes it easy to watch the same videos on Kodi. Much like NBC Sports Live Extra above, FOX requires a valid cable provider account to use. This ensures the streams are high quality and legal, though, which is better in the long run.
FOX is scheduled to air the Super Bowl in 2019. You won't be able to catch Super Bowl 52 using this add-on, but you'll still be able to catch a lot of other games, including NBA, MLB, and the NHL.
Installing FOX Sports GO
Installing FOX Sports GO is quick and easy. The file is packaged with Kodi's official repository and doesn't require any external additions, just dive in and start streaming.
Open Kodi and go to the main menu by pressing Escape.
Select Add-ons, then click the open box icon at the top of the navigation menu.
Choose Install from repository, then scroll and click Kodi Add-on repository.
Choose the Video add-ons folder.
Select FOX Sports GO.
Click the Install button in the lower right corner.
How to Use FOX Sports GO
FOX Sports GO has to pair with a cable TV account before loading content. It also requires a quick activation before enabling streams. Install the add-on using the instructions above, then continue below to complete the setup. Once everything is set up, you can run the add-on and stream both live and on-demand content from FOX Sports.
Copy the activation code from the Kodi window.
Visit foxsportsgo.com/activate
Enter your code, then select your cable provider.
You'll be redirected to the cable provider's login page.
Enter your details and sign in.
Once activation is complete, go back to Kodi and start streaming.
DON'T FORGET: Use a VPN when streaming through Kodi. IPVanish gives our readers an exclusive discount of 60% and you'll only pay $4.87 a month to keep your browsing safe and private.
Watch the Super Bowl on Kodi – Unofficial Add-ons
If you can't access the official add-ons above, don't worry, the Kodi community has you covered. Unofficial content is developed by third party coders and can access a massive variety of streams with ease. You'll have to watch out for things like illegal streams or broken links, unfortunately, but if you stick to reliable add-ons you'll be able to watch the Super Bowl and stream tons of live sports, all for free.
Before you can install unofficial add-ons you'll need to toggle one of Kodi's internal settings. This lets the software access external sources so it can download repositories for you.
Open Kodi and click on the gear icon to enter the System menu.
Go to System Settings > Add-ons.
Toggle the slider next to the Unknown sources option.
Accept the warning message that pops up.
Note: Some of Kodi's add-ons may link to pirated sources or content that's otherwise illegal in your area. Addictive Tips does not condone or encourage any violation of copyright restrictions. Please consider the law, victims, and risks of piracy before accessing copyrighted material without permission.
1. SportsDevil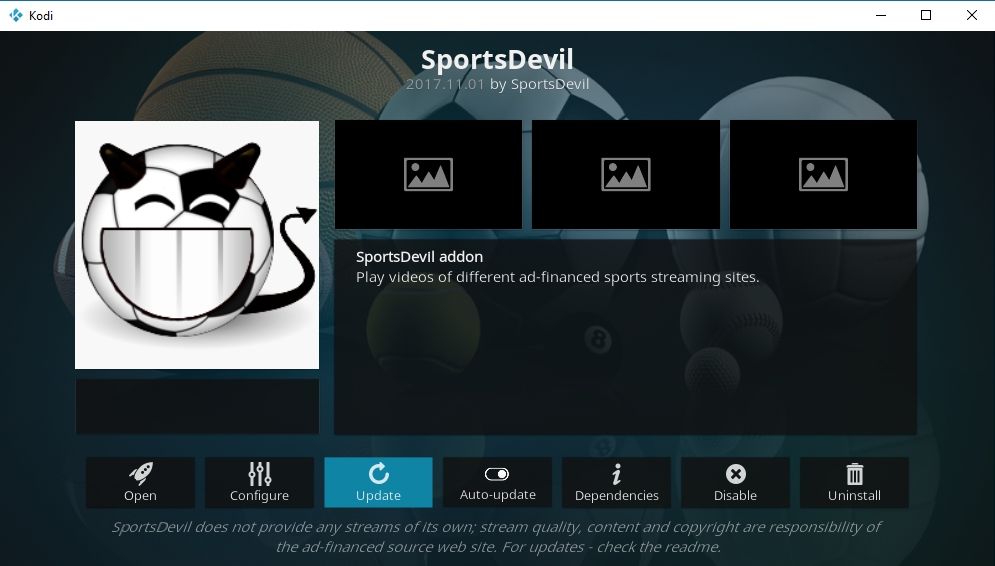 SportsDevil is consistently ranked as the best sports streaming add-on for Kodi, hands down. The extension is perfectly straightforward and comes with dozens of live sports streams ready to go. To watch soccer, NFL, NBA, hockey, golf, tennis, boxing, and more, all you have to do is install it, pick a stream, then kick back and relax.
SportsDevil is packaged with a few mainstream repositories. To get access, you'll need to install the right repo first, then the add-on itself. We've included instructions for the entire process below. Simply follow the steps and you'll be ready for the Super Bowl in no time.
Install SportsDevil from the seduNdneS Repo
The seduNdneS repository focuses on a narrow band of entertainment instead of sheer variety of add-ons. This lets the team put their attention on good, usable features. You can watch all kinds of movies and TV streams with seduNdneS, and you can also grab live sports feeds through SportsDevil. Follow the guide below to add the repo and the add-on to your system.
Start at Kodi's main menu, then click on the gear icon at the top.
Scroll to File Manager, then choose Add source in the left pane.
In the Add File Source window, click the center where it says <none>.
Type the following URL into the box that opens: https://firetvguru.net/fire
Click OK, then type a name in the box where indicated. Use something descriptive like sedundnes.
Click OK, then return to the Kodi main menu.
Open Add-ons and click the open box icon at the top.
Choose Install from zip file and select the entry you created above.
Click the file marked repository.sedundnes-#.#.#.zip
 Wait for the install to complete.
 From the open box menu, choose Install from repository.
 Scroll down and open the seduNdneS Repo.
 Enter the Video add-ons folder.
 Scroll down to SportsDevil and install.
 You can access your new sports streams from the main menu at any time.
How to Use SportsDevil
SportsDevil organizes its content by streaming source, then sports category. It's a bit unconventional at first, but with some experimentation you can find the right resource to get the job done. It's impossible to verify which stream will have the Super Bowl on game day. We've included a few likely candidates below. Check them out before the game, then when the Super Bowl airs, to go the Live Sports folder and switch through them to see what you can find.
Dimsports.eu – Has a dedicated American Football section.
FirstRowSports.eu – Includes a similar section as above, but with different sources.
SportStream365 – Supports an "other" category packed with live streams.
LiveTV.ru – Includes a fantastic "now playing" section with worldwide broadcasts.
2. FTFA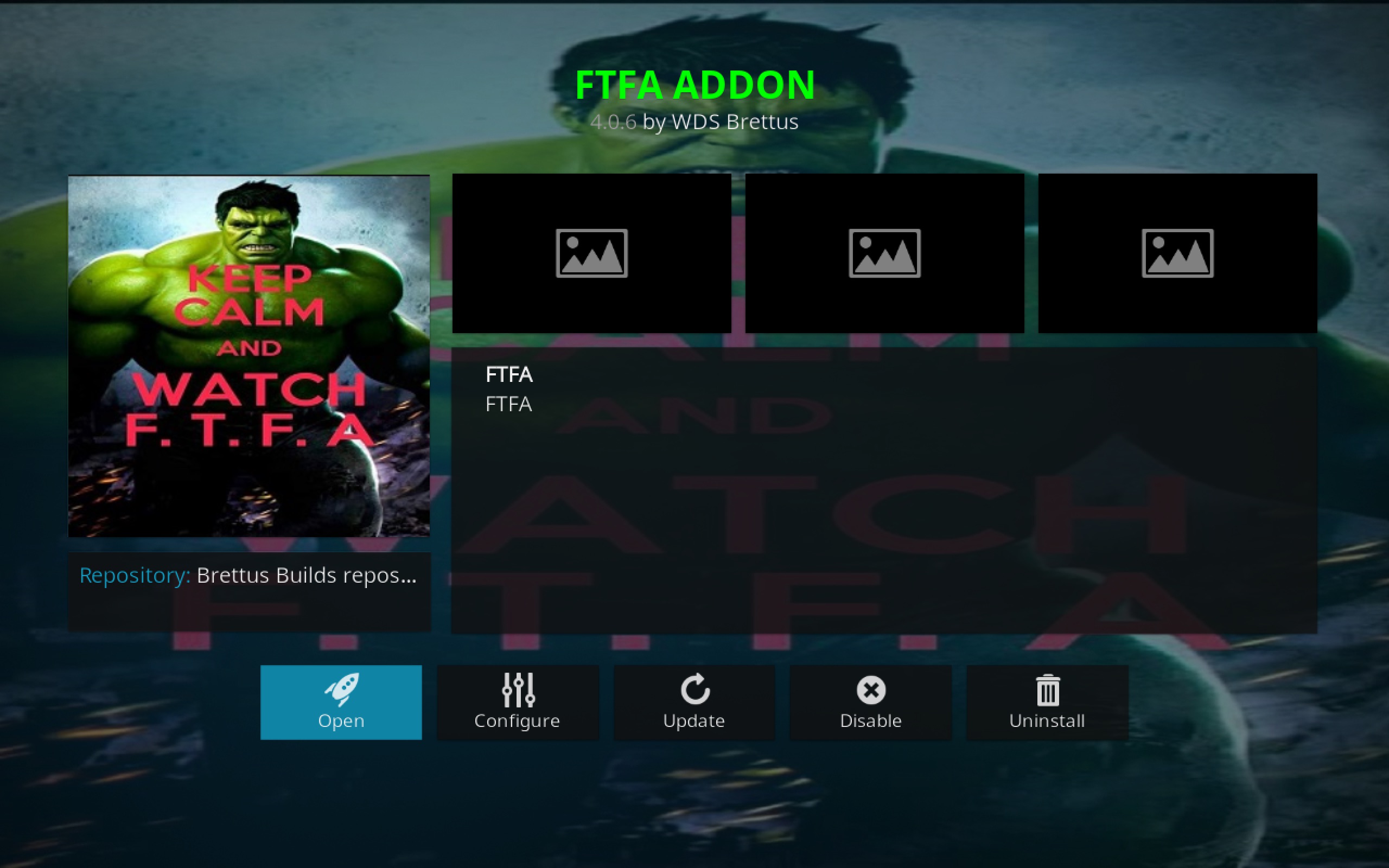 FTFA is a bit of an unusual add-on, but that's exactly what makes it so useful for sports streams. The extension is designed around live content instead of on-demand videos. You pick your shows by navigating channels based on location. Want something from the UK? See which servers are online, pick a location, then browse the networks. This makes navigation a bit of a hassle, but it lets the creators include a massive amount of content, including broadcast channels from the U.S. that will play the Super Bowl.
Install FTFA from the Brettus Repo
FTFA is available through the Brettus Repository. The installation may require free activation through an external website, but if you follow the steps below you can have everything ready to go in a few minutes.
Open Kodi and click the gear icon.
Go to File Manager then choose Add Source.
Add the following URL: https://toptutorialsrepo.co.uk/kodi/Repos/
Enter an easy to remember name, such as toptuts
Click OK. Kodi will add the repo to your sources list.
Go back to the main menu and select Add-ons.
Click the box icon at the top of the menu.
Choose Install from Zip File, then select the repo.
Scroll down and find the file named repository.Brettusrepo-#.#.zip
Install the repo, then go back and choose Install from Repository.
Select the entry named Brettus Builds Repository.
Navigate to Video add-ons and look for the FTFA add-on.
Launch the add-on. A window will open asking for a PIN.
Click OK and a website will load in your browser.
Click the blue GENERATE button to receive a PIN. It should look something like this: AB1234
Copy the PIN, then go back to Kodi and paste it into the active window.
The PIN will validate and you're free to stream.
Watching Sports on FTFA
FTFA is organized by channel servers, not content type or resource. To find things like American football or the Super Bowl, all you need to do is visit the U.S. servers page, then see if the network is currently streaming.
For 2018's Super Bowl 52, you'll want to find a solid NBC stream. Run FTFA and pick one of the options near the top that says "Live TV server ## USA IPTV". Inside you'll see an alphabetical list of sources, including a few NBC channels. When the game begins, pick one and enjoy!
3. Project Mayhem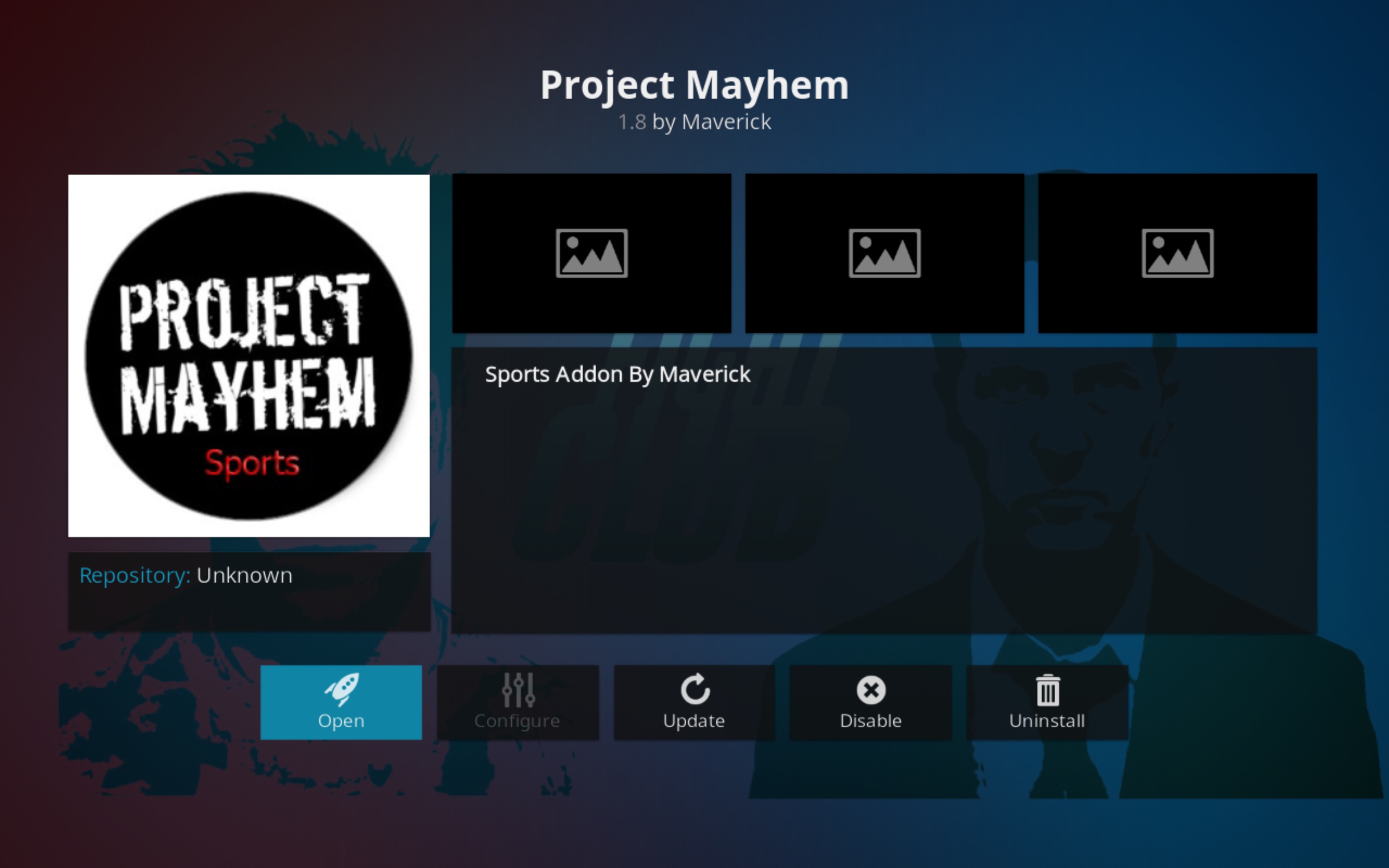 Project Mayhem is a refreshing add-on for sports fans. Instead of bundling its content in with a bunch of movie and TV shows streams, Mayhem focuses on sports channels and nothing more. With it you'll be able to stream live content from around the world, everything from Sky Sports to Canal+, Bein, Pac 12, and beyond. There's even a full category devoted to American football, making it an ideal place for Super Bowl action this season.
Install Project Mayhem from the Maverick Repo
Project Mayhem is part of the Maverick repository. Installing it is just like installing any other add-on, all you have to do is source the repo then pick the content you want to use. Follow the steps below and you'll be streaming in a matter of seconds.
Open your web browser and visit the official Maverick repository page.
Download the file repository.maverickrepo-#.#.zip and save it somewhere convenient.
Open Kodi, go to the main menu, then choose Add-ons.
Click the open box icon at the top and select Install from Zip File.
Navigate to repository.maverickrepo and install it.
From the open box menu again, choose Install from repository.
Scroll down and open the MaverickTV repository.
Enter the Video add-ons folder.
Select Project Mayhem and install.
Using Project Mayhem
Most of Project Mayhem's content focuses on worldwide streams. That's great if you want soccer and cricket, but what about good old American football? Fortunately the add-on caters to fans with an entire folder dedicated to the pigskin sport. Scroll down and enter the section labeled National Football League Live. There you'll find a list of teams paired with a few other streaming sources. Content won't show up until 20 minutes before the game, so when the Super Bowl is about to start, check here for a reliable resource.
4. UK Turk Playlists
The UK Turk Playlists add-on has been one of the best Kodi resources for sheer content variety. The add-on comes with countless live streams, links to on-demand content, movie channels, and sports networks from around the world. There's no guarantee UK Turk will have a Super Bowl section when game day rolls around, but because it's one of the most reliable and full-featured streaming add-ons for Kodi, it's worth checking out. Follow our guide on how to install UK Turk Playlists to have it ready for game day.
DON'T FORGET: Use a VPN when streaming through Kodi. IPVanish gives our readers an exclusive discount of 60% and you'll only pay $4.87 a month to keep your browsing safe and private.
Conclusion
Pumped for the Super Bowl? Even if you don't have access to the right networks, it's surprisingly easy to fire up Kodi, install the right add-ons, and stream the game on any device. Now all you have to worry about is whether or not your team wins!