We are reader supported and may earn a commission when you buy through links on our site.
Learn more
How to Watch ABC Comedy Shows from Anywhere in the World
ABC, or the American Broadcasting Company, used to be known mostly as a channel for news, game shows, and drama series, but in the last few years they've started commissioning a broader range of programming including a number of comedies. Their comedy programming is funny, diverse, and has taken the channel to new heights of popularity.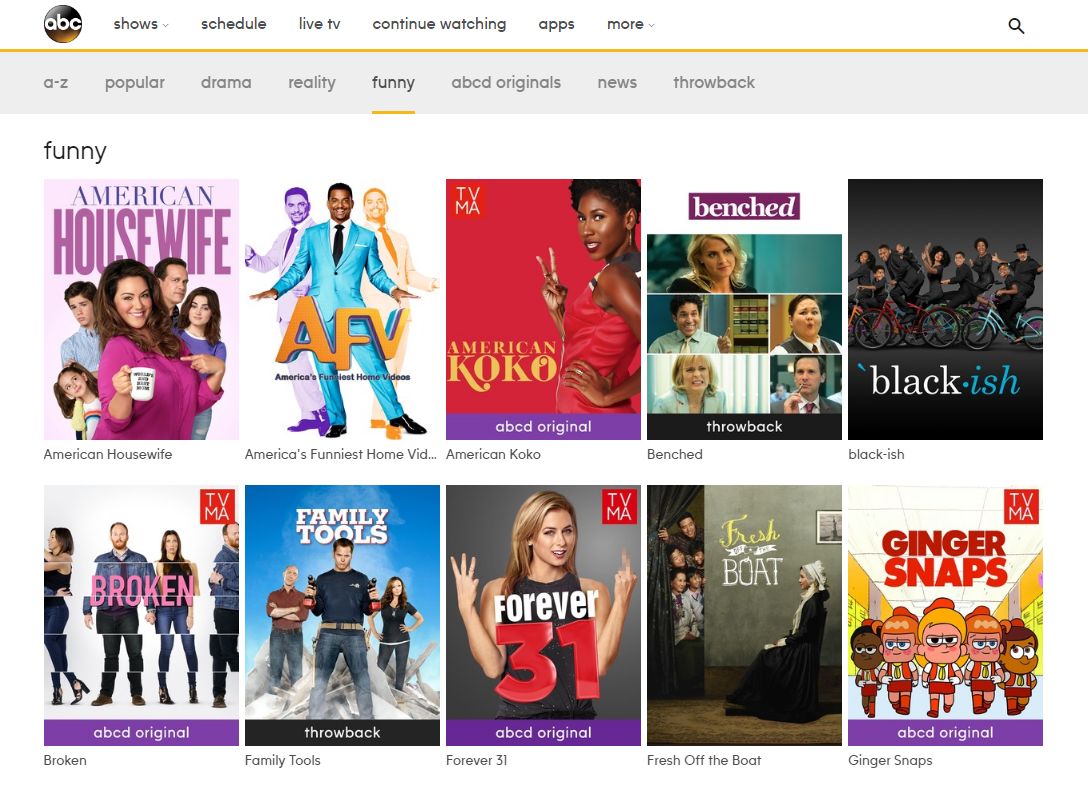 Some of ABC's most popular comedy shows include:
Modern Family (2009)
Black-ish (2014)
Fresh Off the Boat (2015)
The Middle (2009)
The Goldbergs (2013)
Speechless (2016)
American Housewife (2016)
The Mayor (2017)
But there are lots more current and former ABC comedy shows that you might like too. You can see a full list of ABC comedies at https://abc.go.com/shows?category=funny
These shows have won fans from all around the world, thanks to their witty jokes and representation of under-represented social groups. However, it can be hard to watch these shows if you aren't in the USA. Many of these programs aren't shown on TV stations outside of America, and they aren't available for streaming outside of the USA either. So what is an international comedy fan to do? That's the topic we're covering today, with our guide on how to watch ABC comedies from anywhere.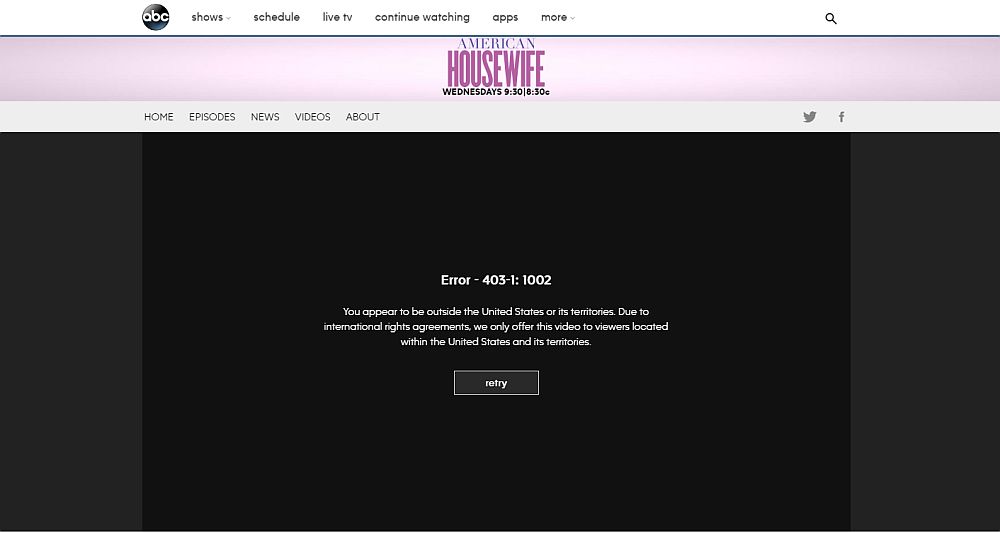 Below we'll show you several methods for watching these ABC comedies, even if you're outside of the USA. You can use these methods to watch the shows from anywhere in the world! First we'll show you two add-ons for the Kodi media centre software, with which you can watch ABC comedies either live or on demand. Then we'll show you two streaming sites that you can use to watch ABC comedies in your web browser. Read on for more details!
30-days money back guarantee
Watch ABC Comedy Shows with Kodi
If you watch a lot of TV and you love to keep up with all the latest shows, then you might want to consider using some dedicated media centre software on your desktop, laptop, or mobile device. Here at Addictive Tips, we love the Kodi media centre software which is free, open source, and available for PC, Linux, Mac, Android, iOS and even Firestick devices. Once you have installed the Kodi software on your machine, you can use it to manage and view the media files which you have on your computer.
Even better than this, though, are the add-ons which are available for Kodi. As Kodi is open source, anyone can access and work with the code that makes it work, so people can create their own extensions for the Kodi environment. You can find many, many add-ons for watching TV, whether it's watching a popular show like Game of Thrones or watching live sports.
Below we'll show you two add-ons for Kodi which you can use to watch ABC shows: one for watching the ABC channel live, and one for re-watching episodes of ABC shows after they have aired.
Quick Reminder
Before we get to the add-ons, first we need to acknowledge the security issues around Kodi add-ons. While the Kodi software itself is fully legal to use, some of the add-ons created by third parties allow you to access copyrighted content without permission. This means that if you're caught using an add-on to stream content illegally over an unsecured internet connection, you may be liable for a fine.
To keep yourself safe from the prying eyes of law enforcement and your ISP, you can use a VPN to protect yourself when streaming. A VPN works by encrypting all of the traffic that you send over the internet, so that no one can see what sites you're visiting or what content you may have been streaming.
We Recommend IPVanish for Kodi
We choose a VPN for recommendation based on four main issues:
Is there a no-logging policy and strong encryption to protect your privacy?
Is the software easy to use and compatible with multiple different operating systems?
Are there plenty of servers available in many different countries?
Are the connections fast enough to stream high-quality video?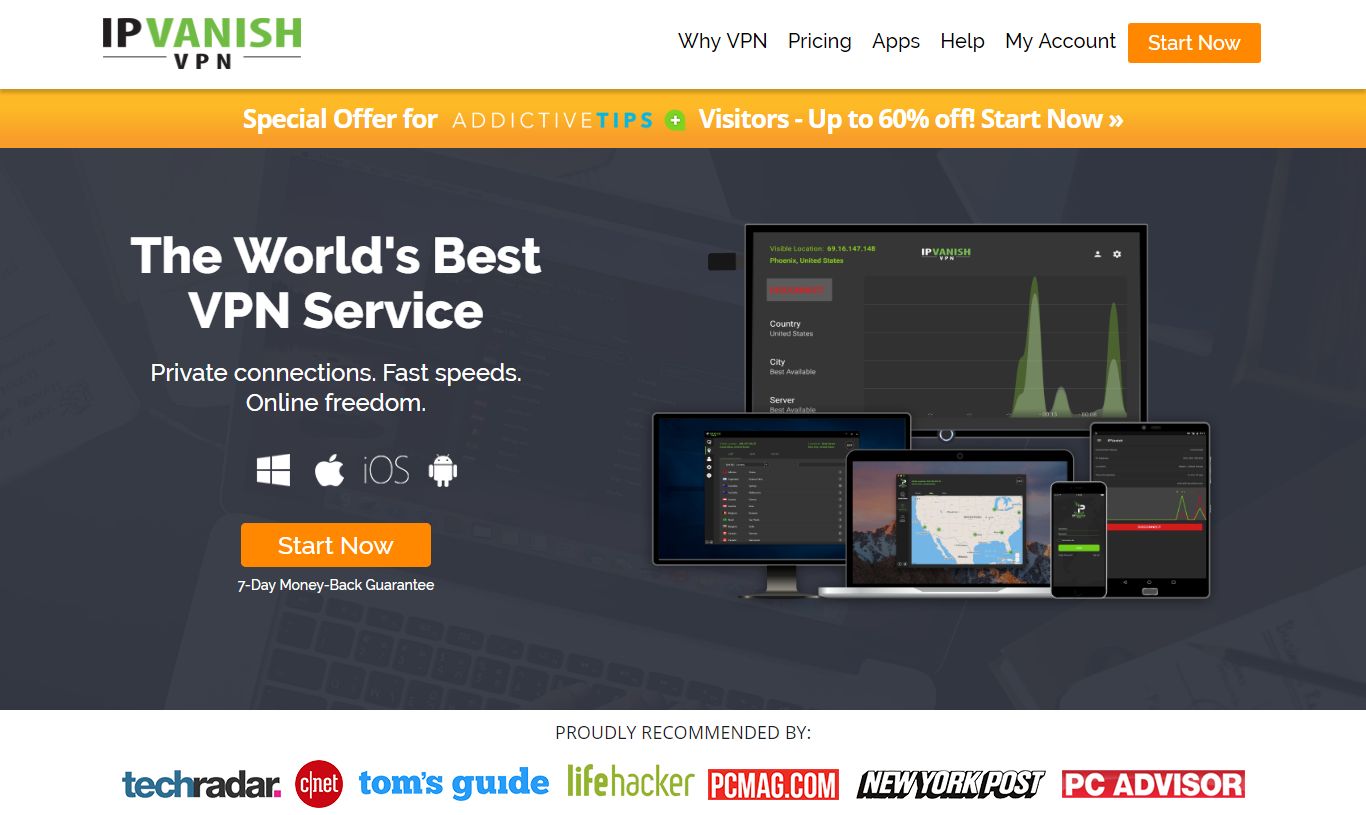 When we looked at these issues, our top choice for a VPN for Kodi users is IPVanish. This service has super-fast connections, over 850 servers in 61 countries, software support for nearly any device you'd actually want to use, and 256-bit AES encryption with absolutely no logging.
IPVanish offers a 7-day money back guarantee which means you have a week to test it risk-free. Please note that Addictive Tips readers can save a massive 60% here on the IPVanish annual plan, taking the monthly price down to only $4.87/mo.
Now that you have a VPN to keep you safe, we can show you how to install and use add-ons for Kodi to watch ABC comedy shows.
Watch ABC Shows Live with the cCloud TV Add-on for Kodi
If you want to watch ABC shows the moment that they air, then you'll want a solution for streaming live TV channels from the USA. There are a lot of add-ons which let you watching TV over the internet (also known as IPTV), but many of these add-ons are not terribly well organised and can make it hard to find what you're looking for.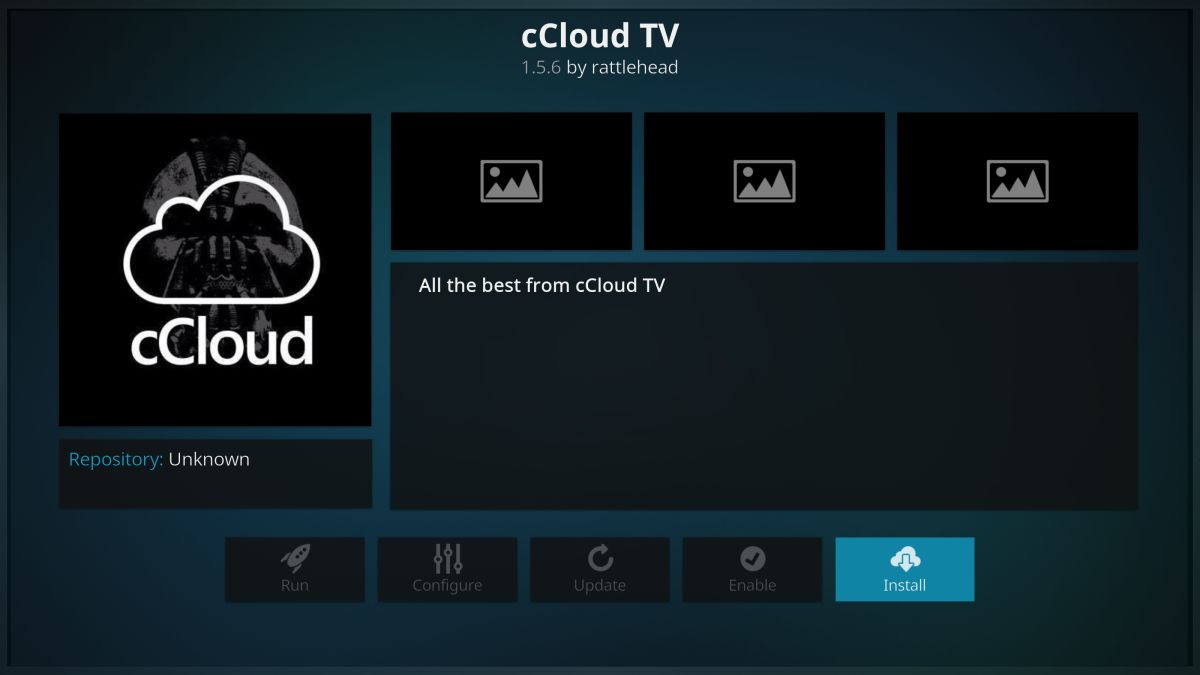 We love the cCloud TV add-on because it's not chaotic at all – in fact, it's extremely organised and easy to use. It has live TV channels from all around the world, but the biggest selection of channels is from the USA. Channels are divided into categories like documentary, entertainment, news, and drama. Included in the news section is ABC, so as long as you know what time your show starts at you can watch it live with cCloud TV. You can check what time your show is coming on at https://abc.go.com/schedule, then follow the instructions below to install the add-on and to use it to watch ABC.
How to Install the cCloud TV Add-on for Kodi
Begin on your Kodi home screen
Click on the settings icon, then go to File Manager
Click on Add source
Click on the box where it says <None>
Enter in this URL: https://kod1help.com/kod1/ Make sure to type it exactly as written, including the https://, or it won't work
Give the source a name. We'll call it kod1
Click OK
Go back to your home screen
Click on Add-ons
Click on the icon that looks like an open box
Click on Install from zip file
Click on kod1, then on KODI VIDEO ADD-ONS/, then on plugin.video.ccloudtv-1.5.6.zip
Wait for a moment and you'll see a notification once the add-on has been installed
How to Use the cCloud TV Add-on for Kodi
With the cCloud add-on installed we can start watching ABC live:
Begin on your Kodi home screen
Go to Add-ons
Go to Video add-ons
Click on cCloud TV
Scroll down to News and click on it. Even though we're going to use this add-on for watching comedy shows, the ABC channel is categorised under news so that's where we'll find it
Go to ABC (News) (US) (English) and click on it
Wait for a second and the ABC stream will begin
Watch ABC Shows On Demand with the Covenant Add-on for Kodi
Maybe you'd rather catch up on shows later instead of watching them live. Or perhaps you're looking forward to a lazy evening in, binge watching whole seasons of Black-ish. In that case, you'll want to use a different sort of add-on for watching your shows.
Add-ons like Covenant can be used to stream older episodes of ABC shows, including whole seasons. The streaming links you'll find in Covenant are highly reliable and are often available in high quality, which is why it's one of our favourite add-ons for Kodi.
Here's how to install the add-on and use it to find and watch the ABC show of your choice:
Download the repo file from https://repo.ares-project.com/magic/repository.aresproject/ (file called repository.aresproject.zip)
On the home screen select Add-ons from the menu on the left-hand side of the screen.
Upper left icon with the boxes, click on Install from Zip File. Navigate to wherever you saved the zip file downloaded in step 1 and then click open. This will install the Ares Repository.
Next, you need to install Ares Wizard. To do this, return to the Add-on Browser Menu, but this time click on Install from Repository.
Once there, click on Ares Project, followed by Program Add-ons, then Ares Wizard, and finally Install. Once this process is completed, you will have both the Ares Repository and Ares Wizard installed and ready to use
Open Ares Wizard, click on Browse addons > Video Addons > Covenant and hit Install to the right.

Then wait a few moments until the notification message appears again.
There may  be some more questions like "You don't have the repository installed, do you want to install it?" Click YES and continue.
Covenant should now be accessible through and ready to use through your addons menu.
How to Use the Covenant Add-on for Kodi
And now that the add-on is installed, here's how to find the show you want:
Begin on your Kodi home screen
Go to Add-ons
Go to Video add-ons
Click on Covenant
Scroll to the bottom of the page and click on Search
Click on TV shows, then on New search…
Enter the title you're looking for, like Fresh Off the Boat, Black-ish, or Modern Family
Click OK
You'll see shows that match your search term. Click on the show title to open it
You'll see a list of seasons, and within the seasons a list of episodes for each show. Click on the title of any episode
A popup will appear showing a progress bar as the add-on searches for sources. Wait for it to load
You'll see a list of streaming sources, indicating the hosting website and whether the episode is in high definition. Click the name of any hoster to open the video
Wait for a moment for the stream to load, and your episode will begin playing
How to Watch ABC Comedy Shows Using Streaming Sites
Alternatively, you might not want to install a whole new program onto your machine. If you don't already use Kodi and you just want a simple way to watch ABC comedy shows, then you can try using a streaming site. These websites provide links to hosting sites where you can stream episodes of shows for free. This is very convenient as you can watch shows right in your web browser without having to download or install anything. The downside of these sites is that the episodes are usually only available in standard definition, rather than high definition. Also, it can sometimes take a few days before new episodes appear on the streaming sites.
These sites are handy if you want to watch shows conveniently and for free, however, you should be aware that many of the hosting sites are ad-supported. That means that visiting the hosting sites can cause a lot of popups and unsightly ads. For this reason, we recommend that you install ad blocking software and disallow popups in your browser for the best experience.
Primewire
Primewire has been around forever a has a massive selection of TV shows and movies which you can stream. The site design is rather busy and not the neatest, but the range of shows make it worth using anyway. To find the show you want, just type the title into the search box at the top of the site and press search.
Once you've found the show you're looking for, click on the image of the poster and you'll see a list of episodes organised by season. Click on the title of an episode and you'll be taken to a link page where you'll see links to hosters like openload.co, vidzi.tv, or vidup.me. Click on the name of the hoster and a page will open in a new window where you can watch the episode in your browser.
Here are some links to the most popular ABC comedy shows on Primewire. To find other shows, just use the search bar on the Primewire website.
Ewatchseries
If Primewire isn't working or if you aren't satisfied with the quality of the streaming links there, then you can try Ewatchseries instead. This is a newer site which has had to move to new URLs several times. But this isn't too much of a problem as they always set up redirects which automatically transfer you to the site's new URL whenever they move.
Ewatchseries is a well-organised site where it's easy to find the show you want. Just type the name of the show into the search bar and suggestions will appear. Click on the name of the show and you'll be taken to a page which lists every episode organised by season. Click the title of an episode to be taken to the link page, then click on the Watch This Link! button to view the episode in a new window. Ewatchseries links to hosting sites like gorillavid.in, daclips.in, or streamplay.to which are not always the best quality but are consistently reliable.
You can find links to stream some of ABC's most popular comedies here. If the show you're looking for isn't below, then search for it using the search box on the website:
Conclusion
If you love ABC's comedy shows but live outside of the USA, it's still possible for you to watch these shows online. If you watch a lot of TV, you'll enjoy the Kodi software and you can use the Covenant add-on to watch shows on demand or the cCloud TV add-on to watch ABC live. Alternatively, if you're looking for a quick and easy solution and you don't mind watching videos in standard definition, then you can use either the Primewire or Ewatchseries streaming sites to access links for your favourite ABC shows.
Which ABC comedy show is your favourite? And how do you like to watch episodes of ABC shows? Let us know in the comments below!