Multi Texter: Send Multiple SMS To Multiple Contacts At Once [Android]
Looking for an effective way to send multiple text messages to multiple contacts at once from your Android phone? Look no further because Multi Texter has now arrived in the Android Market. Developed by XDA Developers member shabihsherjeel, Multi Texter is a free Android app with a plethora of options for your texting needs; the best of them all being the option to simultaneously send as many as 15 different text messages to multiple contacts. To mention a few other additional features of Multi Texter, the app keeps tabs on all your sent and pending messages along with an option to resend the failed ones and lets you search through messages by content or by contact name.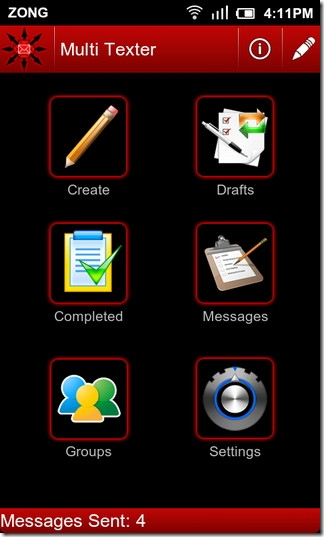 Sending messages via Multi Texter is as simple as one-two-three. Just launch the app, tap the Create button (or the pencil icon in the top-right corner) on the homescreen. You can pick messages from the inbox or pull the red arrow (below the Messages tab) down to add/send custom messages as shown in the screenshot below. Once you've selected your desired messages, swipe across the screen to pick required contacts. To add/select recipient groups, you'll once again need to pull down the red arrow, this time from under the Contacts tab.
Once you've made your selection, you have the choice to Send the message(s), Save everything as a draft.
Among the other features/buttons on the app's homescreen, you have a shortcut to your Drafts, a Completed button that keeps track of all your sent and failed messages. Failed messages, if any, can be resent by tapping Completed from the homescreen and hitting the Retry Failed button at the bottom of screen.
Then there's the Messages button on the app's homescreen that takes care of all your custom messages. The Groups section caters for the contact groups that you create. Finally, you have a Settings menu, allows you to Clear Messages Counter.
Through status bar notifications, you can keep track of all the messages that have been sent, have failed or are currently in-progress.
Considering the unique purpose that it serves and its price ($0), Multi Texter looks like a thing that is bound to stay in your device for long, that is, if you're an avid texter who frequently finds the need to send messages in bulk to multiple contacts. However, make sure that you've subscribed to an unlimited message plan with your network provider or else, you'll soon be running short of credit.
Download Multi Texter for Android