Root & Install Recovery Automatically On Asus Transformer [Android 3.1]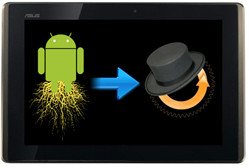 Earlier we covered a guide on rooting and installing ClockworkMod the Asus Transformer Honecyomb Tablet running Android 3.1 (8.4.4.11), and while that worked, there were people who were having trouble with the method employed. Automated rooting or ClockworkMod recovery installation's aren't something new to hit the Android devices, but the Transformer was missing such a tool. Yes, 'was', because XDA-Developers forum member brk has just developed and released a Batch Script that not only lets you root the Transformer but gives you plenty of other options including unrooting your device.
Credits to mashi  for the Root Boot images.
The script has proven successful so far, and all you have to be careful about is knowing which device you're using. As in a US or a WW model? Because if you flash a WW boot image on a US model or vice versa, you WILL brick your device, so be very careful.
The tool gives you the following options:
Root and install recovery for US and for WW Transformers.
Backup the current Boot.img and Recovery.img.
Install the stock Boot.img and Recovery.img for US and WW Transformers. (Un-root)
Check if ADB is working.
Install Superuser.apk and Busybox via ADB.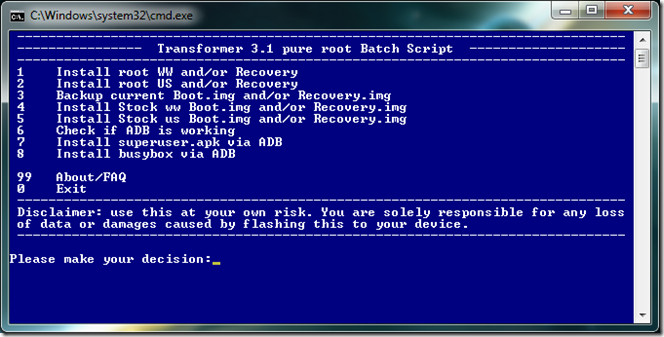 The custom recovery is the ClockworkMod 3.1.0.1-solarnz-R3 recovery. Incase the recovery fails to install correctly on your device, browse to the images/recovery folder and rename recovery_failsafe.img to recovery.img. Try flashing it again, and hopefully it should work now. Now if THIS didn't work either, download the recovery from here and replace the recovery in the folder images/recovery with this one. Try flashing again.
You can also access a list of FAQ's for a quick search on questions you may have.
Disclaimer: Please follow this guide at your own risk. AddictiveTips will not be liable if your device gets damaged or bricked during the process.
Before you try and use this tool on your computer, you need to have the APX drivers setup. Incase you don't have it setup, here's how you can do that.
Turn the Transformer off and connect it to the PC via USB.
Press the Volume Up button along with the Power button and you will hear Windows connect a new hardware and see it searching for a driver. Cancel that.
Go to hardware devices in Control Panel > System > Hardware devices and you will see a yellow icon with an exclamation mark reading, APX.
Right click and select update driver.
When the wizard runs, select to find the driver yourself and point it to usbpcdriver folder in the tf_rootkit folder.
Let Windows install the APX driver.
With the driver you're good to go with the Batch script. Simply run Pure.Root.3.1.bat (download link to the tool at the end of the post.) and enter the corresponding values to run the instruction you wish to proceed with. It is that simple! For updates and queries, visit the forum thread at XDA-Developers.
Download Batch script Pure Root Method