@Work by eUnite (Review): Secure online learning and organization collaboration platform
In 2021, there's certainly no lack of online learning platforms; and that's even more so the case for communication apps. @Work, however, is a novel synthesis of all the most familiar elements from these common applications, and then some. It centralizes all the tools needed to not only facilitate communication and collaboration among your various teams, but to educate and train them based on their roles and workplaces.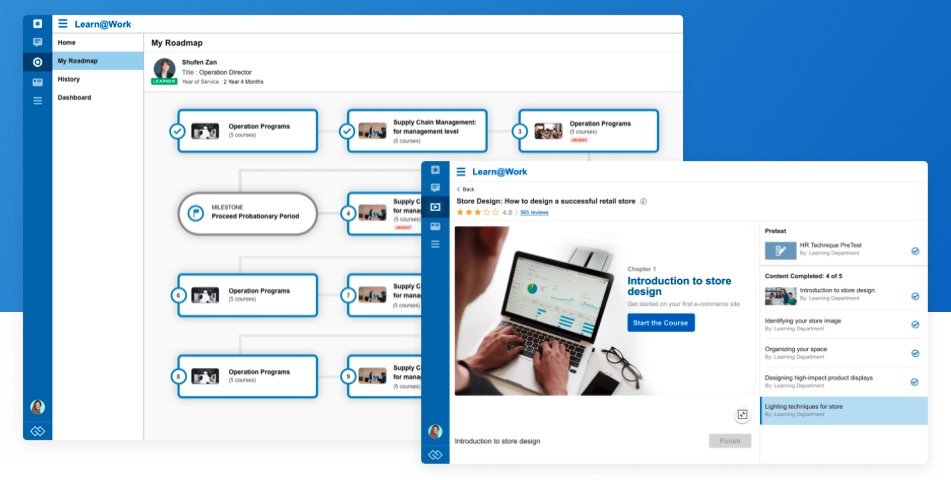 Unlike most human capital management software, @Work intentionally strips away the regulatory burden of features like payroll, taxes, and time attendance–which most MNCs outsource anyway. The resultant platform is one which can be flexibly and rapidly deployed within any business for an immediate value-add to productivity.
To wit, @Work promises more effective onboarding, easier collaborations, and enhanced oversight on the competence of your talent–all within a single intuitive interface. Below, we review its key features to help you decide whether @Work is right for your business.
The Problem with Existing HR Systems
While the challenge of human capital management is ubiquitous to businesses small and large, centralized HR solutions are still in the minority of what's available on the market. Indeed, many enterprises merely get by with a mishmash of disparate applications and platforms.
This patchwork solution, in turn, creates a continuous IT headache that is both tedious and expensive to address. It goes beyond lost passwords and technical support, too; customized solutions are often required in order to amalgamate the data you need to make effective HR assessments. Recruiting, onboarding, training, and advancement are all thus much more difficult than they need to be.
But even if you can manage to cobble together a workable solution, is it truly scalable? And, how confident are you that your system's security is airtight with regards to your company's sensitive data?
Moreover, existing all-in-one HCM platforms are often bogged down by red tape. After all, when what you really need is a collaboration and education tool, it's not always handy to have the regulatory baggage of payroll, taxes, time attendance, etc. baked in.
How @Work Breaks the Mold
Irvine-based SaaS leader eUnite has long been aware of the challenges facing HR, not to mention the inadequacy of existing products to fill the gap. That's why they created @Work, which borrows, streamlines, and elevates much of the core functionality found in their previous offering, @Core.
The main thrust of @Work is to simplify HR, empower teams, facilitate communication and engagement, and offer enhanced oversight to administrators and managers. It features a thoroughly modernized UI that users of apps like LinkedIn, Slack, Drop Box, and Zoom will feel immediately at home using.
But, @Work is greater than the sum of its parts. Indeed, it is well-positioned to profoundly enhance your company's competitive capabilities through a synthesis of existing solutions within a novel administrative framework designed to foster ready engagement by all stakeholders.
While generally familiar, @Work is also configurable and flexible enough to fit niche organizational needs. It's not a bespoke solution, but that's the charm–it doesn't need to be. Thus a standard, affordable pricing scheme enables you to boost productivity and ROI far beyond what legacy solutions provide.
So, @Work is at once simple to use, yet incredibly powerful. Let's take a closer look at this cutting-edge HCM.
@Work's Key Features at a Glance
The two primary pillars of @Work's offering are online learning and communication. In order to effectively deliver on its promises, it brings together an array of interconnected solutions under a single roof to holistically tackle both collaborative silos. Here's how:
Chat, Voice and Video
Any modern communications app needs to facilitate various modes of communication. Whether you're posting a text memo, supplying direct feedback, hopping on a quick call, or scheduling a face-to-face, @Work helps you get it done.
While separate chat rooms are nothing new, @Work's implementation is. Now, you can create direct chats with individuals, group chats with invitees, and assign users to roles. This last feature is especially powerful, as it allows you to populate collaborative environments for entire departments and workplaces on the fly.
In addition to chatting, you can schedule meetings with all the same functionality of Zoom or GoToMeeting, and then some. Once again, you can send individual invites, or tap into roles and workspaces to minimize time required to get up and running. Both screen sharing and recording are available.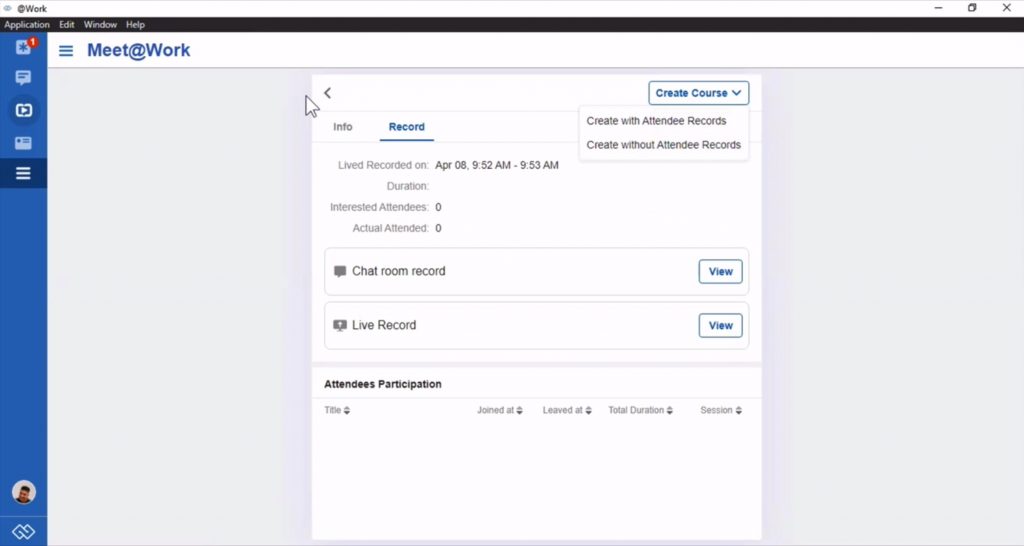 Similarly, it is possible to schedule and broadcast live events via @Work.
Company Feed
Keeping to their design ethos of "similar, but elevated", @Work includes a company feed that resembles standard social media feeds. However, the use of role and workspace greatly enhances the effectiveness of your messaging, allowing you to target announcements and posts to directly where they need to go–rather than just creating more noise across the company.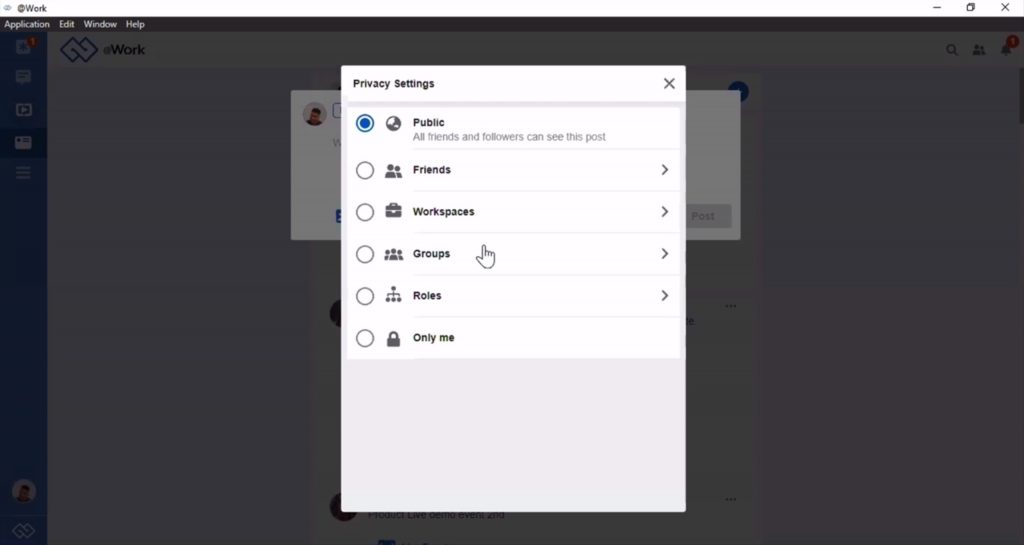 Moreover, you can require acknowledgement from individuals, groups, roles, and workspaces. This meaningful feedback provides an extra layer of confidence that communications are indeed effective, while highlighting personnel who may be lagging behind on engagement.
It's not just memos, either; you can also post public or anonymous surveys, as well as share files and links. In all cases, you need only adjust the privacy settings to include or exclude team members.
Online Learning
The heart of @Work's value proposition is its online learning module. While at present there isn't an online marketplace of course material as with other sites like LinkedIn Learning, you are empowered to create and upload your own.
But, it's not just a loose assortment of training videos, where the onus is upon the end-user to make a plan to get through it and keep track of their own progress. Instead, you structure course material in a role-dependent roadmap. This is clearly visualized in a simple flowchart, complete with branching paths, completion dates, and milestones.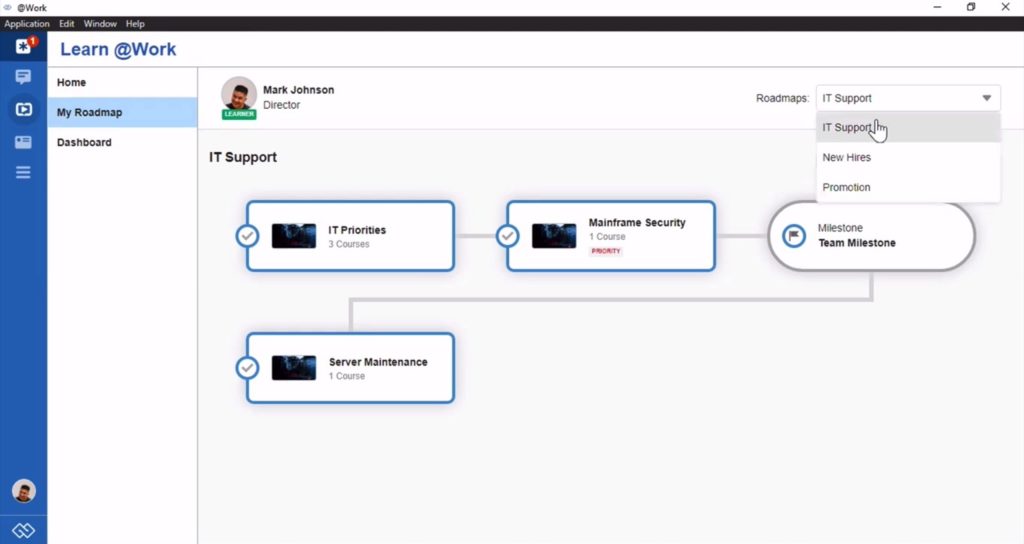 As team members work through courses, administrators can keep track of their progress within a handy dashboard. Progress may be evaluated by whether or not a video has been watched all the way through, and may be complemented by pre-testing, post-testing, or both.
Admins are free to set the threshold for pass/fail on these tests. The number of attempts is recorded, which provides insight to the overall efficacy of training material as well as individual performance. There's no limit to the type of training material you can use; be it video, slideshow, text, or audio.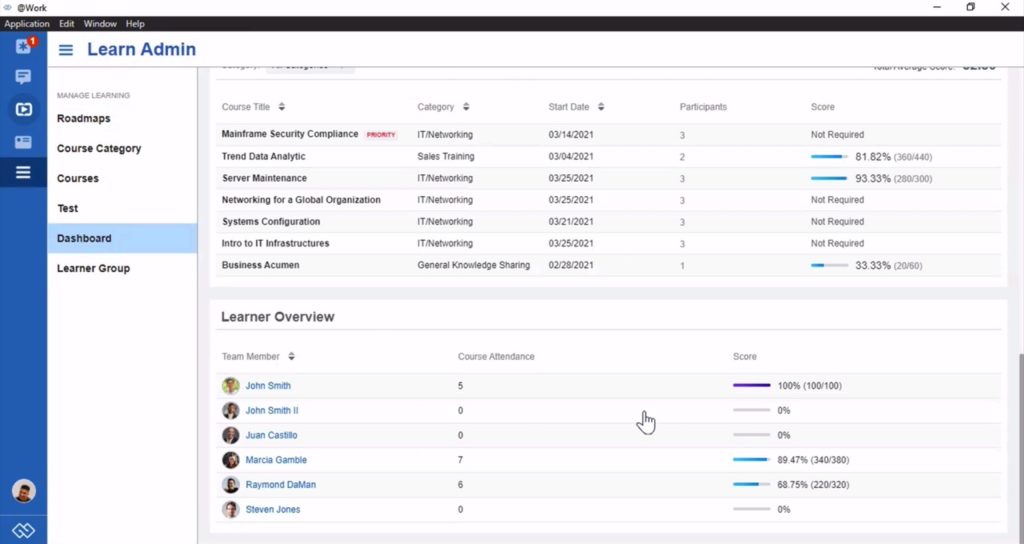 What's more, you can even schedule a live meeting to be recorded then sent directly to your library of course material. This opens up a wealth of possibility to tap into guest speakers and presentations for the benefit of current and future employees.
File Hosting and Sharing
Like any good cloud-based platform, @Work offers a generous provision for file storage. Moreover, storage is file type-agnostic, meaning there's no limitation to what you can upload and share. This offers immediate benefits not only to your catalogue of training material, but also to private communications as team members can freely share needed documents and materials amongst one another.
Crucially, all company data hosted on @Work servers comes protected by 256-bit encryption. This cipher is so cryptographically complex; it is effectively impenetrable via brute force by any known method. Thus, you can communicate and share as required to bolster company velocity without fear of intellectual property theft by technological means.
The @Work Virtual Tour
We've mentioned how @Work borrows the most effective design cues from existing apps such as Zoom, Coursera, etc. However, it's important to note that eUnite, as a rule, follows a "do no harm" design philosophy, preserving the familiar aspects of these existing interfaces, tweaking only what requires an upgrade to function within the context of @Work's functional ecosystem.
Thus, users may feel confident getting started with @Work almost immediately. While the functionality is deep, competence comes swiftly. That said, let's take a tour of the interface to demonstrate both ease of use and depth of utility.
Signup
Navigating to @Work's landing page via mobile or desktop, you'll find menu options in the top-right. Click Download, and you'll arrive at a page where you can install @Work onto MacOS, Windows, iOS, Android, and even legacy 32-bit Windows.
While you're waiting for your download to complete, you'll want to sign up for an account. This does require PIN authentication, so keep an eye on your SMS and email inboxes (not to mention, the SPAM folder). Once downloaded and installed, you'll open the app, enter your PIN, and voilà! You're in.
Matter
Immediately following authentication, you'll land on the Matter tab. The name is a bit whimsical, but you'll quickly find that it's apt; everything that is immediately material to your use of @Work is presented in concise form on the Matter page.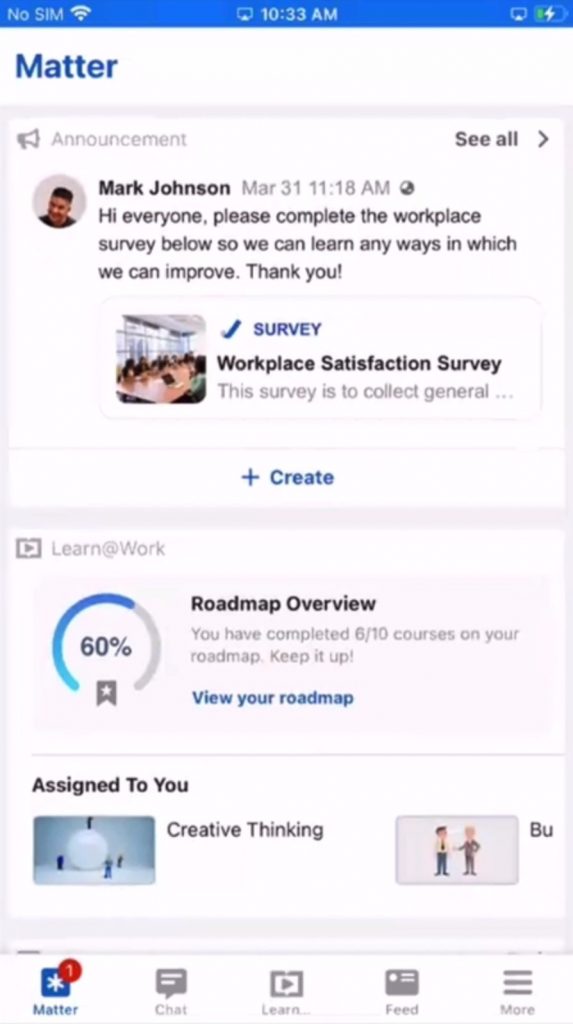 Items include:
Announcements – End users will be able to view any memos, surveys, or posts meant for them here. Administrators will see everything. On the Matter page, only unread items will populate, though you can easily click on See all > to view past content.
Learn@Work – This is where the Learning Roadmap assigned to you will appear. Clicking on it will bring you to the flow chart which shows the various learning modules you'll need to complete. You'll also notice that new sidebar items appear in the top-left: Home, My Roadmap, Dashboard. Home is where you'll find all course content assigned to you, past and present. Click on any course to view its contents, or read or write reviews. The Dashboard is where you'll track your learning progress, broken down year by year. Admins and power users can drill down into the progress of individual learners here, as well.
Meet@Work – This handy feature keeps track of all meetings you're invited to attend. Clicking See more > brings you to two tabbed lists of standard meetings and live events. As these lists populate, easily navigate items with the search bar atop the page, or create your own with the plus sign to the right. Meet@Work essentially directly replaces Google Calendar Invites.
Live Event – Similar to Meet@Work, this slot shows any upcoming live events you're invited to attend. Clicking See more > brings you to the same tabbed page as before.
Chat
The main hub of inter- and intra-team communications is the Chat tab. This is where your years of using chat apps will pay off, with everything immediately familiar.
The top-right displays your main three actions: Search, Address Book, Add.
Search is self-explanatory, and scrubs through all your conversations for the keyword query.

Your Address Book displays any Groups you're in, along with any Friends you've added for ready communication. You can also add a new friend via @Work ID, email, or name.
Clicking Add also allows you to connect to new friends, though more importantly it populates a drop-down menu which also shows options to Create new group and Add service. When making a new group, you can invite individuals and/or entire roles by way of simple check boxes next to the name and function of each member.
Chats themselves can encompass discussions between individuals and groups. But an interesting departure from most chat apps is the inclusion of @Work services, in which you can hold discussion on the latest meeting, learning module, or even support tickets. These can be added as needed through the Add button.
Within chats, you have all the quality of life features such as @-ing individuals by name, sharing media, and direct replying. Never fear for losing old chats, as @Work's powerful cloud-based servers retain data according to your payment plan with 99% uptime.
File
While many chat apps have a rudimentary file directory, @Work's system is a sophisticated evolution of this common feature. Sidebar menu items include:
My File – Your go-to storage space for documents and media. You are free to create and rename folders as needed to keep organized.
From Feed – Whenever something is shared via the company feed, such as a digital flier or memo .pdf, it will automatically go here for easy recall.
From Chat – Similar to From Feed, any files that appear within the chats you participate in will appear here.
Shared with Me – Anything shared directly with you from anywhere within @Work will appear here.
Trash – Nothing fancy! Just a place to store unwanted items and to prevent clutter.
Within each of these categories, you can search by file name, as well as toggle between list and block view of all available directory files. Simple indeed, but it's incredible how so many other apps fall short of this basic functionality!
@Work
This service is where you'll manage your own posts, as well as view recent activity and alerts.
Creating a post is simple, and can be done at the click of a button (namely, the + button). This pops up a dialogue box where you can input text, as well as share Images, Links, Locations, Surveys, and even Live Events.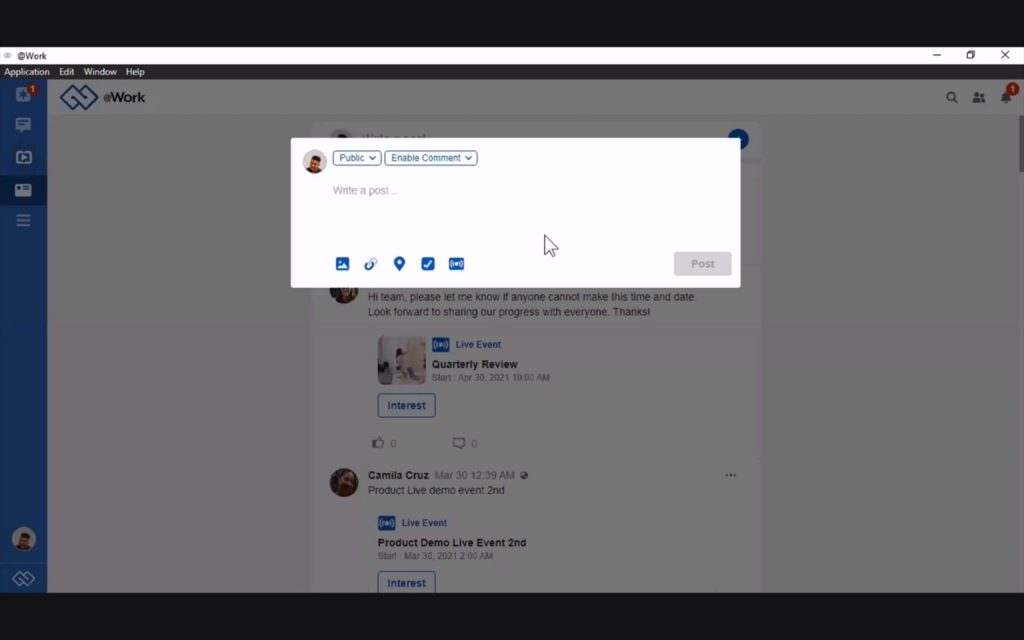 At the top-left, you'll find privacy permissions, where you can choose to share your post with all your friends and followers (Public), select friends, and available groups. If you're an admin or power user, you can also select permissions by role or workplace (such as an offsite warehouse or company branch). You also have the ability to enable or disable comments.
Worth noting is a particularly clever feature baked into Alerts. If you have @Work installed on both desktop and mobile, you'll only get alerts on the device you're currently using. That means no more clearing out unneeded notifications or obnoxious double-dings!
Link
The hamburger icon on the bottommost tab brings you to a handy utility page. It's sort of a sitemap, where you can easily navigate to any of @Work's services (File, Learn@Work, Survey, etc.)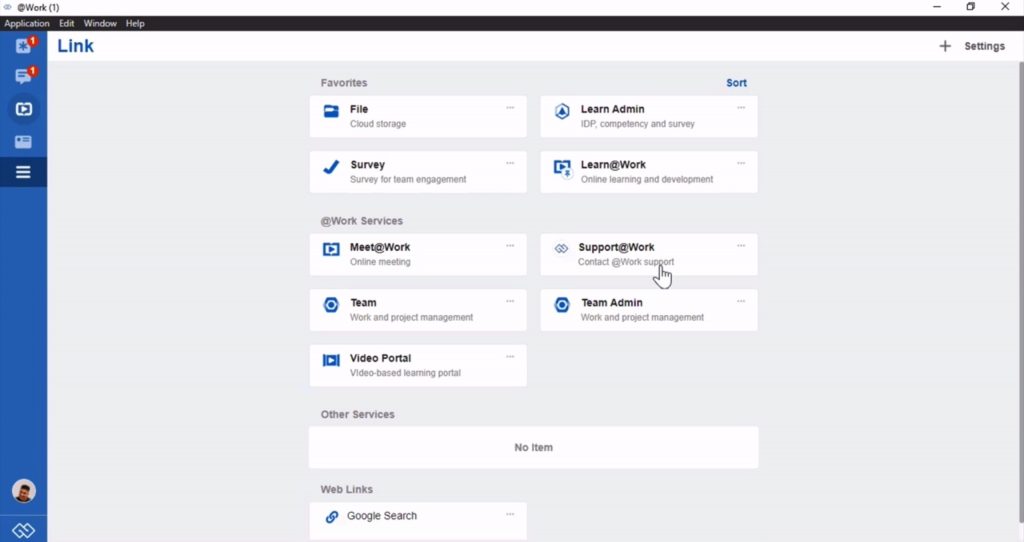 We say "sort of" because you can actually customize this page to include external links to commonly used services. This might be something as simple as a Google search, Analytics, company social media, or anything else you require.
Pricing
@Work is confident in its value proposition enough to offer the vast majority of its functionality for free.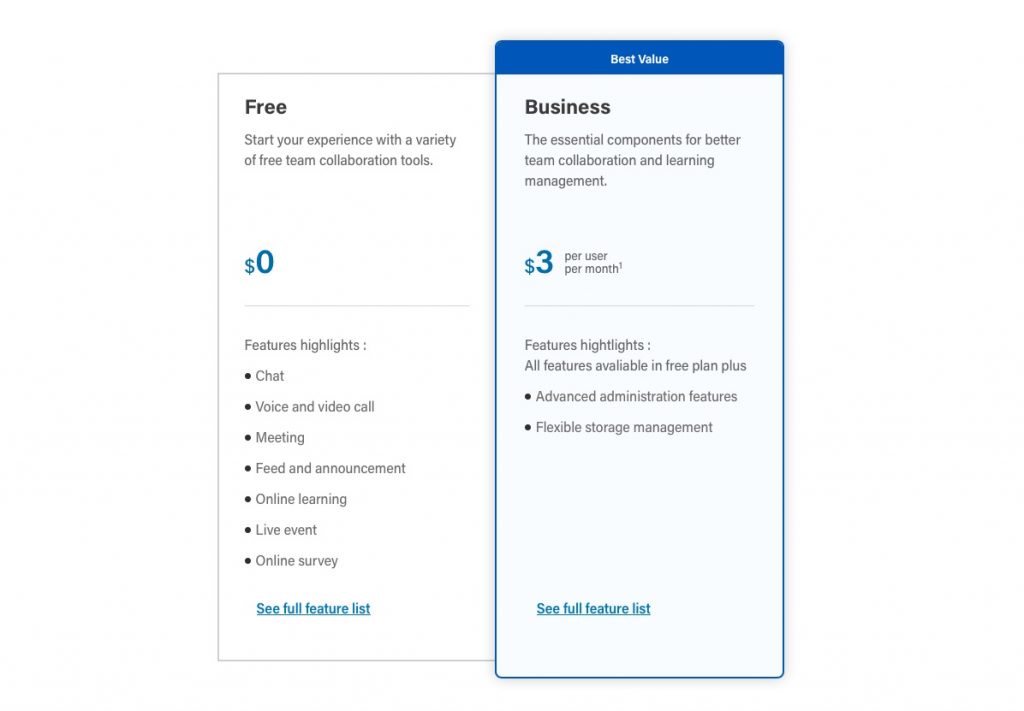 For simplicity's sake, there's only one paid tier of service, though it is scalable to your needs. Essentially, you have the choice to pay $6 per user, per month; or if you subscribe yearly, this monthly fee gets cut in half to $3 per user, per month. The benefits of paid over free include:
100 Meeting participants (as opposed to just 10)
Unlimited Meeting duration (as opposed to just 40 minutes)
Unlimited Learning Roadmaps (as opposed to just 1)
20GB of cloud storage, with options to increase on demand (as opposed to just 5GB)
Individualized storage allocation and management
User Data Migration
Workspace Management (as opposed to just Roles)
Additionally, paid users get access to Premium Customer Support. This boils down to your support tickets receiving priority care round-the-clock via the appropriate medium (phone, email, chat). Free users may have to wait a bit longer, but we still found the basic support quick and attentive.
In all fairness to the Free tier, there's an awful lot of functionality–more than you need to get your feet wet, so to speak. However, if your intention is to scale–and it probably is if you're using @Work–then the Paid tier is an inevitability.
Still, there's something to be said for eUnite standing by their product. They don't obligate you to put down payment information upfront, nor do they use your sign-up email to bombard you with promotions. It's clear they believe the @Work's quality speaks for itself, and trusts you to make the determination of whether or not it fits your needs.
Conclusion
@Work fills a niche badly needed by MNCs and scaling SMEs alike. It elegantly centralizes an entire ecosystem of human capital management tools into a single, intuitive interface. To recap, you can:
Schedule video/phone meetings and live events;
Create and upload training material into role-specific learning roadmaps;

Manage your team by roles and workspaces;

Dive into analytics to see how effectively learning and work tickets are completed;

Post company surveys, links, announcements and more while requesting acknowledgements;
Create and manage chats on the fly;
…and much more!
@Work seeks to alleviate the burden on companies using a wide array of disparate applications and platforms while fill the above functions. They promise to reduce costs, enhance agility and velocity, and overall provide to collaborative framework needed to scale.
We conclude that eUnite have adroitly identified a need within the marketplace, and have brought their more-than 10 years' experience to the fore in crafting a highly productive solution. @Work is absolutely worth your consideration, and we recommend you keep an eye on this space for future updates as the platform inevitably rolls out new features.