Convert And Extract Audio From Video Files With Gnac [Linux]
Gnac is a Linux based audio converter which can encode files between Ogg, Flac, Mp3, SPX, WAV, and Mp4 formats. What makes Gnac quite useful as compared to other audio converters out there is, that it can also extract audio from videos. This attribute can be quite useful for editors who often require extracting audio streams from videos. Although this can be done with advanced editing software, however, it can be a bit lethargic to do so on video editing software.
I personally have worked on both Windows and Linux based video editors like LiVes and Adobe Premiere Pro and therefore, do know the hassle of managing audio and video synchronization issues. It is often not convenient to mess with a projects audio time line to extract sound or to initiate a separate project for extracting audio, since editing software are quite resource intensive. Gnac is quite a quick and lightweight converter for both audio conversion and extraction.
Just add the audio files to convert followed by audio format, and then click Convert to begin the conversion process.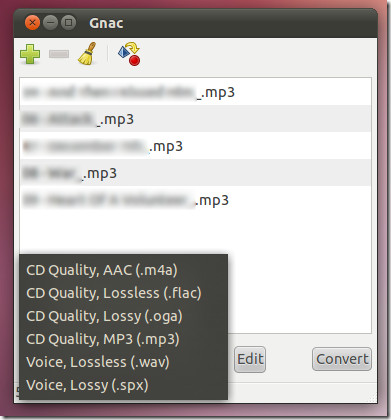 The same procedure can be applied for video files. In case a codec is not recognized by Gnac, it provides the option to download additional codecs to be able to make the audio or video file recognizable. This allows converting files from multiple video formats such as AVI, FLV, MP4 and the like.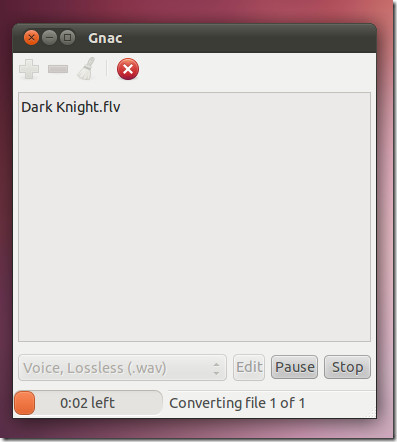 The converted files are saved in the same directory as the source file, by default. Codec information and meta data can be edited by clicking on the Edit button. You can add a description and create or modify profiles for available audio formats.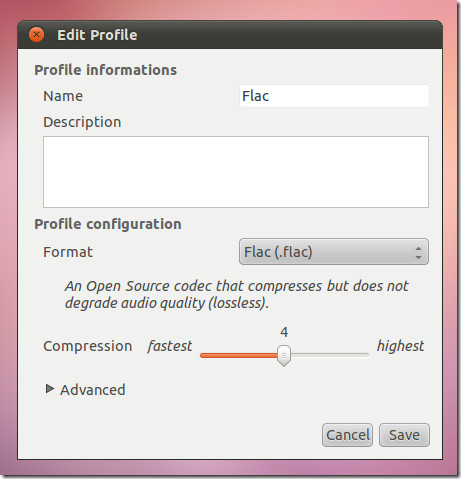 You can install Gnac on Ubuntu from the following PPA:
sudo add-apt-repository ppa:gnac-team/ppa
sudo apt-get update
sudo apt-get install gnac
You can download packagaes for Ubuntu, Debian, Red Hat, Fedora, Open Suse, Slackware, Arch Linux and Fink from the download link below.