HardInfo – Benchmark CPU & Get System Hardware Information In Ubuntu
HardInfo is a system information and benchmarking application for Ubuntu which displays information about your hardware and operating system. It displays indepth information about anything from your operating system and kernel type to PCI, ISA PnP, USB, IDE, SCSI, Serial and parallel port devices of the computer. The information is displayed in numerous categories including Computer (contains a system resource summary, operating system, kernel and related information), Devices (displays information about attached hardware devices), Network (provides network related information including a routing table, IP connections, DNS Servers and so on), and Benchmarks (for benchmarking CPU performance).
Once HardInfo is launched, it automatically detects and displays system hardware and related information. From the Computer section you can get a summary for attached system resources such as the memory, hard disk type, attached multi-media devices, kernel modules in use, operating system type, available languages for the OS, file systems, and environment variables such as GTK Modules, XDG data DIRS and the like.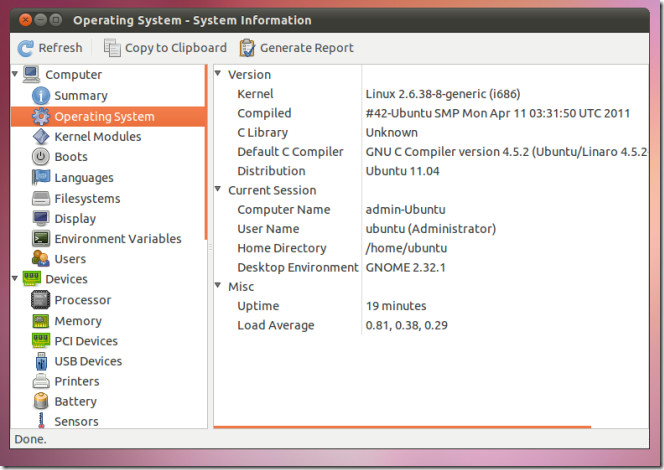 Similarly, the Devices section displays specific information about hardware information about Processors, RAM, Battery, Printers, USB devices, Sensors, hard disk, and DMI.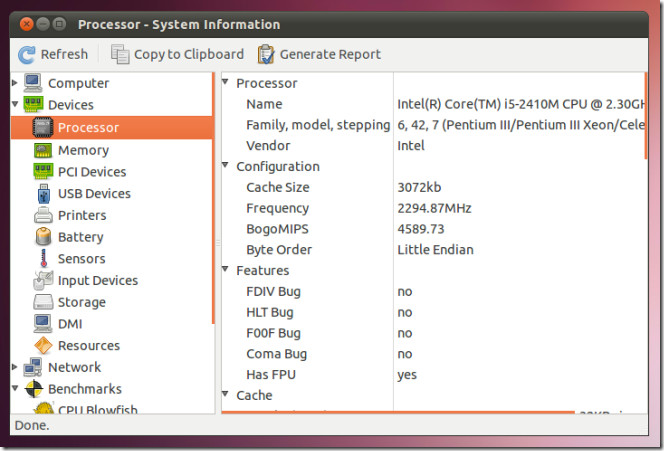 You can also obtain details about IP connections, view the routing table, get network stats and benchmark the CPU and from Network and Benchmarks sections.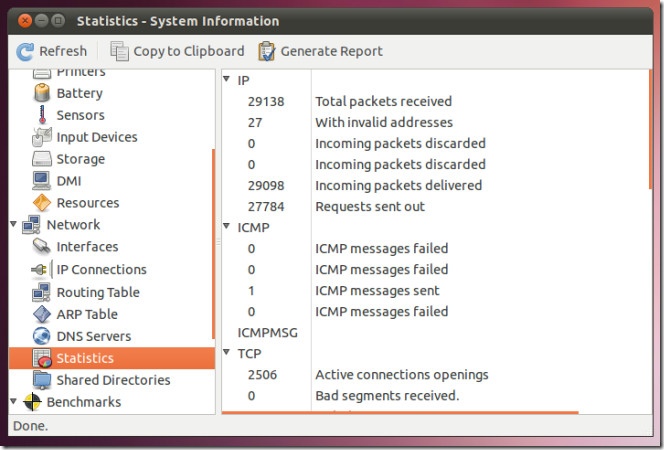 CPU benchmarking is performed using tools, such as, Blowfish, Fibonacci, and Cryptographic hash. You can copy the report to clipboard or save it in HTML format to review results later.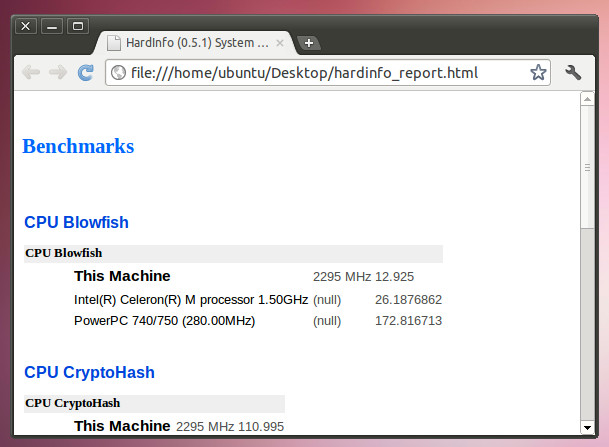 HardInfo Deb package can be acquired for your Ubuntu version from the Launchpad link given below.