We are reader supported and may earn a commission when you buy through links on our site.
Learn more
What's the Best Free U.S. VPN?
The USA is no longer the bastion of freedom it once was, but you can ensure your security and privacy online FOR free with our recommended VPNs. While many free VPNs come with their own risks, we've rigorously tested each of these providers to ensure that you can spoof your IP in full anonymity within the US or abroad.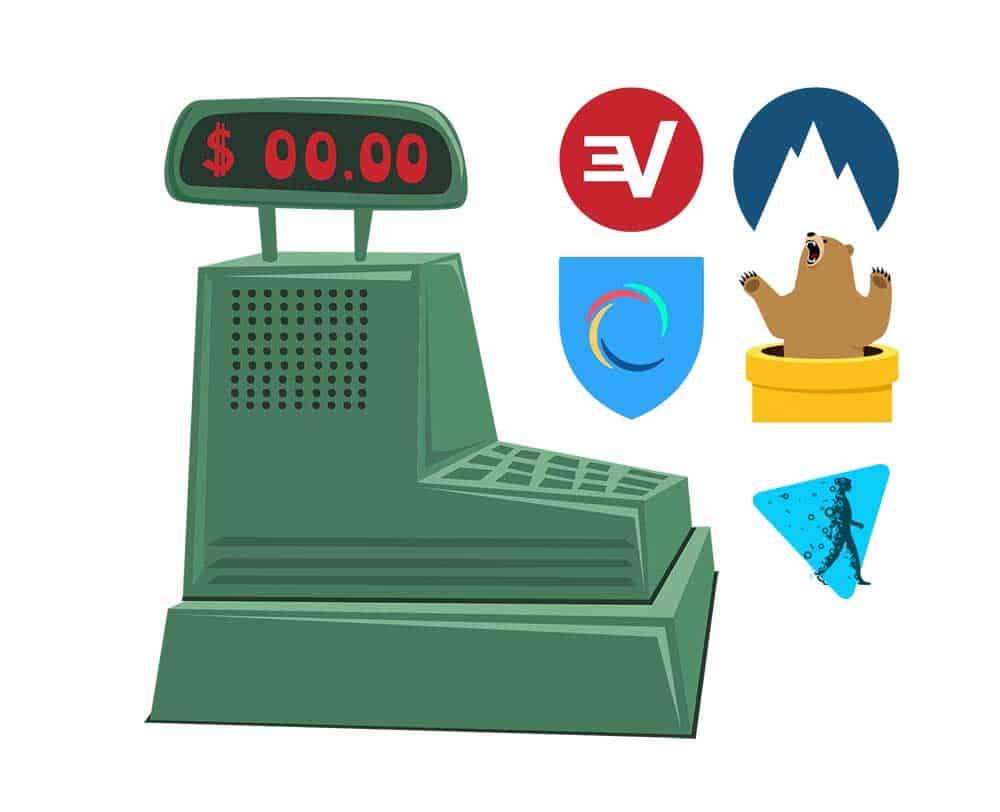 Finding out the best free VPN service is no easy feat, for a number of reasons. The market is flooded with free services which do little to improve your privacy or access to the free and open Internet, some of which actively make you less safe than before. There have even been reports of so-called "free" VPNs harvesting your personal data or coopting your device into a botnet. Scared yet? Good, you should be.
Spoiler warning – Most of the best VPNs aren't free, but you can game their policies to pay nothing for top-tier protection. Here are our top picks:
NordVPN – Most Secure VPN – NordVPN's affordable VPN package enables ready access to the world's most robust encrypted network. Specialty servers, military-grade encryption, zero logging.
Surfshark – Already cheap VPN that you can split with friends for even less. Uncompromising privacy provisions.
ExpressVPN – Top-shelf service you can try out for free thanks to their no-questions-asked return policy.
Hotspot Shield – A free offshoot of a paid service with limited but very useful functionality.
Tunnel Bear – Ad-free but actually free, with strong encryption but a hard monthly data cap.
Hide.me – Another great free VPN with good customer support.
Alas, undaunted by dire warnings, you forge on ahead with your mission to cheap out on your security entirely. And you know what? There are a rare few workable options out there–if you know where to look. At Addictive Tips, we've made it our business to look; our mission to advocate for the privacy of our readers. So today, we'll show you the best VPNs which can be had for free and used to access U.S. IP addresses, anywhere in the world.
30-days money back guarantee
The top free VPNs on the market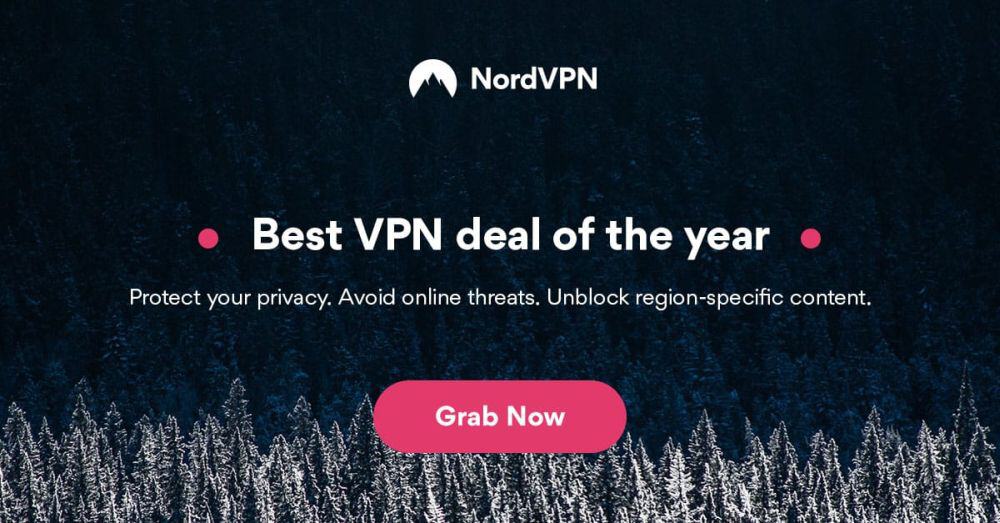 NordVPN is the best VPN provider that you can use for free. Unlike other top-tier providers, where you must pay first then request your money back to get "free" service, NordVPN offers a no-obligation 7-day trial period that won't cost you a penny. This is an amazing chance to get access to one of the industry's best server networks, numbering over 5,700 nodes in 59 countries (including the USA), with several specialty servers available for various use-cases. These are tailored to functionalities such as onion over VPN, anti-DDoS, double VPN, P2P, dedicated IP address, server obfuscation.
Additionally, NordVPN delivers incredible privacy with 256-bit AES encryption, and incredible no-logging policy, a kill switch, and Panamanian jurisdiction. That last point is notable for shielding you from the long arm of government spying, which is a feature major western powers share in common. They even threw in a handy CyberSec module, which gives you toggles to block ads and malware. Not too bad for one lightweight piece of software (available as dedicated apps for all major platforms).
Read our full NordVPN review.
Pros
Very fast speeds make this a strong choice for 4K streaming
Extensive server park of over 5,400 different servers
256-bit AES encryption with perfect forward secrecy
Retains no metadata of your browsing
Live chat support is available.
Cons
Not much
Apps can be a bit cumbersome to use.

Perhaps more than any other provider, Surfshark makes the strongest case for not cheaping out on your Internet security with a free VPN. It does this by, ironically, letting you cheap out on a truly top-tier provider. So, not only does their service ring in at a laughably low monthly fee, it can be made cheaper by splitting your subscription with a friend thanks to Surfshark's policy of unlimited simultaneous connections.
Need more? Surfshark offers 256-AES-GCM encryption, connections to over 3200 servers in 65 countries (with tons of options in the USA), blanket obfuscation and smart DNS that pummels VPN blockers like Netflix's, a kill switch, IP/DNS/WebRTC leak protection, plus blocking of malware links, ad tracking, and pop-ups. You can configure different settings for individual Wi-Fi networks, or encrypt single apps with Surfshark's split tunneling. To wrap it all up, Surfshark never keeps identifiable logs of your activity.
Pros
Every server optimized for unblocking Netflix, BBC iPlayer, Hulu, and more
All 800+ servers are P2P-friendly, with private DNS and obfuscation
DNS leak and kill switch protection keep your defenses up even when your connection drops
Independently audited privacy practices
Refund requests are simple and fast–no waiting or hassle.
Cons
Server network is not nearly as expansive as major competitors
New-kid-on-the-block status may not instill same trust as larger providers.
Read our full Surfshark review.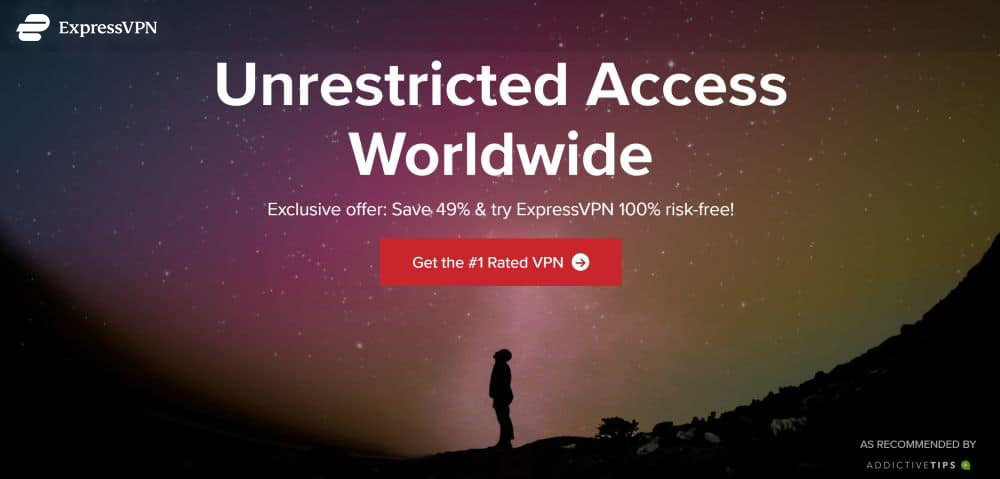 Surprised to see ExpressVPN here? After all, it's a well-regarded, paid VPN service that typically has a price point that puts casual users off. But guess what? You can effectively have it for free, so long as you only need it for a month. Let's explain:
First, you'll have to bite the bullet and sign up for a yearly subscription. Crucially, this plan comes with a 30-day money back guarantee, no questions asked. So you simply have to enjoy the next 29 days of service, then at the end of the period write in to cancel to get your money back. Presto–the best VPN on the market, completely free!
But why go to the trouble at all? ExpressVPN delivers no-nonsense privacy provisions, including unbreakable 256-bit AES encryption; a complete no-logging policy on traffic, DNS requests, IP addresses, and browsing history; plus an automatic kill switch and DNS leak protection. They're located in the British Virgin Islands, putting them outside the jurisdiction of the international government surveillance alliances. What's more, there are no caps on speed, bandwidth, or server switching, allowing you to just leave ExpressVPN running quietly in the background all day, every day.
Need more? How about a massive network spanning 3,000+ servers in 94 countries worldwide? With this diversity and volume of VPN connections, there's no part of the free and open Internet that you can't reach at the click of button. Yes, that even includes (plenty of) coveted American IP addresses. ExpressVPN truly lives up to its reputation as one of the world's best VPN providers.
Read our full ExpressVPN review.
Pros
SPECIAL OFFER: 3 months free (49% off - link below)
Fastest servers we have tested
Torrenting/P2P allowed
Strict no-logs policy
24/7 Customer Service.
Cons
Slightly more expensive than some other options.
4. Hotspot Shield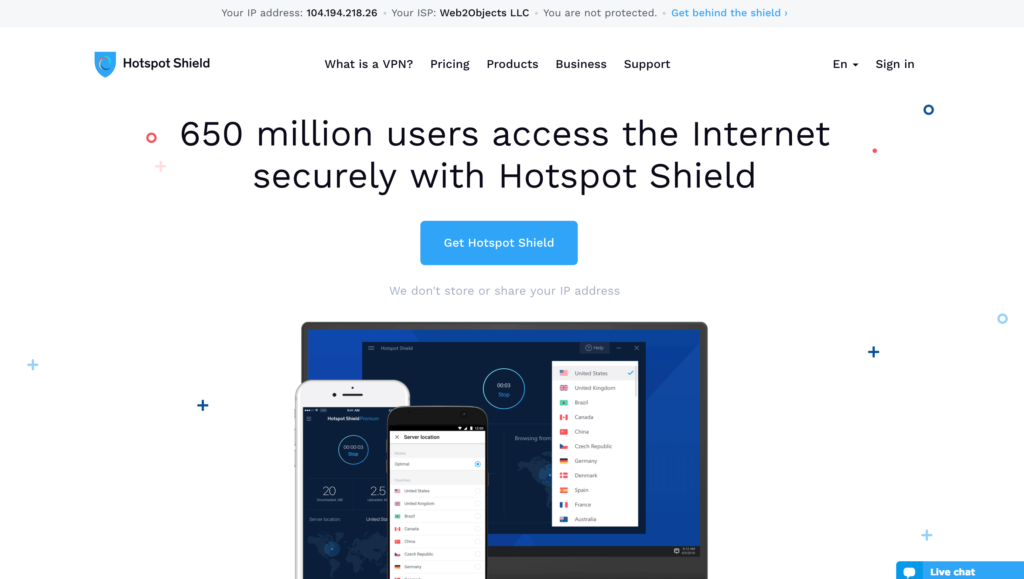 Hotspot Shield is one of our favorite free VPNs. Well, it's not technically free, either–it's a paid VPN with a free version you can use indefinitely. With the free version, you get 500 MB of data per day. This isn't enough to play most video games, stream videos, or even listen to music often – but it's handy if you just want to browse the Internet from a foreign IP once in a while. It's perfect for following the news, doing a little shopping, overcoming censorship, etc. Moreover, since Hotspot Shield is really a paid service, the servers you get to access are excellent. Speeds are high, latencies – low, and although you don't get much choice with the free version, you can still switch between a few countries (including the US).
The downside to using Hotspot Shield's free version is that you can only use one account with it. Another negative is that you're going to see a lot of ads with this service. This can be awkward, especially if you need Hotspot shield for business use. Last but not least, there's no streaming, so if you want to watch Netflix – even if only to preview videos – you're out of luck. The silver lining is that you can always upgrade to Hotspot's premium version – although if you're going to do that, you may want to consider the 2 services above instead.
5. Tunnel Bear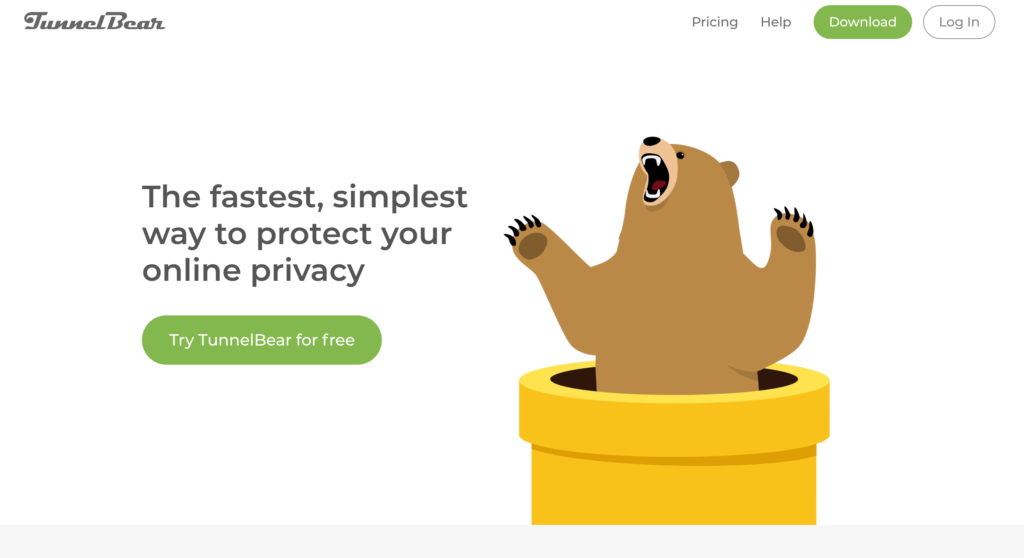 TunnelBear is a truly unique free VPN. First of all, it really and truly is free. There are no ads, no constant prompts to upgrade, and you can enjoy servers in 22+ countries without being asked to pay extra. Connection speeds are decent, if a little slower than with the paid services above. The VPN doesn't work with Netflix and other streaming websites, but this is also the case for all truly free VPNs. The only real downside to TunnelBear, on a basic level, is that you can only use 500 MB of data every month. This is very little and only really enough to use social media and instant messenger apps with any consistency.
Another area in which TunnelBear shines is security. Their no-logging policy is comprehensive, and it gets audited independently to make sure that it works as described. Encryption protocols run the gamut from OpenVPN to IKEv2 to IPSec, meaning that you can encrypt your data effectively regardless of the device you're using. Pass keys are 256-bit AES, which means they're virtually impossible to crack – even if you have a supercomputer. All told, it's hard to go wrong with this service so long as you don't need to use a VPN often.
6. Hide.me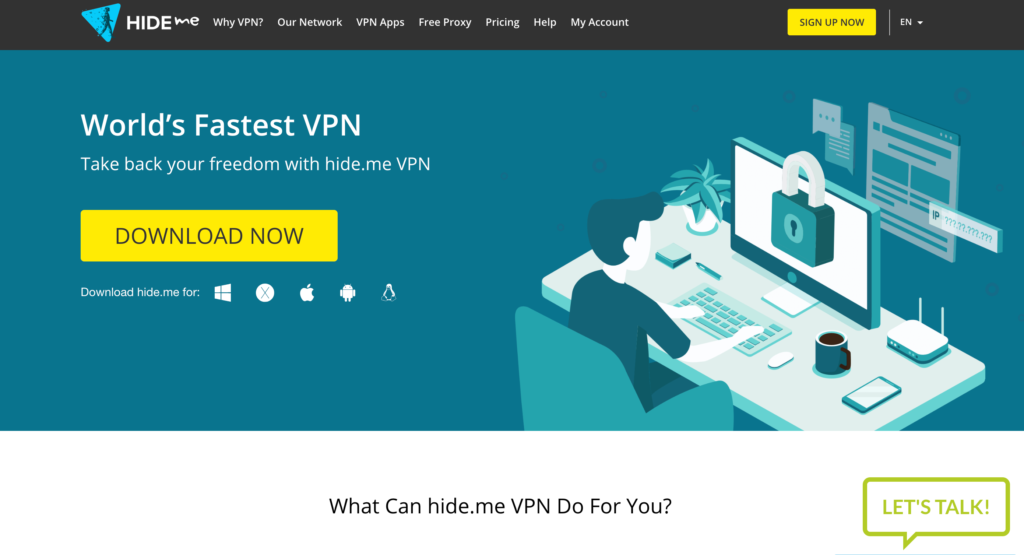 Hide.me is a minimalist service that's simple and plain. You get 2 GB of free data every month. The server selection is small, but respectable – and speeds are high (though unlikely to truly earn the title of "world's fastest" as advertised). Most importantly, hide.me doesn't discriminate between free and paid users. With the free version of the app, you get the same 24/7 customer support; the same ad-free experience; the same level of security. The only reason you may want to upgrade is to get access to torrenting, multiple logins for all your devices, etc.
Unlike many other free VPNs, hide.me takes security very seriously. It uses 256-bit AES encryption to make sure that no third party can freely view your data. Even a major world government would need millions of years to break a regular hide.me key. Moreover, the service has a tight no-logging policy that prevents them from storing your data over time. This is handy if you're nervous about your government, ISP, or someone else trying to access your data.
RELATED READING: Best VPN services reviewed by AddictiveTips
The pitfalls of (most) free VPNs
The old adage says that the best things in life are free, but this isn't the case for VPNs. The reason is that a quality Virtual Private Network needs to pay for its servers and Internet access. This means that quality providers need money and that free providers usually don't offer a very good service. They simply can't afford to pay for servers, bandwidth, etc. As a result, even the best 100% free providers can only give you so much. Specifically, bandwidth limits and ads are two strategies free VPNs use to make sure they don't lose more money than they make. Another tactic is to limit VPN usage to low-intensity activities, excluding things like music, video streaming, gaming, downloading large files, torrenting, etc.
The dangers of (some) free VPNs
Allow us to stress a point: be very careful when looking at free VPNs outside of the ones on our list above. The reason is that nothing in the world is truly free, especially on the Internet. Generally, if a product or service is being offered at no cost, you are the product (or in this case, your personal data is). Many free VPNs simply try to make money off you in underhanded ways: bombarding you with ads is common, though some take it further by collecting your personal data or harvesting your bandwidth for auction off to the highest bidder. Other, more infamous companies may even hijack your computer for use in a botnet.
We won't say that our recommendations are the only trustworthy free VPNs, but we will urge you to proceed elsewhere in the marketplace with due caution and diligence. Pay attention to encryption protocols, and a company's logging policy. If either is suspect, move onto the next option on your list, or simply pick one from ours.
When is it okay to use a free VPN?
Most of the time, a free VPN can't give you all the features you really want to have as a frequent user. However, if you're traveling and need to spoof a foreign IP address for a day or a week, they're an excellent choice. In other words, if you don't need a lot of data, a free VPN will usually serve you just fine.
The most obvious case in which a free VPN isn't fine? If you're a frequent user, or if you want to do things that require high-speed, stable Internet access. This means streaming from services like Netflix and Hulu, playing video games, torrenting or downloading large files, etc. If you want to do things like these, you're way better off going with a paid version of a service.
Final words
So, we've gone over the perils of free VPNs in detail. We've also offered up a couple of clever tricks plus a few rare gems that will allow you to experience the best free providers have to offer. We do think the spare few bucks you'll spend per month on a full-featured VPN are an investment well-made into your privacy, but ultimately the utility of any such service depends on your requirements. If a free VPN capable of spoofing your IP into the U.S. is basically what you need, stick with our list.
Why are you looking for a free VPN? Do you have a recommendation for a service that deserves a spot on our list? Share your thoughts below!