We are reader supported and may earn a commission when you buy through links on our site.
Learn more
ExpressVPN Speed Test – Are They as Fast as they Claim?
ExpressVPN is frequently touted as one of the fastest VPN providers on the market. Today, we put those claims to task, stress-testing their network across a wide variety of connections across the world. We also briefly review ExpressVPN's other features, so you can get a holistic look at what this provider has to offer.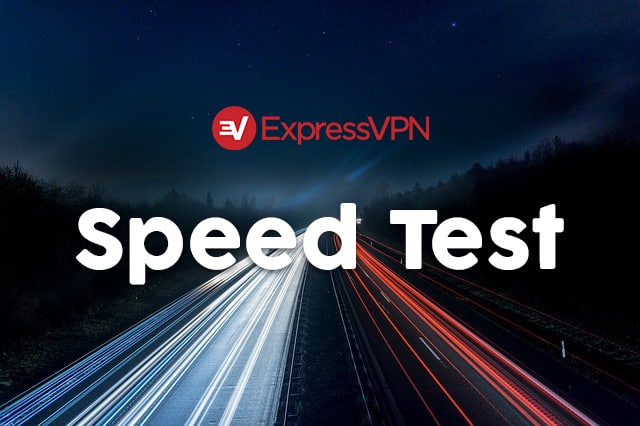 ExpressVPN is a well-established VPN that has many loyal followers despite relatively higher subscription prices. To support their rates, ExpressVPN makes claims some might call "cocky", throwing phrases around their site, like "high speed", "ultra fast", and "#1 trusted leader in VPN." Yet although ExpressVPN is so well-established at this point as reliable and reputable, many other competing providers make similarly bold statements to follow suit.
So the question that needs to be answered is: is ExpressVPN as fast as it claims? Before we dive into the tests we ran to find out that answer, lets run over what ExpressVPN offers, in brief.
30-days money back guarantee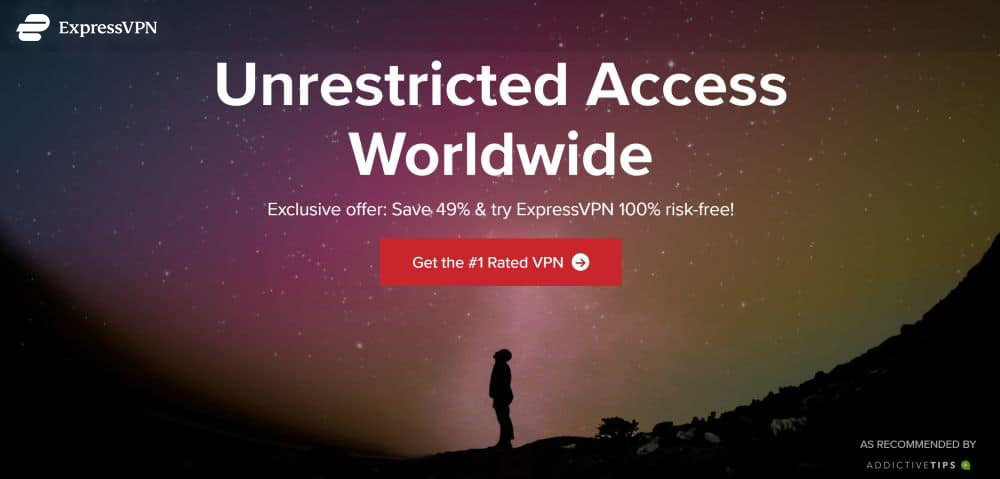 ExpressVPN offers a speedy, expansive network, covering more than 3,000 servers in 94 countries. They claim to be one of the fastest on the market, with unlimited bandwidth and zero speed caps or throttling, plus a built-in speed test for dialing in the best connection available. They also have zero restrictions on P2P networks and torrents, which is great because those activities can eat up a lot of bandwidth.
And when it comes to security, ExpressVPN is no slouch: the provider offers top of the line 256-bit AES encryption, DNS leak test and protection, and an automatic kill switch. They also give the option to play with your encryption settings and protocols: from UDP to TCP, L2TP/IPSec and PPTP, and even old-school SSTP with port 443 for ultra-hardcore censorship firewalls.
ExpressVPN lets you connect to as many as 3 devices at once across many software operating systems: Windows, Mac, and Linux, Android and iOS, browser extensions, and even TVs, routers, and video game consoles. Finally, ExpressVPN makes using them easy: a simple, single-click interface gets you connected online in seconds.
Read our full ExpressVPN review.
Pros
SPECIAL OFFER: 3 months free (49% off - link below)
Fast serves with minimal speed loss
OpenVPN, IPSec & IKEv2 Encryption
No logging policy well enforced
Live Chat Support.
Cons
Power-users configuration options.
What affects VPN speeds?
When you use a VPN, there are some things that factor into the kinds of speeds you get. A good VPN works to minimize the effects of these factors. For example, the speed of your normal connection will the biggest limiting factor – no matter how fast your VPN service is, if you only have a 10mbps home connection, your VPN won't be able to go past 10mbps of speed. The next biggest factor is your distance from the server you connect to. A nearby server will almost always be faster than a more distant one. If you have a 100mbps connection on your home network, you could easily get a 95+ mbps connection with a nearby server, but only 10mbps connection on a server that's on the other side of the world.
Those two things said, there are many other variables that can come into play, too:
Server crowding – If a server has many users connecting to the internet through it, each user will see a drop in speed.
Encryption strength – When you encrypt your data, as with a VPN, you add extra data to the bandwidth load. It takes more bandwidth to be secure, so encrypting your traffic eats up some of the available bandwidth. More complex encryption = slower speeds.
VPN protocol – The protocol you use (TCP vs. UDP with OpenVPN, for example) can also have a dramatic effect. For example, UDP is almost always faster than TCP because it doesn't double-check that your data packets arrived safely to their destination. The protocol also determines the algorithm used to encrypt your data, which affects speed and latency depending how efficient it is.
Routing – If your data is routed through multiple servers to reach its destination, it can have a big impact on your speed. Less experienced VPN providers may rely on less efficient routing algorithms than others established providers, like ExpressVPN.
Network setup – If you always use Wi-Fi to connect to your VPN, you may be missing out on speed. Using a hard connection – i.e. an LAN cable – to connect to your router can boost your speed tremendously.
Now that you know just a few of the things that can slow down your VPN, we can move onto the tests we ran to see how well ExpressVPN lives up to their claims.
How we tested ExpressVPN's speeds
To test ExpressVPN's server speeds, we divided them up in 2 ways: region and speed measurement.
Region
We used ExpressVPN's method of splitting their server network up. That means we tested servers in the Americas, Europe, the Asia Pacific, and the Middle East + Africa. We tested at least 2 server locations in each region.
Speed measurements
To be able to easily compare, we tested ping, download, and upload speeds using speedtest.net.

Ping: how long it takes for a website to respond; measures in milliseconds.
Download: how quickly a page loads; measured in megabits per second. The higher the number, the faster the connection.
Upload: how quickly you can send data to others; measures in megabits per second. The higher it is, the faster the connection.
The results
At last: the results. How did ExpressVPN do?
The baseline
Without a VPN, we experienced a ping of 98 ms, download of 7.82 Mbps, and upload of 0.65 Mbps. That's the number we'll be using for comparison.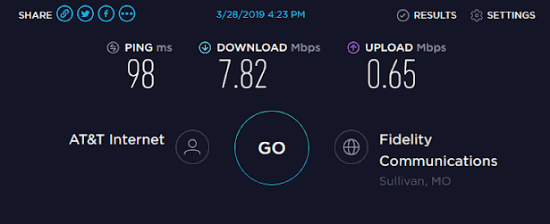 Connecting to the Americas (from the U.S.)
When we connected to a local, U.S. server, we experienced a ping of 103 ms, download of 4.60 Mbps, and upload of 0.34 Mbps.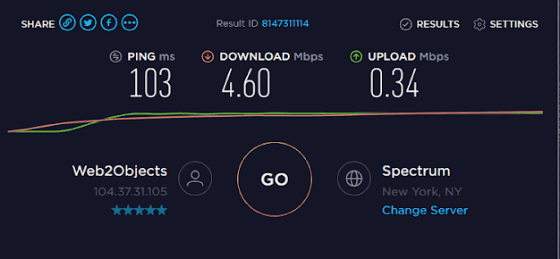 Connecting to a server in Toronto, Canada, gave us a ping of 89 ms (improvement!), download of 1.39 Mbps, and upload of 0.33 Mbps.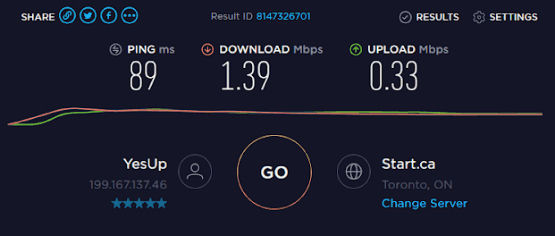 Connecting to Europe
When we connected to European servers, our ping times went up across the board; that makes sense, as this writer is based out of the U.S. As such, connecting to a server in the U.K. returned a ping time of 171 ms, download speed of 4.33 Mbps, and upload of 0.33 Mbps.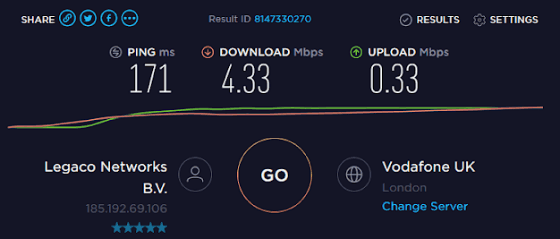 When we connected to a server in  the Netherlands, we got a ping time of 181 ms, download of 5.11 Mbps, and upload of 0.31 Mbps.
Connecting to a Paris server, we got a comparable ping time to the other EU servers of 186 ms, a download time of 3.87 Mbps, and an upload time of 0.30 Mbps.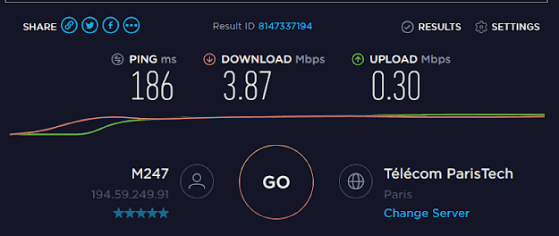 Finally, our last European server was located in Switzerland. Our test returned a ping time of 223 ms, download of 4.87 Mbps, and upload time of 0.29 Mbps.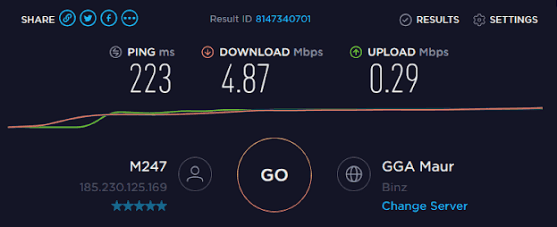 Asia Pacific
For the Asia Pacific region, we chose a server in Hong Kong and Australia. Hong Kong's server test returned a ping of 295 ms, download of 3.90 Mbps, and upload of 0.27 Mbps.

Melbourne, Australia's server test gave us a ping time of 324 ms, download time of 4.26 Mbps, and upload time of 0.23 Mbps.

Middle East + Africa
Our test of the South African server returned a ping of 369 ms, download speed of 3.56 Mbps, and upload speed of 0.22 Mbps.

Finally, Israel's Tel-Aviv server gave us a ping time of 256 ms, download of 3.20 Mbps, and upload time of 0.18 Mbps.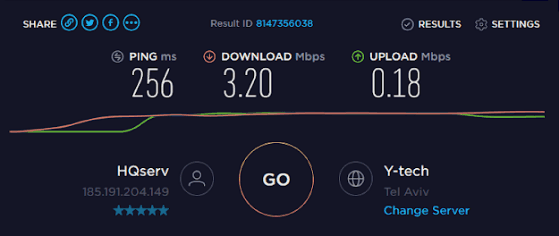 The verdict – is ExpressVPN fast?
Although ping times suffered across the board, that can only be expected with international distances. That said, ExpressVPN performed wonderfully. In the US and Canada, upload times suffered less than 40% drop. Although Canada's server had a relatively poor download time, that was the exception to the rule across the board. And in both cases, we didn't notice a difference in browsing or streaming speeds.
In the EU, we lost an average of about 30% on download times, and about 50% in upload. The Asia Pacific, South Africa, and the Middle East had the poorest upload times, but download times were consistent with the other regions.
In any case, the differences in speed were hardly noticeable – especially at the baseline speeds this writer was already getting without a VPN. ExpressVPN was fast and stable across the board, with the exceptions of Canada's download time and Australia's upload time.
ExpressVPN lives up to its claims.
ExpressVPN – not just fast
Although ExpressVPN makes it's biggest claims about its high speeds, it isn't just a fast provider. They don't claim to be the "#1 trusted in VPN" for no reason – they do everything else pretty well, too.
Private + secure
ExpressVPN uses powerful encryption to hide your data from unwanted eyes – from one end of the virtual tunnel to the other. But they also have DNS leak protection to prevent any of your private data – like your real IP address, your geolocation, DNS address, etc. – from leaking out by accident. And their data logging policy only keeps anonymous data that can't be traced back to you – ever.
Features
ExpressVPN comes in an easy-to-use package, with client software for all the major platforms. They also offer a SmartDNS service that can help you access geoblocked services without the inevitable slow-down of having your data encrypted. Not the best option if you want to be secure, but great for those who just want to watch Netflix and can't otherwise. ExpressVPN also has a built-in "Speed Test" feature for its desktop applications, which checks server speeds in realtime to show you which ones have the fastest download speeds. While a server might not be fast now, it could easily be the fastest in 10 minutes, so it's a great tool to help you make an educated decision on the server you choose for your use-case. You can also selectively encrypt the traffic coming from specific apps on your desktop device via their split tunneling feature, which reduces the total amount of data that gets slowed down due to encryption overhead.
The provider also allows you to connect to as many as 3 devices at once, which is fewer than other competitors, but still adequate for most users' needs. One way to get around this is to install the VPN on your router, which ExpressVPN allows and provides instructions for. You also can't spam or hack using ExpressVPN – they frown on that, and you risk having your account deleted permanently if you do those things.
Finally, ExpressVPN has no restrictions on bandwidth, time of day, or number of times you can switch servers. Plus, they allow limitless P2P file sharing and torrenting and have a large network of 3,000+ servers in 94 countries – and as we found out, their speeds remain strong and stable around the world.
Customer support
Customer support is available 24/7, so if you need to get in touch you can do a live chat on their website or use email. Reps are friendly, knowledgeable, and help you resolve your problem fast. ExpressVPN also offers in-depth guides for setup and troubleshooting measures, should you have the need or prefer that route. If you're not completely satisfied with the service, or you just want to get ExpressVPN for free for a short period of time, you'll have 30 full days to claim your refund–no questions asked.
Don't forget to check out our full ExpressVPN review to dive deeper into the ins-and-outs – both positive and negative – of this fast provider.
Wrapping up
You came here with a question: is ExpressVPN really as fast as they claim? Hopefully, through our testing we've provided you with that answer. So now it's up to you: give 'em a try (they offer 30 days money-back, no questions asked), or walk away. If you choose the former option, you can run tests of your own to see how it matches up.
Have you used ExpressVPN, or know someone who has? Do you agree with our verdict on ExpressVPN's speeds? Let us know in the comments section below.