We are reader supported and may earn a commission when you buy through links on our site.
Learn more
IPVanish vs ExpressVPN: Which One is Right for Me?
It's time for another VPN faceoff, this time it's IPVanish vs. ExpressVPN. We'll compare stats like encryption strength, network size, speed, access to blocked websites, and many more. At the end of this article, you'll have a clear idea of which top-tier VPN is best for your specific use-case, so stay tuned.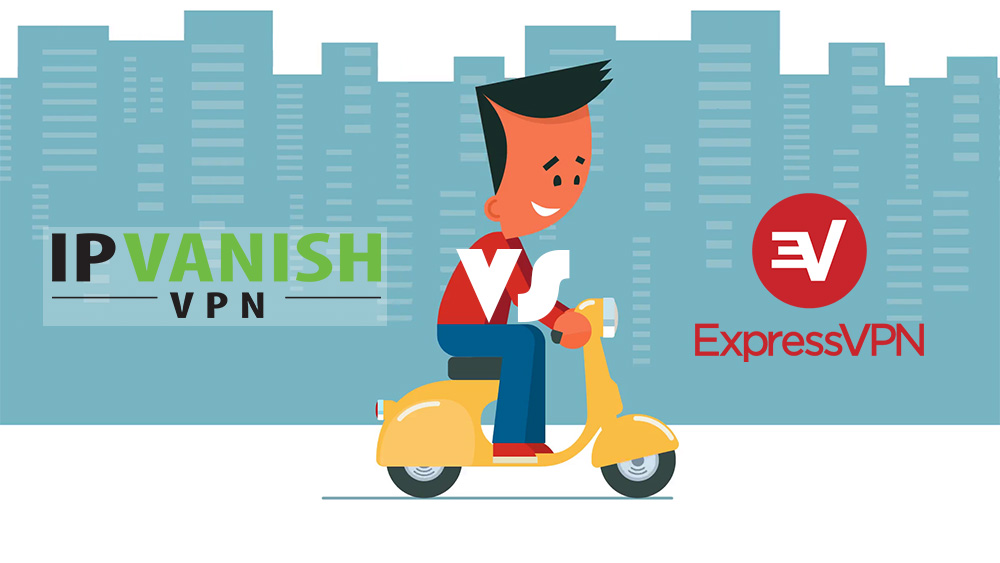 Two of the biggest names in VPNs are IPVanish and ExpressVPN. These services often top lists of recommended VPNs, including here on our site. But you might wonder what the difference between these two services is. Which is best for speed, for flexibility, and in terms of ease of use? Which users should use what service? And which is best overall?
These are the questions we're going to tackle today. We'll be comparing both IPVanish and ExpressVPN in terms of connection speeds, the number of servers available, use for Netflix, the quality of the software, the availability of browser extensions, and the platforms that are supported. We'll tackle each consideration in turn so that you can see the comparison of IPVanish Versus ExpressVPN: Which VPN Should You Use?
30-days money back guarantee
IPVanish vs ExpressVPN
Both IPVanish and ExpressVPN meet the key requirements that we would expect from any reputable VPN: they have excellent security, with 256-bit encryption and policies against logging any of their users' information. Either of these services can be used to hide your IP address and to keep you safe and anonymous while you browse or download. Neither have any restrictions on bandwidth, so you can use them freely as much as you want without worrying about hitting bandwidth caps or throttling.
However, these are just a few of the considerations that you should have in mind when choosing a VPN. Below, we'll compare the performance of IPVanish and Express VPN when it comes to other key features:
Connection Speeds
If your main concern when choosing a VPN is speed, as you don't want your connections to be slowed down while you're browsing, then you'll be happy to know that both IPVanish and ExpressVPN have extremely fast connection speeds. You can easily stream high definition videos and quickly download files using either of the providers. ExpressVPN is known for its speed – so much so that it's named for it – but in fact, in our testing we've found that IPVanish is able to keep up most of the time, and sometimes even exceed ExpressVPN. We do have to acknowledge ExpressVPN's built-in speed test, which helps you dial in the fastest available connection.
Both providers have such good speeds that you won't even notice that they are there, but ExpressVPN just about pips IPVanish as the winner for speeds in our tests.
Number Of Servers
Both IPVanish and ExpressVPN have extremely large networks of servers spread over many countries, so you'll have no problem finding a service that meets your needs with either service.
IPVanish has more than 1,300 servers in more than 60 countries, including all the popular locations you might want like US, Canada, UK, Hong Kong, India, Japan, Singapore, and many more. See the full list of available servers.
ExpressVPN has an even larger network of over 3,000 servers in 94 different countries. These countries include the US, Canada, UK, Netherlands, Sweden, Japan, Hong Kong, and Singapore. ExpressVPN also has a number of servers in African countries like Kenya, South Africa, and Algeria, which is unusual for VPN providers and is helpful for those who want to access content from these countries. Check out the full list of available ExpressVPN servers.
Overall, ExpressVPN has a somewhat larger number of servers in a broader range of countries. But in practice, either provider has a server network that is plenty big enough for the vast majority of users.
Use For Netflix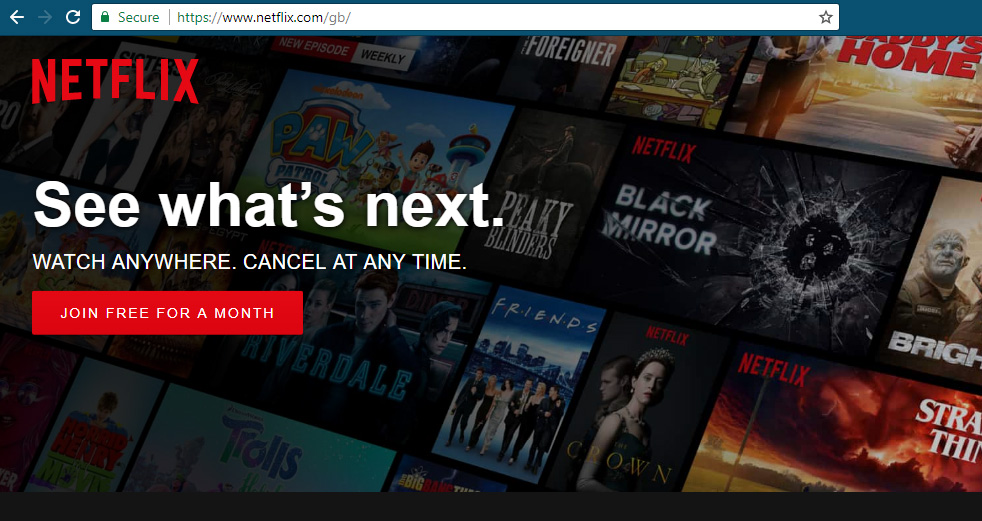 One important key difference between IPVanish and ExpressVPN is which streaming services they work with. Many streaming services, such as the US-based Comedy Central channel or YouTube, can be used with almost any VPN. You simply need to connect your VPN to the country of your choice and you will be able to stream content from that country. Some streaming services, however, have restrictions which make it harder to use a VPN.
One very popular streaming service with some of the toughest restrictions on VPNs is Netflix. Netflix only has the rights to stream certain movies or TV shows in particular countries, so not all content is available in all regions. Some versions of Netflix, like Netflix US, have massive catalogues of thousands of movies and shows to watch, while other versions, like Netflix India, have a much more limited selection. This means that if you live in a country like India and you want to watch a bigger range of Netflix content, you need to use a VPN to make it appear as if you are browsing from the US. Then you will be able to watch all of the Netflix US content even if you live elsewhere.
The problem is that Netflix uses sophisticated VPN detection which blocks connections from most VPNs. It is not known exactly what criteria Netflix uses to check for VPN use, but it is thought to be a combination of blocking certain ranges of IP addresses which are known to be used by VPNs, and blocking connections from multiple users sharing the same IP address, which generally indicates a VPN. If you try to access netflix.com and to stream a video while using most VPNs, you will get an error message telling you to disconnect your VPN.
The good news is that ExpressVPN is one of the few VPNs that does work with Netflix, as has been confirmed in testing. Almost any of the ExpressVPN servers can be used to connect to Netflix and to watch international content with no problems. There's even a page on ExpressVPN's website about using it to watch Netflix.
IPVanish unfortunately does not work with Netflix. So if you're a regular Netflix user and you want to watch Netflix content from elsewhere in the world, then you should opt for ExpressVPN.
Software
Both IPVanish and ExpressVPN come with their own software which you install onto your device to use the VPN service. The two pieces of software are quite different, and using them is a different experience even though they both do essentially the same thing.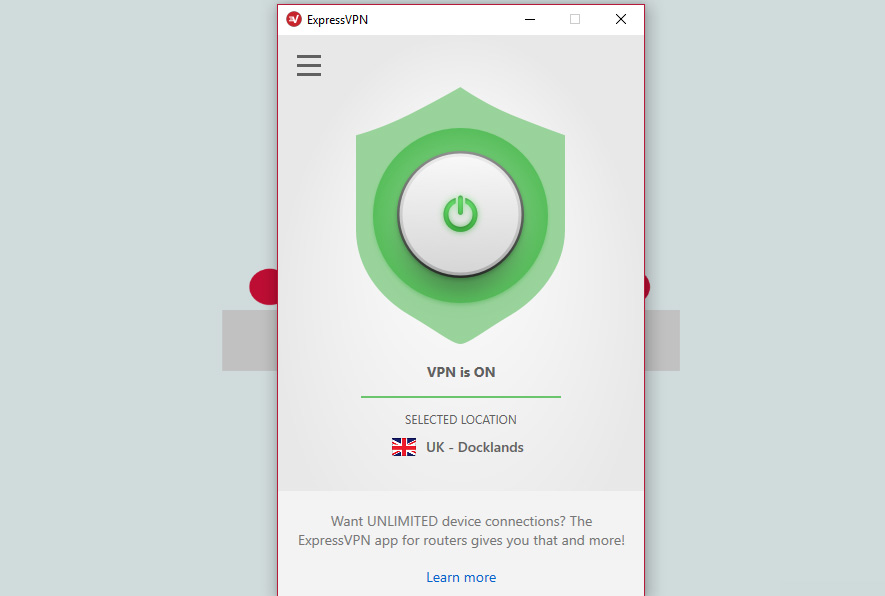 The ExpressVPN software is very simple, with just one large button for connecting to the VPN on the main screen, and smaller buttons for either choosing a location or using the smart location feature at the bottom. There are useful extra features in the software, like a speed test to help you find the fastest server, or a DNS leak test and IP address checker to ensure that your connection is working and is secure. There is also an option to view diagnostic information which helps when you have a problem that you need to fix. However, that's pretty much it. The software is minimal and focuses on ease of use. A couple of slight annoyances are firstly that the window cannot be resized, so you can only use the small window size, and secondly that there is a link to ExpressVPN website news at the bottom of the screen which is easy to click on by accident.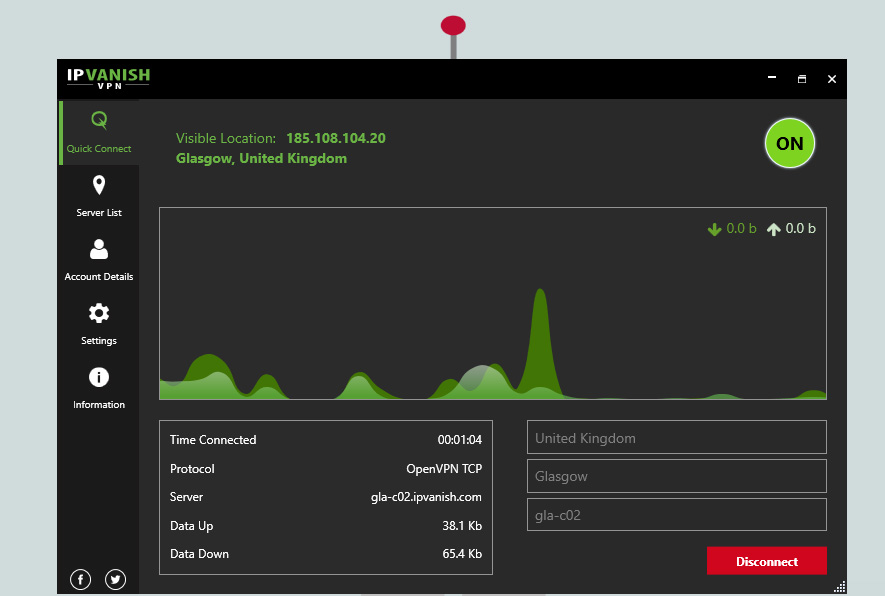 By contrast, the IPVanish software is much more complex and fully featured. On the home screen you'll see a graph showing the amount of data you are transferring over the VPN at any given time, with information on upload and download speeds in the top right of the graph. This screen also shows information on your current IP and apparent location, the time you have been connected to the VPN and the data you have sent up and down, the VPN protocol that you are currently using, and the server that you are connected to. The tabs on the left hand side of the software take you to more options, like a full list of servers which you can sort, filter, or view on a map, your IPVanish account details, general information, and a settings tab which contains advanced settings. These settings include numerous tweaks like startup behaviour, a kill switch to prevent you from accidentally using an unsecured connection, auto reconnect, DNS leak protection, period IP address change, and the ability to configure your DNS servers.
Overall, the IPVanish software has far more advanced options and lets you see much more information than the ExpressVPN software. Beginners might appreciate the simplicity of the ExpressVPN interface, but medium to advanced VPN users will want to take advantage of the many options and greater degree of information provided by the IPVanish software.
Browser Extensions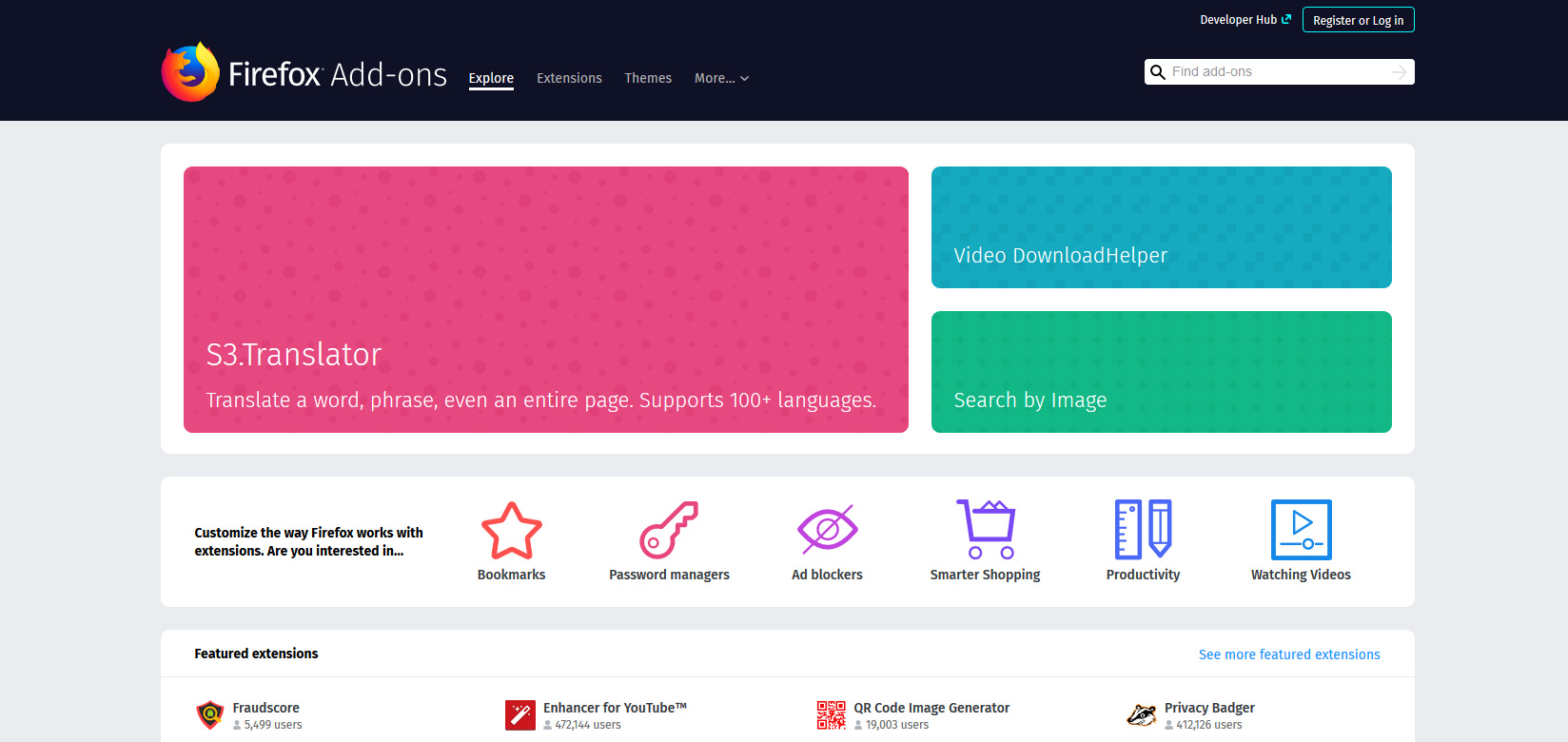 Another form of software which is worth considering is the availability of browser extensions. The idea of a browser extension is a simple plug-in for your web browser that lets you see and control your VPN connection from within the browser itself. If you aren't very experienced with using a VPN and you find the VPN software rather confusing, then you might prefer the option to use a browser extension as it is much simpler. Another advantage of browser extensions is that you can very quickly switch from connections to one server to another, meaning you can hop between connections to, say, the US and Canada very easily. This is handy is you use a bunch of national-based streaming services like Hulu in the US, CBC in Canada, and the BBC in the UK.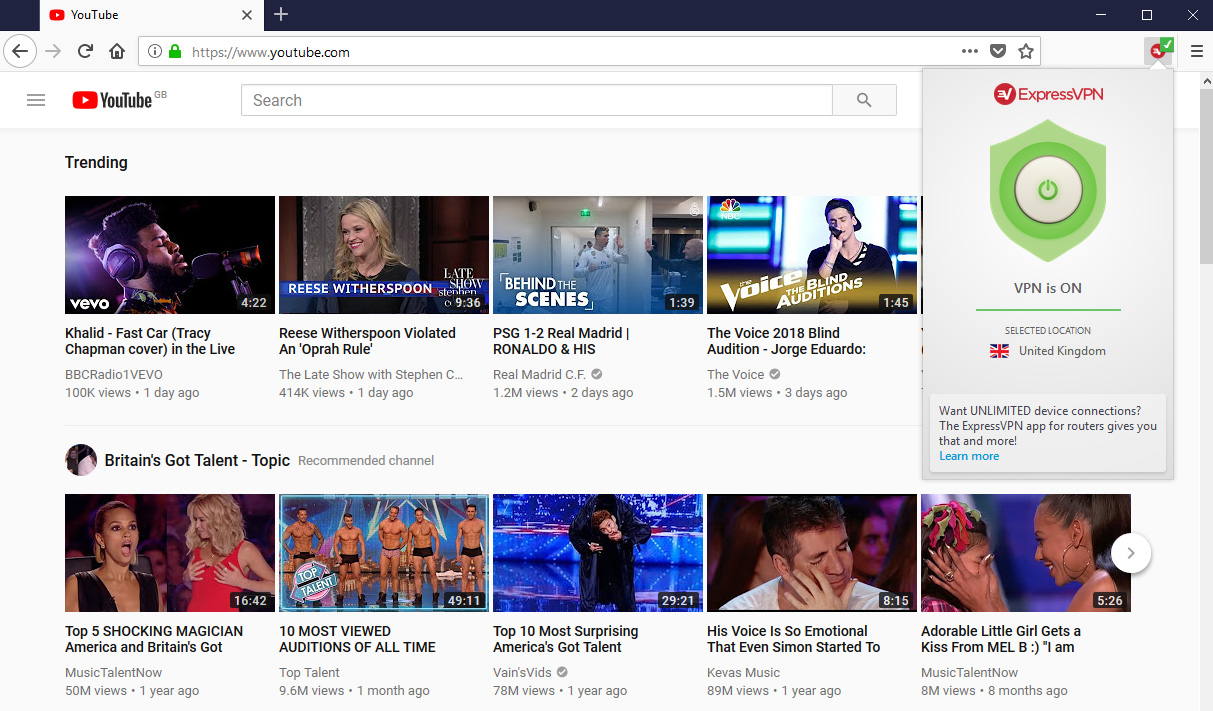 IPVanish does not offer browser extensions, so you'll need to use their regular software to make connections as you browse. ExpressVPN, however, offers extensions for both Google Chrome and Mozilla Firefox, plus Apple's Safari browser. The browser extension lets you see when you are connected to the VPN through a green checkmark in the toolbar, and you can click on this icon to quickly disconnect from the VPN or to choose a new country to connect to.
If you do want to use a browser extension for connecting to your VPN, then ExpressVPN is the VPN you need.
Platforms Supported
Finally, it is worth considering which platforms are supported by each VPN provider. When you pay for a VPN subscription, you want to be able to secure all of your devices, so it's good to know what software availability each provider has.
ExpressVPN supports a huge range of devices. It covers the basics: Windows, Android, iOS, Mac, and Linux, plus games consoles like Playstation and Xbox, and other devices like AppleTV and Amazon FireTV.
IPVanish supports the essential Windows, Mac OS, iOS, Android, and Linux, and also supports others like Windows Phone, Amazon Fire TV, and Google Chromebook.
Both VPNs also offer software which can be installed on compatible routers to protect all of the devices which are connected to your network.
Each of the VPNs we're looking at today has good software support for the key platforms, plus a number of other devices too. So we're going to call this one a draw in terms of software support.
Which Is Best For Which Users
As you can see, both VPNs are high performers that will meet the needs of most users well. But a few factors differentiate the services from each other. For those who want maximum flexibility, including the ability to use Netflix with a VPN, then ExpressVPN has to be the top choice. For advanced VPN users who want fine grained control over their connections and like to have access to important information about their internet connection, then IPVanish has the superior software.
Overall, ExpressVPN is a great choice for new or beginner VPN users, and IPVanish is better for those who already have experience using VPNs.
Special Offers
If you're interested in trying out either IPVanish or ExpressVPN, we have special offers that are available to our Addictive Tips readers below: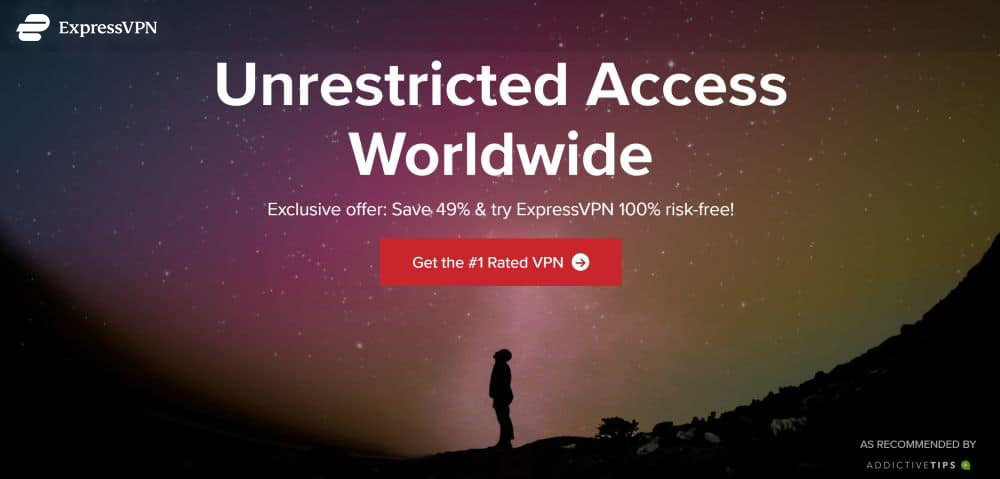 ExpressVPN is a favourite VPN among security conscious users who don't want to compromise on speed, security, and ease of use. The service uses strong 256-bit encryption and has a no logging policy in order to keep your data safe and private, and the fast connections are perfect for streaming high definition video. The massive server network consists of over 3,000 servers in 160 locations in 94 different countries so you'll have plenty of options to connect anywhere in the world. The software can be install on devices running Windows, Mac OS, Linux, and Android, plus others, and is easy to use even for beginners.
Read our full ExpressVPN review.
Pros
Works with US Netflix, iPlayer, Hulu and other services
Super fast servers
Govt-level AES-256 encryption
Strict no-logging policy
Live Chat Support.
Cons
Month-to-month plan has high cost.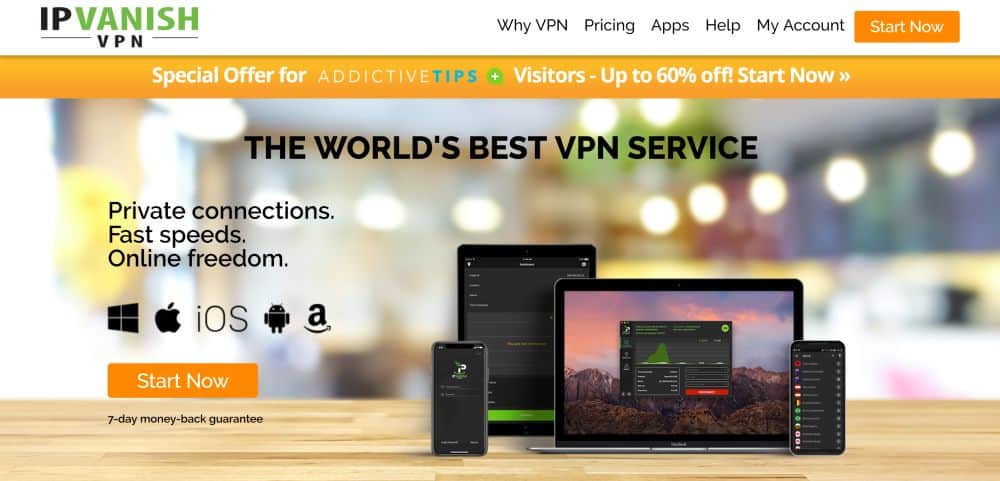 IPVanish is the VPN of choice for those who want the fastest connection speeds possible. Known for its lightning fast connections, this is the service for those who like to stream or download in large quantities. The service also has 256-bit encryption and a no logging policy to keep you safe and protect your privacy. The large server network has over 1,300 servers in more than 60 countries means you'll always find a server where you need one. The software can be installed on platforms including Windows, Mac OS, Linux, and Android, and is perfect for advanced users with its features like DNS leak protection, periodic IP address change, and DNS configuration.
Read our full IPVanish review.
Conclusion
Both IPVanish and ExpressVPN are two of our favourite VPNs, thanks to their high level of security, fast connection speeds, and broad range of software support. But there are a few key differences between the services that you should be aware of before selecting one to be your VPN for daily use. Regular Netflix users and those who want as large a server network as possible to access content from all over the world should opt for ExpressVPN. Those who want advanced features and the absolute fastest speeds should opt for IPVanish instead.
Do you have experience using either or both of these VPN services? Which did you prefer? Let us know in the comments below.