We are reader supported and may earn a commission when you buy through links on our site.
Learn more
How to Set Up a VPN on the Samsung Galaxy S10
It's easy to install a VPN on your Samsung Galaxy S10, but it takes a little know-how to properly configure it for optimal security. In today's guide, we walk you through setup using ExpressVPN as a test case. By the end of this article, you'll understand how to adjust encryption settings, switch VPN servers, and protect against data leaks on your S10.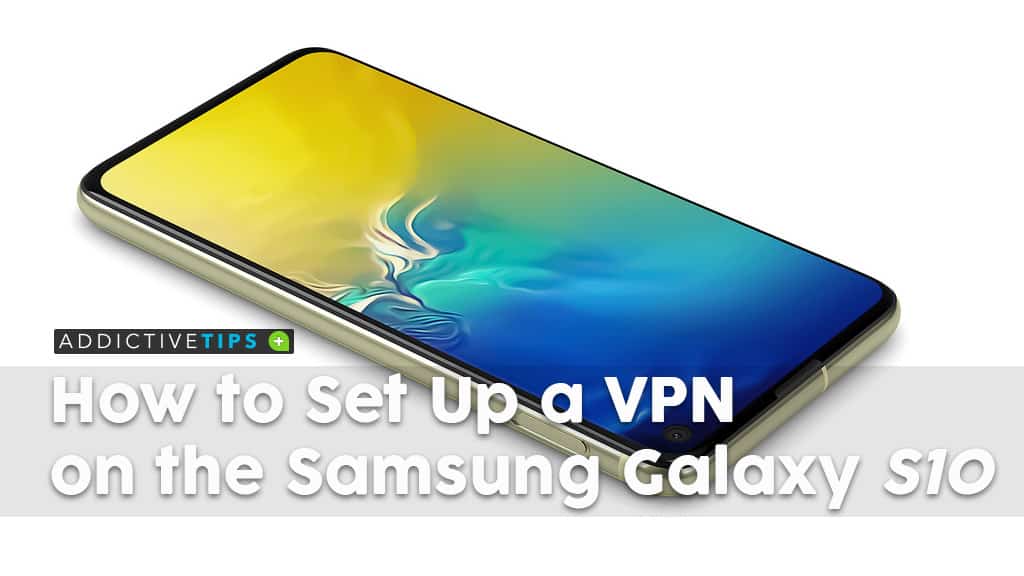 The Samsung Galaxy S series of smartphones is by far one of the most popular with many calling it the iPhone killer. The latest edition, the Galaxy S10 is just as popular as its predecessors, if not more.
Today, we're having a look at how to set up a VPN on the Samsung Galaxy S10. It's actually simpler than you may think, especially when you follow our step-by-step instructions. But why a VPN, you may ask? Well, there are several reasons why someone would—and should—use a VPN. It all depends on what you're doing and what you're trying to accomplish. VPNs offer a solution to several issues.
Below, we explain how to choose and set up a VPN on the Samsung Galaxy S10. Our example will be using ExpressVPN, one of the top VPN providers. And we'll finish by telling you more about ExpressVPN and what the service has to offer.
30-days money back guarantee
Selecting a VPN provider
With so many VPN providers to choose from, picking the best for your purpose can be a challenge. Each advertises many different and sometimes confusing features that often do nothing but complicate matters. To make the selection process easier, here are some of the most important features of Virtual Private Networks.
Performance and stability
No matter what, a VPN will adversely impact network performance as the VPN client and server need to encrypt and decrypt data. You can minimize this by choosing a VPN provider with fast servers. Furthermore, to make sure the service is available when you need it, a reliable provider with high uptime figures is essential.
Location and number of servers
When using a VPN to bypass geographic restrictions, the location of the servers is possibly the most important factor. Some providers have thousands of servers in over a hundred countries. But the number of available countries it not necessarily the most important factor. You need a provider with servers in the right country. Before you pick one, make sure the provider has servers in the country or countries you need. The number of servers in each country also has some importance. The more server there are, the more simultaneous users can be accommodated. Each server can only support a limited number of users before it becomes too busy to be useful.
Strong encryption
For users with privacy and security in mind, this will certainly be the most important feature. Most VPN providers today use the OpenVPN protocol which is very secure and interoperable. But the encryption parameters used can vary from supplier to supplier and also between subscription levels. Of course, higher encryption means that your data will be harder to crack. Don't use anything below 128 bits but try to get at least 256 or more.
Client software
This is an obvious but often overlooked feature. To take full advantage of all the advanced features offered by a VPN provider, you should use their client software. In the case of the Samsung Galaxy S10, you'll want to pick a provider offering an Android client app through the Google Play Store. Fortunately, many providers do.
Simultaneous connections
If you're going to be using a VPN from multiple devices at the same time, you need to make sure your selected provider allows enough simultaneous connections for your needs. This can vary from provider to provider but also between various subscription levels.
Logging—or rather no-logging—Policy
For the privacy-conscious users, this is an essential feature. With a no-logging policy, even if your VPN provider were hacked or were forced by the authorities to reveal information about you or your online activities, you'd be protected if they didn't have any.
Protect your Samsung with ExpressVPN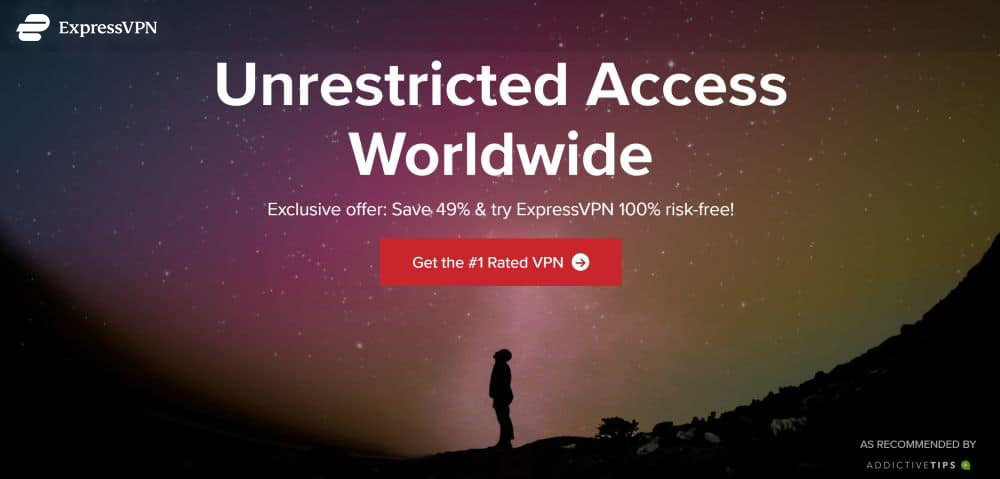 Some of ExpressVPN's best-known features are its strong encryption protocols, the blazing speed of its servers, and its worldwide server pool of over 3,000+ servers in 94 countries worldwide. With that many countries and servers, it's a top pick for bypassing geo-blocking.
Security-wise, ExpressVPN uses the OpenVPN protocol with 256-bit AES encryption and perfect forward secrecy. It uses 4,096-bit DHE-RSA keys that are protected by a SHA-512 algorithm. As far as logging policy goes, this provider only has a partial no-logging policy. This is one of its only shortcomings. However, the only data that is kept are the servers users connect to and the dates they connect. No data about what users do or where they go is logged at all. All in all, it still provides a very decent level of privacy protection. The Network Lock feature will block all internet traffic if the VPN drops. This is a common feature that other providers often call a kill switch. A single ExpressVPN subscription can be used simultaneously on three devices, regardless of platform. There are client applications for Android devices—including the Samsung Galaxy S10—iOS, Windows, MacOS, and Linux.
Read our full ExpressVPN review.
Pros
Unblocks US Netflix, BBC iPlayer, Hulu and Amazon Prime
Fast serves with minimal speed loss
OpenVPN, IPSec & IKEv2 Encryption
No logs for personal data
24/7 Customer Service.
Cons
Expensive month-to-month plan.
Setting up a VPN on the Samsung Galaxy S10
Setting up A VPN on the Samsung Galaxy S10 is relatively easy. It varies slightly for each VPN provider as it's typically done using the VPN provider's proprietary app (for the best user experience) and each app different. The procedure outlined here uses the ExpressVPN app. Why that one? Mainly because ExpressVPN is the best VPN provider and its app is compatible with the Samsung Galaxy S10. The procedure would be a little different with other providers yet it would be similar. All the steps would be the same. Here's how it goes…
1. Subscribe to the service
The very first thing you need to do is to subscribe to the ExpressVPN service. This is as easy as going to www.expressvpn.com and clicking the Get Started button at the top right of the screen. You'll then need to pick a plan, enter your email address and enter your payment information. Simply follow the instructions on-screen to complete the subscription process. It varies according to the payment method you choose.
2. Get and install the client app
From your Samsung Galaxy S10 smartphone, go to https://www.expressvpn.com/users/sign_in and sign in to your ExpressVPN account. Next, tap the Set Up ExpressVPN button.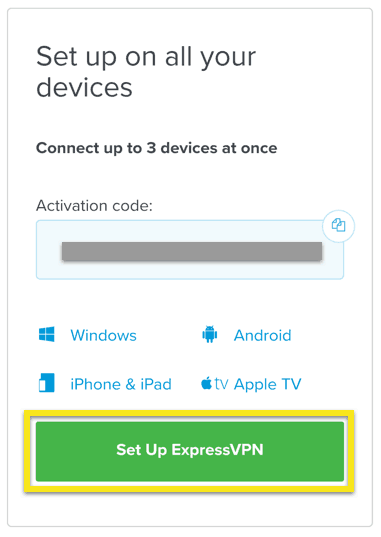 This will take you to the downloads page. Navigate to the Android section, then tap the GET IT ON Google Play button to download the app. The client app's page will open in the Google Play Store. Tap Install and then Accept. Wait a bit while the app installs. Once it is installed, you may tap open to continue with the next step.
3. Set up the VPN app
After opening the ExpressVPN app, tap Sign In. Enter your email and password and tap the Sign In button.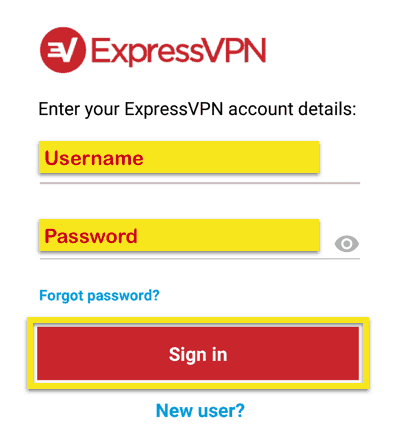 You'll be offered the option to share crash reports and other anonymous analytics to improve ExpressVPN. Tap OK if you agree to share reports or No Thanks if you'd rather not.
You will be invited to set up your VPN and to approve connection requests by ExpressVPN. Tap OK and then OK once more.
4. Connecting to a VPN server
To connect to a VPN server, simply tap the On button. By default, ExpressVPN will suggest the location that provides the optimal experience for you. This is referred to as Smart Location. That's all there is.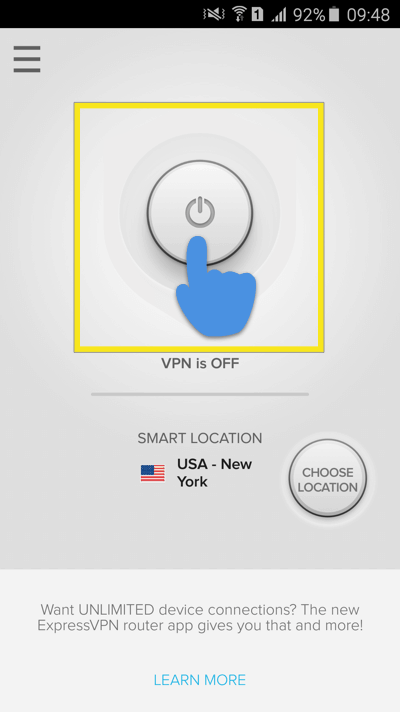 All the traffic in and out of your Samsung Galaxy S10 will now be encrypted and protected and you'll be free to surf with freedom and security.
If you're using another VPN provider
Although the detailed procedure outlined above is specific to ExpressVPN and its client app, the same result can be obtained with any VPN provider with an Android app available through the Google Play Store. The exact steps might be slightly different but generally similar. Most providers do offer detailed setup instructions for each platform they support.
An introduction to Virtual Private Networks
The Internet is a huge mesh of millions of computers all interconnected through various types of telecommunication links. Within a house or an office, computers interconnect via local networks, wired or wireless. Between local networks, the interconnectivity is provided by Internet Service Providers or ISPs. The service from your ISP as well as the inter-ISP connections are inherently unsecured, allowing the transmitted or received data to be intercepted.
Virtual Private Networks secure the connection by encapsulating any data in and out of your computer inside a virtual–hence the name–encrypted tunnel. Since the tunnel uses strong encryption, anyone intercepting your data can only see meaningless gibberish. At the far end of that tunnel is a VPN server that receives your data and decrypts it before sending it out on the Internet. When the response comes back, The reverse process happens and the VPN encapsulates it before sending it back to you through the same tunnel.
Some of you may ask "If the data is decrypted at the far end of the tunnel and sent out on the Internet, how is it secure?" Well, to be totally honest, the part between the VPN server and the destination is not secure. However, it does not really matter. Someone who'd want to spy on you and intercept your data would do it from your end. They can't do it otherwise as they wouldn't know where to look for your traffic. And even if someone was intercepting traffic at the other end of the tunnel, they'd see requests coming from the VPN servers and responses going back to it but not to you or your computer. It would not be possible to trace that traffic back to you.
The benefits of Virtual Private Networks
Of the many benefits to using a VPN, let's have a look at some of the most important ones.
Circumventing geo-restrictions
Have you ever found yourself in a situation where want to watch some video content only to find a message that says that it is not available in your area? Or perhaps you're on vacation abroad and realize you can't access Netflix from there. Geographic restrictions are particularly popular with streaming content providers. They are related to copyrights, distribution contracts and advertisers revenue protection.
Streaming content providers infer the location of users from their IP addresses, a unique number assigned to each computer that is used to route data over the Internet. When using a VPN, all your traffic appears as if it's originating from the VPN server rather than from your computer. By picking a server in a specific location, you can appear as if you're there.
Safeguarding privacy
If you're working from a public WiFi hot spot and want to make sure that no one can intercept your data, there's not really any way you can do that without using a VPN. With its strong encryption scheme, any intercepted data would be encrypted and useless.
With a VPN, you'll be free to enter any type of personal information on web forms. Passwords, usernames. account numbers, all information will be protected. You'll be free to do your online shopping or even banking with no worries whatsoever.
Bypassing usage restrictions
Several organizations do restrict what you can do on the Internet. For instance, countries like China block access to most of the western Internet from within the country. Several other countries have similar limitations or censorship. This is done for either political or religious reasons.
Similarly, several institutions do block access to some websites or to some services. For instance, many public WiFi hot spots won't let you access adult content sites or use the BitTorrent protocol to download files. There's even a public library where I go that won't let my computer send out emails. IMAP email reception works fine but SMTP just won't work. There are several reasons why these restrictions are in place. It's often a matter of morality or of stopping unscrupulous users from breaking the law.
Another common type of usage restriction is often seen in educational institutions where access to social media, for example, can be blocked. The rationale behind such block is to ensure students are paying attention in class rather than playing with their smart device. Some schools even restrict Internet access to sites that are directly related to the curriculum.
The last type of usage restriction is common in workplace environments where various restrictions can be put in place for several reasons. For example, it is not rare to see download sites being blocked. I also recall a place I used to work where we had to block access to sports video streaming sites during the football world cup as bandwidth usage was such that real business traffic was impacted.
No matter what the reason is for restricting Internet access, most of these restrictions are based on destination IP address or on IP port number. More advanced filtering systems will also examine packet headers to figure out the type of traffic. In many cases, a VPN should allow one to bypass such restrictions. It will not always work, though. As much as a VPN will encapsulate all traffic and make it virtually invisible, nothing stops organizations from blocking all VPN traffic. Fortunately, this rarely happens mainly because VPNs are often used for legitimate reasons. They are, for instance, one of the primary ways travelling workers connect back to their corporate network.
About the Samsung Galaxy S10
The Samsung Galaxy S series is a line of high-end Android-powered mobile devices produced by South Korean giant Samsung Electronics. It is Samsung's flagship series. The first device of the series, the Samsung Galaxy S, was released back in mid-2010. The Samsung Galaxy S10 is the latest offering of the series. Just released, the phone is available in three different versions, the S10e, the S10, and the S10+, each with slightly better features.
Feature-wise, the Samsung Galaxy S10 is impressive. It all starts with a virtually borderless AMOLED HD+ screen with a resolution up to 3 040 by 1 440 pixels. A built-in ultrasonic fingerprint reader is also hidden beneath the screen. With a Samsung 8 core processor, a Snapdragon 855 GPU, and between 6 and 12 GB of RAM, this is a powerful device. It's actually more powerful than many desktop and laptop computers. The device is also famous for its cameras. Yes, cameras. There are five of them. Three in the back and two in the front, each with a different lens. With the built-in photo app, this device has more features and takes better photos and HD videos than many dedicated cameras. It is simply amazing.
Conclusion
So there you have it, everything you need to know about installing and using a VPN on your Samsung Galaxy S10. If you thought your device was capable before, pairing it with ExpressVPN unlocks the entire Internet while blocking out prying eyes altogether. We've shown you a step-by-step guide to installing this fantastic provider's client onto your S10, but if you have any questions or get stuck along the way, leave us a comment below.