We are reader supported and may earn a commission when you buy through links on our site.
Learn more
How to Stream SBS On Demand Content Outside Australia
Aussies traveling or living abroad can't normally access SBS due to geblocks. But with a VPN, you can access all sorts of restricted content by changing your IP address and obscuring your connection behind a wall of encryption. Don't worry, it's actually pretty easy, and we'll walk you through the process of unblocking SBS outside of Australia with a VPN.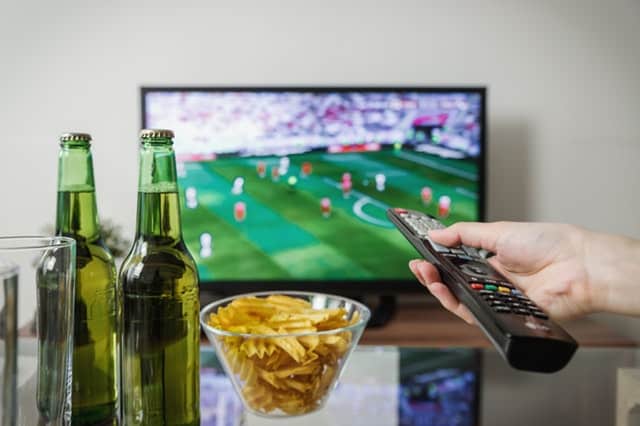 Special Broadcasting Service is a popular Australian TV broadcaster – and for good reason. With shows and movies like Fargo, Hollands Hope, Masters of Sex, and more, they've got a great selection. But while Australians can watch it both on TV or online through the SBS On Demand handle, non-Australians can't. So whether you're an expat living or traveling abroad, or are a citizen of another country and have heard great things about SBS, you're missing out.
Aussies abroad, it's easy to unblock SBS! Just use one of these secure VPNs:
NordVPN – Best for SBS – NordVPN has hundreds of heavily encrypted servers in Australia, with more than enough power for buffer-free SBS streams. Unblock your favorite content anywhere with the world's best VPN.
Surfshark – An upstart provider with a modern feature set. Set to become one of the major players in the VPN industry.
ExpressVPN – Well-established provider with a massive and speedy server network. Ideal for unblocking Netflix Oz.
CyberGhost – User-friendly VPN with more servers than any other provider.
PrivateVPN – Self-owned network, flexible encryption, and lightweight apps for most devices.
PureVPN – A comprehensive cybersecurity suite that is especially good at beating government blocks.
But there's a way around the Australian geo-block that can allow you to stream SBS Australia: a VPN. In this guide, we'll show you what qualities you should look for in a good VPN, give you our recommendations, and then show you the "how-to" of streaming SBS when located outside of Australia. Finally, we'll talk briefly about why this happens and some other uses for VPNs.
30-days money back guarantee
Features of a great VPN
It can quickly become overwhelming to try and research the best VPN for streaming SBS. The VPN industry is huge, offering many different providers numbering in the hundreds. They run the gamut of large and small, trustworthy and shady, and safe and dangerous. But we took the time to search the market, poking, prodding, and testing for the most reliable, trustworthy, and best-performing VPNs.
We've come up with this list of criteria to abide by when looking into a VPN for streaming SBS – or any VPN service, for that matter.
VPNS that can stream SBS Australia
Based on those criteria, here are the VPNs we suggest for streaming SBS Australia while outside the country: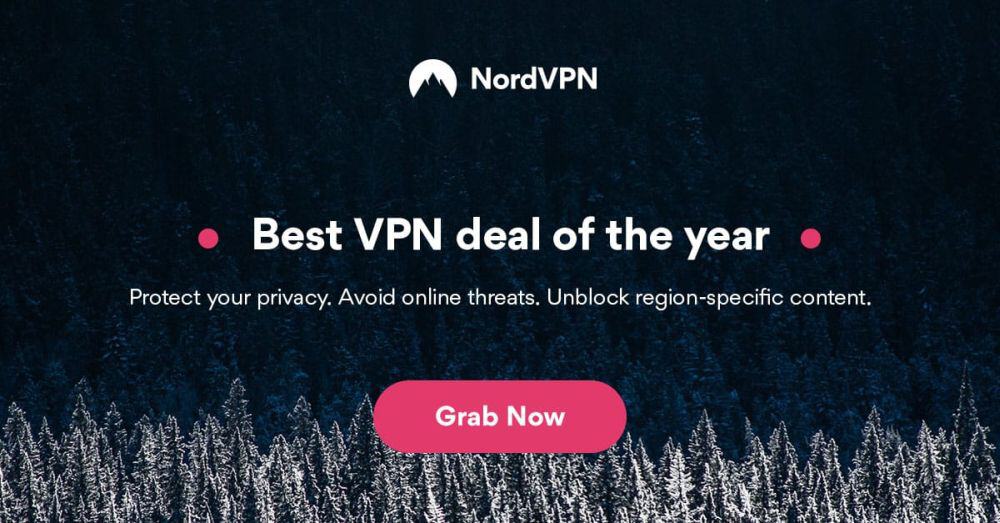 NordVPN gives you access to a massive server network: 5,500+ servers in 58 countries, including more than 250 servers in Australia alone. They're the biggest provider in the industry and always growing, with specialty servers that have settings configured for use-cases like P2P. 256-bit AES encryption with 5 protocols and further advanced options gives you plenty of security and power to punch through harsh censorships and tough geo-blocks.
You can up your security even more, too, with custom DNS settings, an automatic kill switch, and DNS leak test; plus optional security toggles that can block ads and malware. NordVPN is available for Windows, Mac OS, Linux, Android iOS, Router, and RaspBerryPi – and since you can connect to up to 6 devices, you could have one of each operating system and still access SBS on them all.
Finally, NordVPN has great customer support that's available 24/7 and has a full online suite with guides and tutorials.
Read our full NordVPN review.
Pros
SPECIAL OFFER: 2-yr plan (68% off - link below)
Most VPN servers with different IP addresses
Strong encryption is used on all connections
"Double" data protection
Money back guarantee policy (30-days).
Cons
Refund processing can take up to 30 days.

The best VPN to come out in the past couple of years is undoubtedly Surfshark. It's a thoroughly modern provider that cuts the fat, leaving behind an affordable package full of useful and effective security provisions.
For purposes of unblocking SBS, there are servers located in five cities throughout Australia, spoiling you for choice in where you spoof your Aussie IP from. Each connection comes secured by the same encryption used by the NSA, the 256-AES-GCM cipher. There are numerous failsafes in place to ensure not a single unencrypted packet leaks out, including a kill switch, plus IP/DNS/WebRTC leak protection.
And if you're in a super censored country like China or Vietnam, Surfshark guarantees access to the free and open Internet with advanced protocols like NoBorders and Camouflage obfuscation. No matter what you do on their network, Surfshark never keeps logs, so you can conduct your business in peace.
Pros
Break through harsh censorship to securely access social media and foreign news sites
Over 800 servers in 50 countries worldwide, and constantly growing
Trial in confidence with a 30-day money back guarantee
Absolutely no logging of connection data, IP addresses, bandwidth used, or traffic
Responsive customer support available 24/7.
Cons
Growing network doesn't have same coverage as more mature VPNs
Relatively young VPN still has to prove itself trustworthy over the long haul.
Read our full Surfshark review.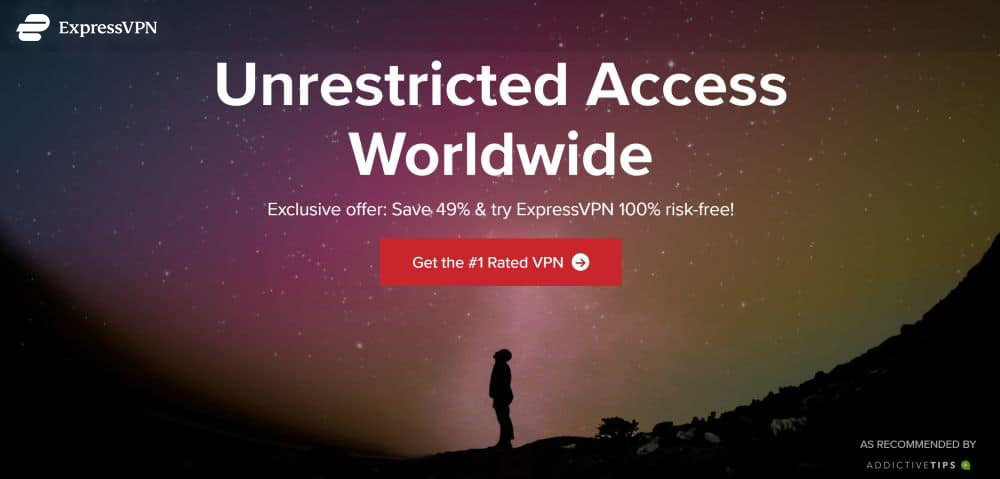 ExpressVPN is perfect for streaming online: they offer unlimited bandwidth, zero speed caps or throttling, and even have a built-in speed test. A lightweight software design ensures it stays out of your way, but tough 256-bit AES encryption keeps your data safe, too. While we're on the topic of security, you also get DNS leak protection, an automatic kill switch, and a strong zero-logging policy – keeping your identity, location, and activity private.
ExpressVPN has more than 3,000 servers in 94 countries, with 6 of their 148 server locations located throughout Australia's major cities. And since ExpressVPN is based out of the British Virgin Islands, they aren't beholden to the surveillance agreements Australia is part of.
ExpressVPN also offers a wide software availability, allowing you to install it on the major desktop and mobile OS's, as well as desktop browser extensions, Apple TV and Kindle Fire, as well as PlayStation, Xbox, and Routers.
Read our full ExpressVPN review.
Pros
Unblocks Netflix and other streaming sites
Fast serves with minimal speed loss
OpenVPN, IPSec & IKEv2 Encryption
Strict no-logs policy for personal information
Great support (24/7 chat).
Cons
Max 3 connections simultaneously
Slightly pricier than competition.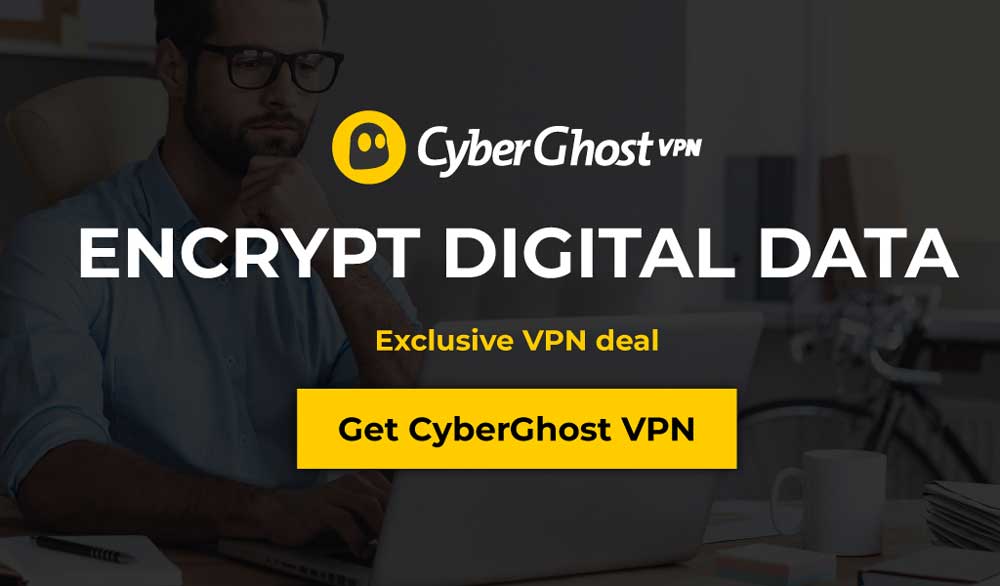 CyberGhost devotes over a hundred servers from their nearly 5,500-strong server network strictly to Australia. You can stream without fear of throttling or speed caps on CyberGhost's unlimited bandwidth across many different devices. Military-grade 256-bit AES encryption and an immaculate zero-logging policy keep your data and activity safe and private – just the way it should be.
But CyberGhost really shines when it comes to ease-of-use. It offer a colorful display and 6 simple, pre-configured profiles that give you options to set the best settings for various use-cases. Some of these include surfing anonymously, unblocking streaming, protecting your wi-fi connection, torrenting anonymously, unblocking basic websites, and choosing your server – all with just one click. And each is customizable with simple toggles for extra security, speed, or other helpful options.
Read our full CyberGhost review.
Pros
Unblocking Netflix USA, iPlayer, Amazon Prime, YouTube
Affordable plans
Versatile and user-friendly
Zero logs and good privacy features
Reliable and knowledgeable 24/7 live chat support.
Cons
Can't unblock some popular streaming sites.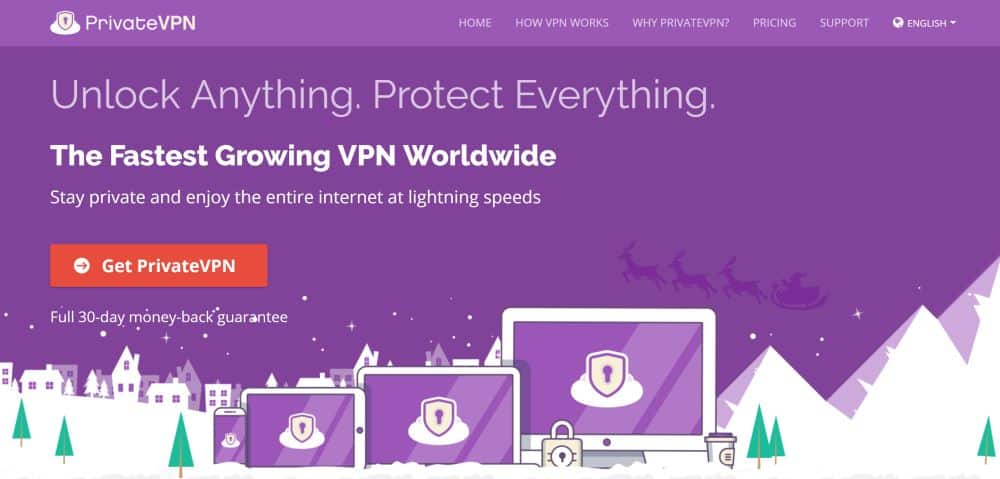 PrivateVPN is a P2P-friendly VPN service that's also perfect if you want to use SBS Australia. For starters, you get unlimited speed, bandwidth, and server switches. This means you can use the VPN as much as you want, switching back and forth between servers to get the exact connection you need. Furthermore, you can watch SBS 24/7 since there's no limit on traffic downloaded. It helps that PrivateVPN gives you up to 6 simultaneous connections, meaning you can use it on a mobile phone, desktop, tablet, WiFi router and Smart TV, and still have a connection left over for a roommate or family member. Throw in a free remote setup to help you install PrivateVPN applications on your mobile phone, and you get one of the most generous VPN offers on the market.
In addition to being a fundamentally strong service, PrivateVPN is strong on security. This is important when you stream SBS Australia when you don't want them to know you're using their service from outside the country. The first layer of security comes from AES-256 bit encryption with military-grade 2048-bit keys. To give you an idea of how tough this is to crack, consider that it would take a supercomputer millions of years to break a single 2048-bit key. The second layer of protection comes from a zero-logging policy that reveals none of the data that can be traced back to you, including traffic history and bandwidth logs. Last but not least, there's built-in DNS leak protection to make sure you're not routing some of your data through your ISP without realizing it.
Read our full PrivateVPN review.
If you're looking to stream SBS Australia while living or traveling abroad, PureVPN can help you with style and on a modest budget. Most VPN providers have servers in Australia, but with PureVPN's network of servers spanning 140+ countries, you can also get an IP from New Zealand, Canada, the UK, and other Commonwealth countries. This means you can watch any programming you want, whenever you want when you're not watching SBS. Furthermore, PureVPN promises complete Internet freedom and offers 24/7 support. If you ever find that you can't access a website or service, you can simply contact the company and they'll be happy to help you.
Another area in which PureVPN excels is security. This is important, because you don't necessarily want SBS Australia, the local government or your Internet Service Provider finding out you're using a service you're not supposed to have access to. Everything starts with 256-bit AES encryption, which has more combinations than there are atoms in the known universe. The second layer of protection comes from one of the toughest no-logging policies in the business, covering things like traffic, browsing history, and even bandwidth. Third comes PureVPN's Ozone feature which continues to protect your data when you're offline, shielding your data and devices from third-party snooping. Last but not least, there's a number of extra features including a kill switch, split tunneling, and a DNS leak test that helps make sure you're not routing any data through your ISP. If you want to watch SBS Australia without getting into trouble, PureVPN should be one of your top considerations.
Read our full PureVPN review.
How to unblock SBS Australia
Now that you know what to look for and have some ideas of some great VPN providers, what are the actual steps to unblocking SBS Australia and starting to stream? Before you can start these steps, we've got a "pre-step" for you.
Pre-step – Sign up with SBS On Demand
While SBS On Demand is a free-of-charge service, you still need to create an account. You don't even need a VPN yet, so hop on over to https://www.sbs.com.au/ and click "register/sign up." Then, scroll to the bottom of the screen and click the link to create a new account. Fill out the info requested and you'll be sent a confirmation email. Don't worry, you don't have to be in Australia to do this.
Step 1 – Pick your VPN
Once you're signed up for SBS Australia, pick your VPN. Obviously, we recommend one of the ones above. Assuming you do that, follow the link to the provider's website. If it didn't automatically redirect you to their "plans" page, visit it and choose your plan. Fill out the requested info and input your payment method of choice. If you need temporary access, you can also go for a free trial, and cancel when you're done.
Step 2 – Download and install the software
Now that you're signed up for a VPN, download and install it to your device. If using a mobile, you may have to go to your mobile's app store – use the link provided directly on your VPN provider's site to avoid downloading any potentially dangerous fakes.
READ ALSO: How to recognize malware links
Step 3 – Sign in and connect to an Aussie server
With your VPN now installed to your device, launch the app and sign in using the login info you created in step 1. Once you're logged in, most VPNs will automatically connect you to the fastest server available. This probably won't be one in Australia, though, so you'll want to visit your VPN's server list and search/select a VPN located in Australia. Connect to it and wait a few moments for it to resolve.
Step 4 – Confirm your new IP address (optional but recommended)
Once the connection has resolved, open your browser – but don't go to SBS just yet. First, visit ipleak.net. The webpage will run an IP address lookup, which will be displayed in a box near the top of the page. If the country listed in the box (under the long string of digits) says "Australia," then you're successfully connected and can now visit sbs.com/au to start streaming.
If the country is any other country than Australia (i.e. "United States", "France", "[your country here]"), then you may not have connected successfully or have a leak. Return to your VPN and try another server. If the problem persists, contact your VPN's customer support for assistance.
Why doesn't SBS work outside Australia?
If you've tried to watch SBS Australia overseas before, this message will probably look familiar:
"Sorry, due to publishing rights, the content you are trying to watch is currently not available outside Australia."
Unfortunately, that's the problem here – publishing rights to broadcast and stream shows and movies have to be bought individually from their copyright owners. Since SBS has many purely Australian TV shows, if they made those shows available in other countries, the rights would have to be purchased on a per-country basis – which can add up quickly. This is why other streaming platforms like Netflix and Hulu have different content libraries depending on the country you view them from.
Because they are a national, rather than international, streaming company, SBS chooses not to do this and employs geo-blocking tactics to prevent those outside of Australia from being able to view their content.
What exactly is geo-blocking?
Geo-blocking is a way for ISPs, governments, and organizations to restrict users' access to certain types of content based off location. Your internet connection through your ISP gives you a certain, unique IP address – like a mailing address. Your IP is tied to your physical location, so if you try to access SBS from the United States, SBS can see that you're in the U.S. and not Australia and block your from using their services.
That's no good if you're an expat or just traveling away from home and want to stay caught up on your shows at home. With a VPN, you can "choose" an Australian IP address which SBS will see and think that you're located in Australia. By spoofing your physical location with an Australian IP address, you can fool it into thinking you're actually there and view Australian content to your heart's delight.
Aside from being blocked form viewing content, geo-blocking comes in other forms, too. Online stores can display different prices based on where you are, charging some online shoppers more for an item that costs less elsewhere. With varying laws around the world regarding gambling sites, they're another common target for geo-blocking, too. If a site isn't compliant with the laws of the country that the user's IP originates from, they won't be able to access it without a VPN.
So is it legal to access SBS with a VPN?
The short answer: yes.
While there are a few countries where it is illegal to use a VPN right out, these are extremely oppressed places. Australia, fortunately, is not one of them. SBS does not have any concrete consequences for those who use a VPN either – even if they were able to catch them, which is unlikely.
Other things you can do with a VPN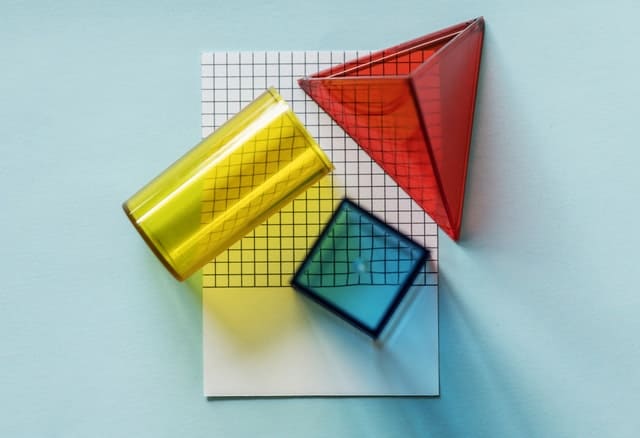 VPNs aren't just good for beating geo-blocks, though. You can use a VPN for other things, too:
Security – The internet can be a dangerous place. With governments snooping, hackers prowling, and identity thieves watching patiently, you can't be too safe. Since VPNs wrap your data up in an encrypted tunnel, you can rest easy knowing all your important data is being kept private and safe from those prying eyes.
Access home accounts – If you're traveling for work or pleasure, you probably have accounts back home in Australia that you'll want to access. Unfortunately, unless you use a VPN to spoof your IP back home, you might trigger fraud protection on your bank account when you try to make a transfer.While this is a good thing to have, it's annoying when you know the activity is yours – so get a VPN to access all your home accounts while out of the country.
Local internet – Going with accessing your home accounts, you can also use a VPN to run local Google searches. Since Google tailors your search results based on your physical location, by using a VPN you can zero in on something from the U.K. that might otherwise be hard to find outside of an Australian network.
Conclusion
Get back– or get started for the first time — to watching your favorite shows on SBS Australia. Use the tips and steps we presented here to get a VPN and stream SBS Australia from abroad.
Have you used a VPN to stream SBS Australia? How'd it go? What are your favorite shows on SBS? Let us know in the comments below.