We are reader supported and may earn a commission when you buy through links on our site.
Learn more
Does VyprVPN Work to Unblock American Netflix?
If you're on the lookout for a VPN to unblock Netflix, you've probably seen VyprVPN in discussions throughout the web. However, Netflix's VPN bans have stopped many providers dead in their tracks, including some of the industry's top names. Keep reading to learn how VyprVPN has weathered these changes, plus how to reliably watch US Netflix anywhere.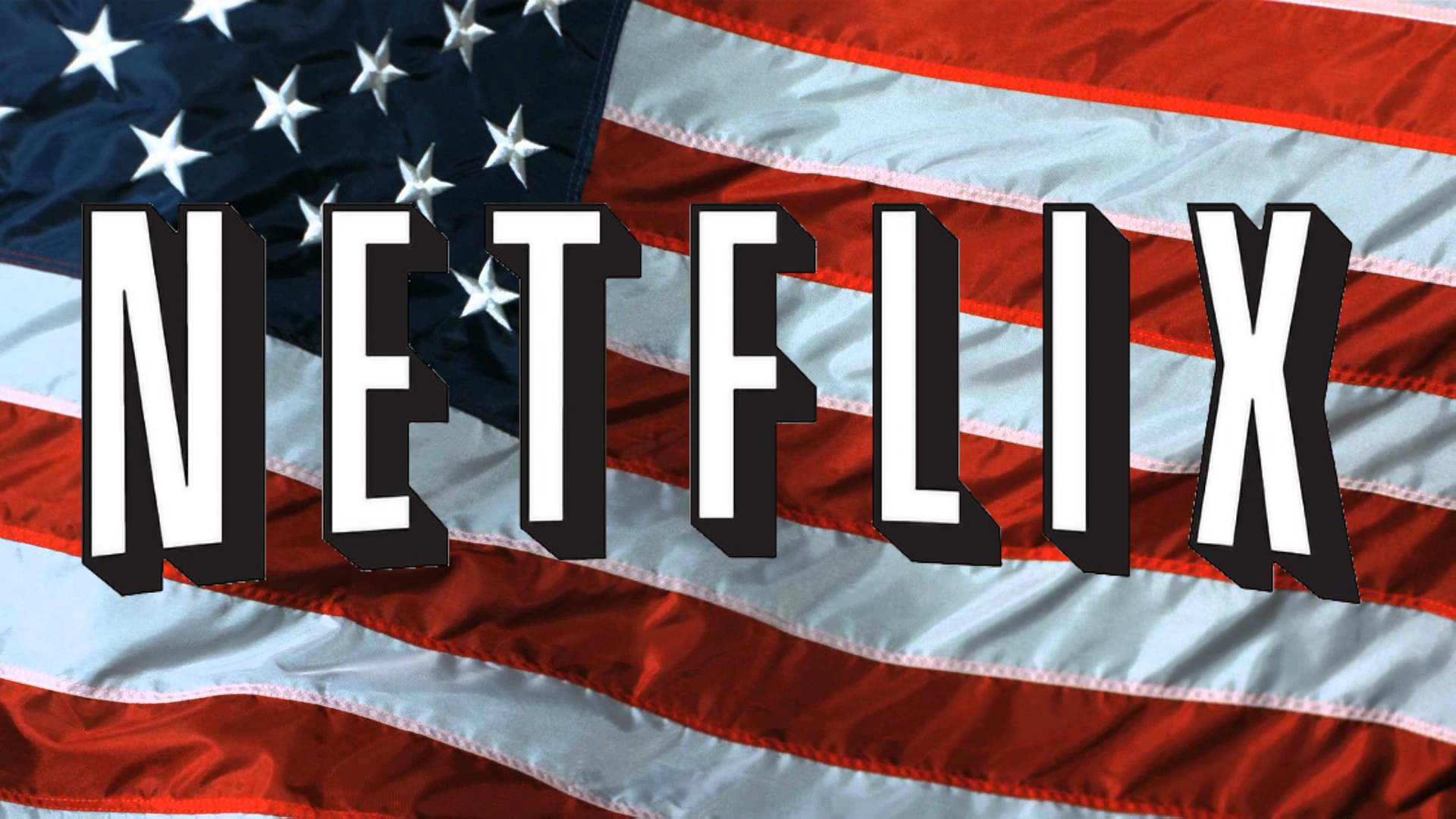 Netflix needs no introduction. It is the world's most popular online streaming service and pretty much everyone has heard of it. Although the service has a local presence in dozens of countries, it's still the American Netflix that attracts the most people. After all, it is the one with the best content.
Unfortunately, Netflix won't allow users outside the US to even just connect to the American Netflix, let alone play some content. And while VPNs are often used to bypass all kinds of geographic restrictions, most of them won't work with Netflix. In its efforts to block all connections originating from outside the USA, Netflix has gotten very good at detecting and blocking connections using a VPN. If you're a VyprVPN user or you're thinking about becoming one, you might be wondering "Does VyprVPN work with the American Netflix?"
We won't keep you waiting on an answer in this article, scroll down just a short way to see the answer. However, if you'd like to learn more about how Netflix blocks work, we've got an in-depth guide right below our VyprVPN review that'll teach you everything you need to know. You'll learn about VPN technology as well, plus why so many providers have been stopped cold from unblocking Netflix. At the end of the page, we'll give you a brief overview of Netflix's rise to prominence as an insight into why they're so aggressive protecting their media rights.
30-days money back guarantee
Quick answer – Yes VyprVPN works with Netflix U.S.
VyprVPN, a GoldenFrog company is one of the few VPN providers that work with Netflix. The provider boasts his service as the "World's Most Powerful VPN." And it may just be true.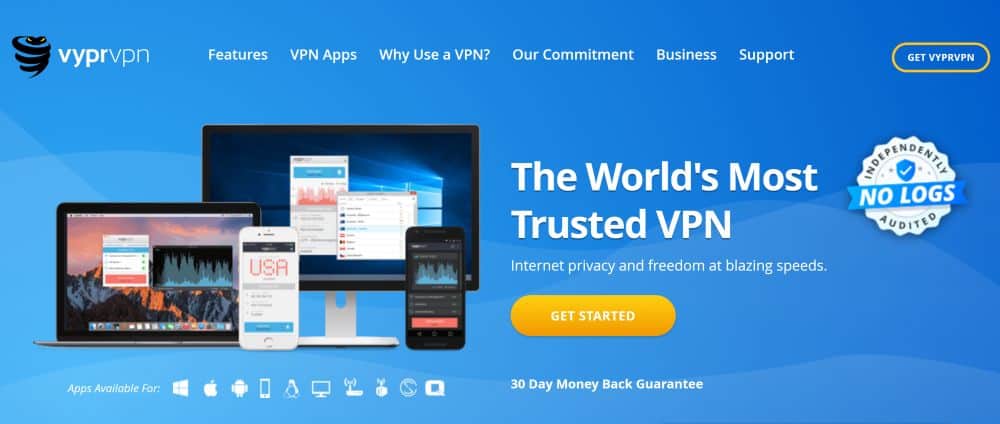 Main features
VyprVPN is best known for its strong encryption protocols, which are said to be amongst the best in the business. The service features a vast server network of some 700 servers spread out over 70+ countries around the globe. There might not be as many servers as some providers have, but VyperVPN has the distinction of owning each one of its nodes. This gives the company a lot of control over uptime, speeds, stability, and utility, and is only a benefit to the end user. It doesn't hurt that there are plenty of US serves for unblocking the American Netflix.
By default, VyperVPN encrypts data using the OpenVPN protocol with 256-bit AES encryption, 2,048-bit RSA keys without perfect forward secrecy and SHA256 authentication. Other protocols can also be used, including VyprVPN'S own Chameleon, a protocol that specializes in obfuscating your connection.
A VyprVPN Premium subscription allows you to connect simultaneously from up to five devices. Client applications are available for Windows, MacOS, and Android. Like with most providers, detailed Linux configuration instructions are available. To protect your whole house from a single point, VyprVPN offers a router app that installs over the Tomato OS.
Plans and pricing
There are two subscription levels with VyprVPN. There's the entry-level VyprVPN and the premium-level VyprVPN Premium. They differ mainly in the number of simultaneous connections they allow–3 vs 5–and the availability of the Chameleon protocol with the VyprVPN Pro subscription.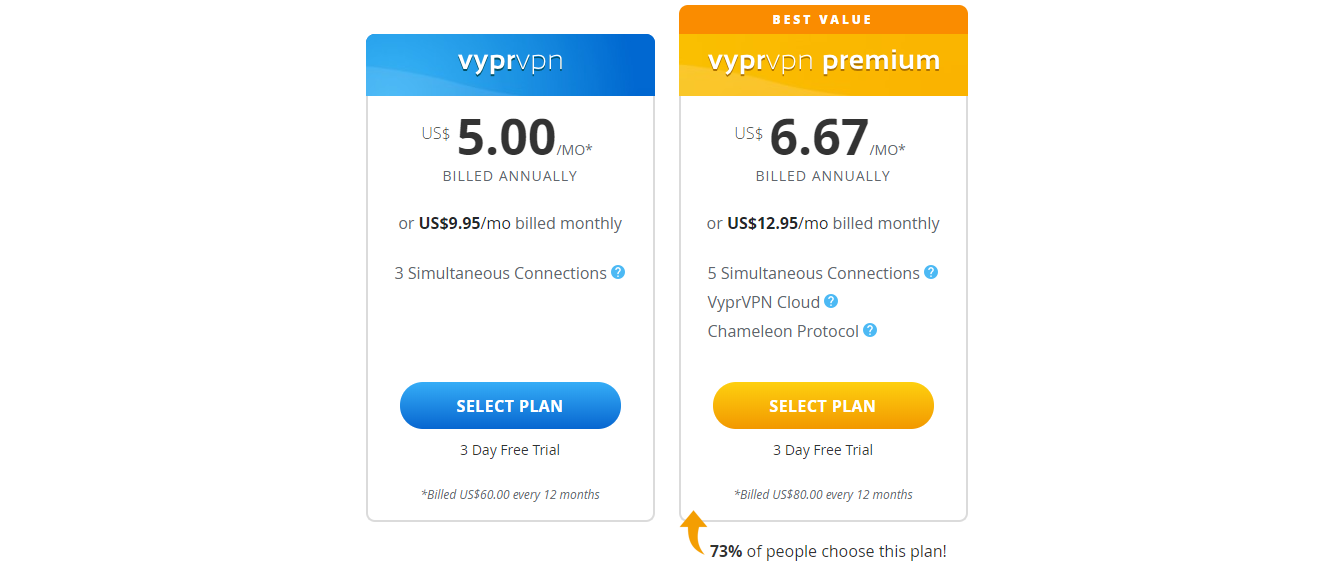 Contrary to many competing VPN providers, VyprVPN does not offer different prices based on the engagement term. You can only purchase a yearly subscription, no matter what level you choose. But if you want to try the service without taking unnecessary risks, they have a free 3-day trial. As for payment methods, VyprVPN accepts major credit cards but also Alipay and PayPal.
The VyprVPN Windows client
While we weren't able to put all the VyprVPN clients to the test to see what each was was all about, we had a close look at the Windows client. We can only assume that other clients will provide a similar experience although some extra features might not be present on all clients.
Installing the Windows client is quite easy and very similar to most Windows software installs. You'll notice that some Windows system components are also installed during the process. We haven't been able to determine if this was a good or a bad thing, though.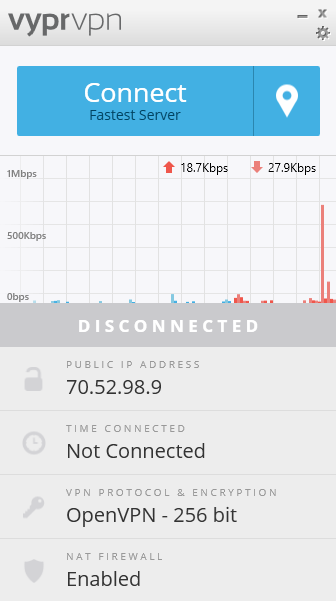 Once you start the client application, you'll be struck by its simplistic, yet functional design. The user interface has a big Connect button at the top. Clicking it will connect you to the fastest available server.
The top half of the client window is occupied by a graph of your network activity, The graph is live and shows both inbound and outbound traffic. We're not sure about the real usefulness of the graph but it certainly looks good and highly technical. It might appeal to some users.
The bottom half of the client window has various statistics such as your current public IP address, the time elapsed since you connected the VPN, the protocol and encryption level you're currently using, and whether or not the NAT firewall is enabled.
If you want more control over your connection, you can click the marker next to the connect button. This will let you choose to connect to one of your favourite servers or open the full list of available server locations. While you won't be able to pick a specific server, you can choose the country where you'll connect and, for some larger countries, a specific city in that country.
Finally, clicking the cogwheel at the top right of the window and selecting Options lets you access the client application settings. This is where you can set the client app to start automatically when Windows starts or to connect automatically upon startup.
Another nice feature is the possibility to automatically connect the VPN whenever you're connected to an untrusted WiFi network. When you use this feature, you can specify a list of trusted networks for which the VPN connection won't be launched.
Read our full VyprVPN review.
In-depth explanation of Netflix blocks
Netflix is a content distributor and as such, the company is bound by broadcasting contracts much like any TV broadcaster. This means that Netflix can secure rights to offer some content in specific markets but not elsewhere. For example, the popular TV show The Big bang Theory is available on Netflix in several European markets but not in the US, where the show is rather broadcast on "conventional" TV. Furthermore, Netflix has a contractual obligation to actively prevent users from accessing content that has not been licensed for distribution in each market.
We may not like that but, due to these distribution restrictions, what's available on Netflix varies from region to region. Some titles may not be available on your local version of Netflix while they are in the next country. Generally speaking, the American Netflix has the broadest selection of content (though the Japanese Netflix takes a deeper dive, offering enough anime to tip the scales in its favor as the largest library in the world). And it certainly is the one that most non-US users would like to watch, if only they could.
These distribution restrictions are enforced by Netflix by using a well-known technique called geo-blocking. It ensures that users can only access their localized version of Netflix. A user in the US, for example, can only access the American version of Netflix while one in Canada can only access the Canadian version and not the American one.
But this geo-blocking can also be an issue for US residents. What if you're a US citizen travelling abroad? You won't be able to watch Netflix. At least, not until you find a way to bypass the geographic blocking.
Understanding geographical content restrictions
Geo-blocking is almost always done by allowing or denying requests based on the source IP address. An IP address is a unique numerical identifier assigned to every computer connected to the Internet. It is used to route data to and from different Internet-connected computers and devices. Every request you transmit to Netflix is marked with your source IP address. And that source IP address is how Netflix's servers can figure where to send the video stream you requested.
IP addresses are actually quite similar to postal mailing addresses. And just like postal addresses, there is a direct correlation between IP addresses and physical location. Netflix knows your location by checking the location of your IP address and can then block or allow your requests based on whether or not you are located in an authorized location.
How VPNs beat geo-blocks
Virtual Private Networks we originally used essentially to allow remote connections to private networks over unsecured public channels. Today, they have spread into widespread usage as a way to increase security, privacy and anonymity. VPNs will let you bypass all sorts of access restrictions while making your data virtually–no pun intended–invisible. Even if someone were to intercept your traffic, they wouldn't see what you're doing or where you're going online.
A VPN works its magic by building up a virtual tunnel–hence the name–between your device running a VPN client and a VPN server in a remote location. All data in and out of your device is sent through the tunnel after being encrypted using strong algorithms that make it impossible to crack. When data from your computer arrives at the VPN server, it is decrypted before being sent out on the Internet.
Bypassing Netflix's geo-blocking takes advantage of a side effect of VPNs. When the decrypted data leaves the VPN server, its source IP address is no longer that of your device but instead, it is the VPN server's IP address. Your request will appear to Netflix as coming from the location of the VPN server instead of yours. While we could jump to the conclusion that, to access the American Netflix from outside the US, all we should need to do is connect to a VPN server located in the US, it is not always the case.
Netflix VPN bans explained
As we've indicated, Netflix works very hard at protecting its content licensing agreements–it has to! As such, Netflix will often block connections coming from VPN servers. How does Netflix know connections are coming from VPN servers? The same way they know you're not in the US. Netflix constantly does some reverse-engineering to find the IP addresses of as many VPN servers as possible. And as of now, Netflix knows a lot of VPN server addresses, and will serve up the dreaded Netflix Proxy Error to users marked with these blacklisted IPs.
Knowing that, you need to carefully pick a VPN provider whose server's addresses are not known by Netflix. But even if you find one, there's no guarantee that Netflix won't eventually learn their IP addresses and block them. The best providers use different stealth techniques–such as using virtual IP addresses that change on a regular basis–to try to prevent that from happening. And some are better than others at it.
A brief history of Netflix
When they started Netflix, back in 1997, Reed Hastings and Marc Randolph were actually starting an online DVD rental business. And that business went well and kept going–and growing–for ten years, passing the 4 million users mark in 2005.
Then, in 2007, Netflix revolutionized the world by launched their streaming service. A new era where people could watch rented content instantly on their computer was starting. No longer did you need to wait for the delivery of a DVD.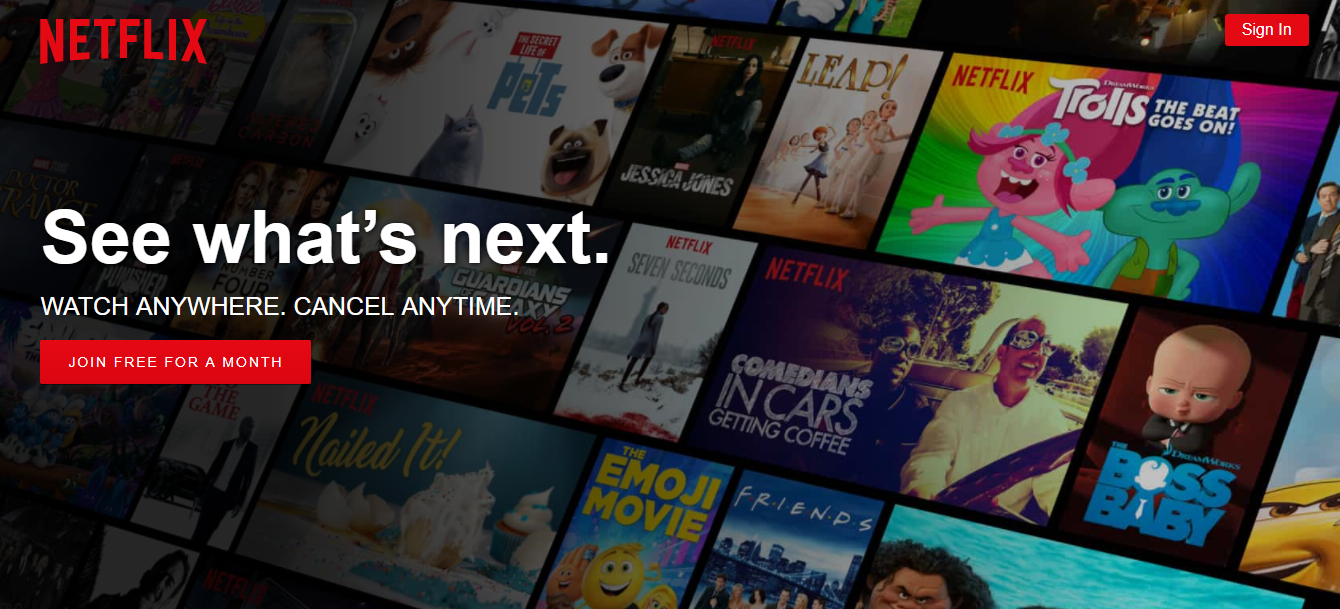 Netflix then actively sought partnerships with television set, game console, and media player manufacturers to stream online content directly to their platforms by installing a Netflix client app on their devices. Te more partnerships there were, the more content was sold.
After an impressive, non-stop growth of more than 2o years, Netflix is now available on virtually every smart TV, media player, major game console, Android and iOS smartphone and tablet. Official figures are hard to find, but it is estimated that Netflix has almost reached the 120 million worldwide users mark. And the number still increases, with Netflix now reaching users in 190 some countries with localized versions of the service in most markets.
Changing the game with Netflix Originals
Started in 2013, Netflix Originals is one of Netflix's newest venture into TV production. No longer just a streaming service, Netflix is now also a content producer. Netflix Originals are TV shows produced–or co-produced–by Netflix. They are usually of the highest quality and are often highly regarded and successful.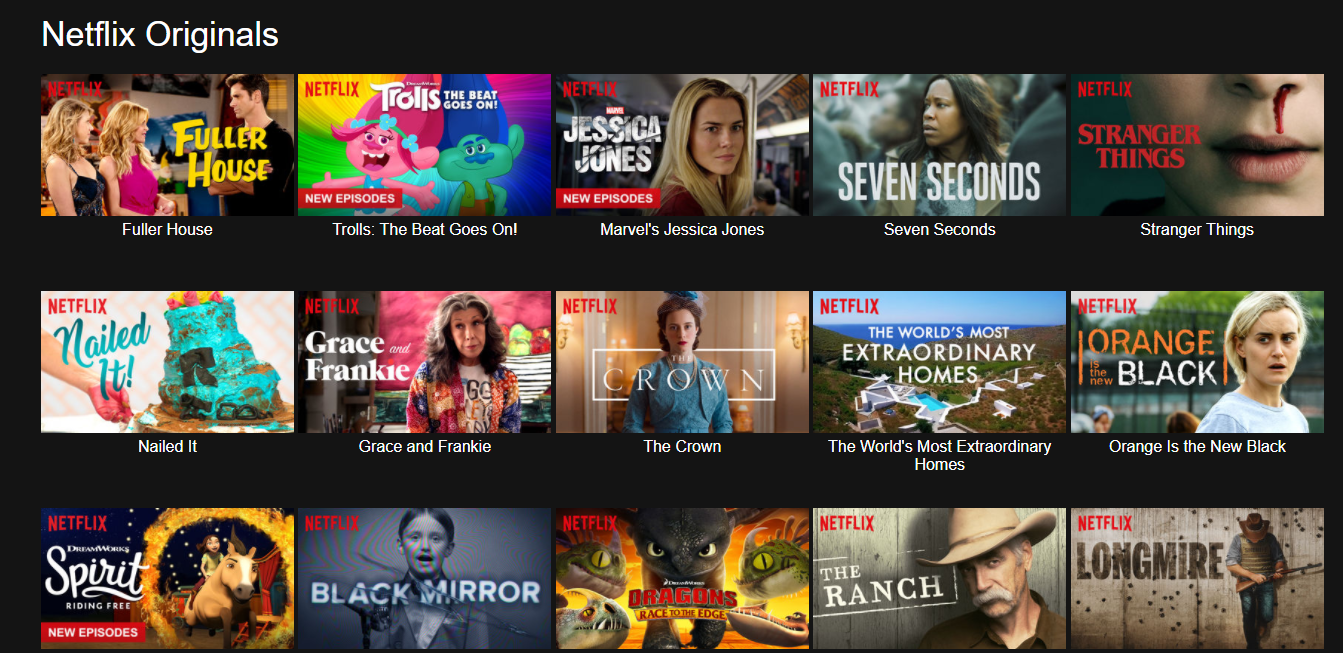 Most Netflix Originals are available exclusively on Netflix although some are available on broadcast TV. Some of the past few years' best and most popular TV shows are Netflix Originals. Among them, one can think of Riverdale, that's currently in its second season on the CW. Other hugely popular Netflix Originals titles include Stranger Things, Orange is the new black, House of cards, The Crown, and Arrested development. And Marvel superhero series Jessica Jones, Daredevil, Punisher, Iron Fist, Luke Cage and Defenders are also part of the Netflix Originals family.
Conclusion
VyprVPN is a great option for unblocking and accessing the American Netflix from anywhere in the world. The service has a solid reputation, an excellent feature set, a reasonable price and, more importantly, it works with Netflix. It might eventually stop working as Netflix acquires more and more VPN server addresses but chance are that by then, GoldenFrog will have changed the pool of IP addresses they use and still go undetected.