We are reader supported and may earn a commission when you buy through links on our site.
Learn more
How to Watch ESPN in the UK Using a VPN
US expats and British fans of American sport are unfortunately blocked from watching ESPN online, but you can bypass these geoblocks with a good VPN. Today, we walk you through the process of spoofing your virtual location to borrow an American IP address, which will allow you to unblock ESPN within the United Kingom–or anywhere else for that matter.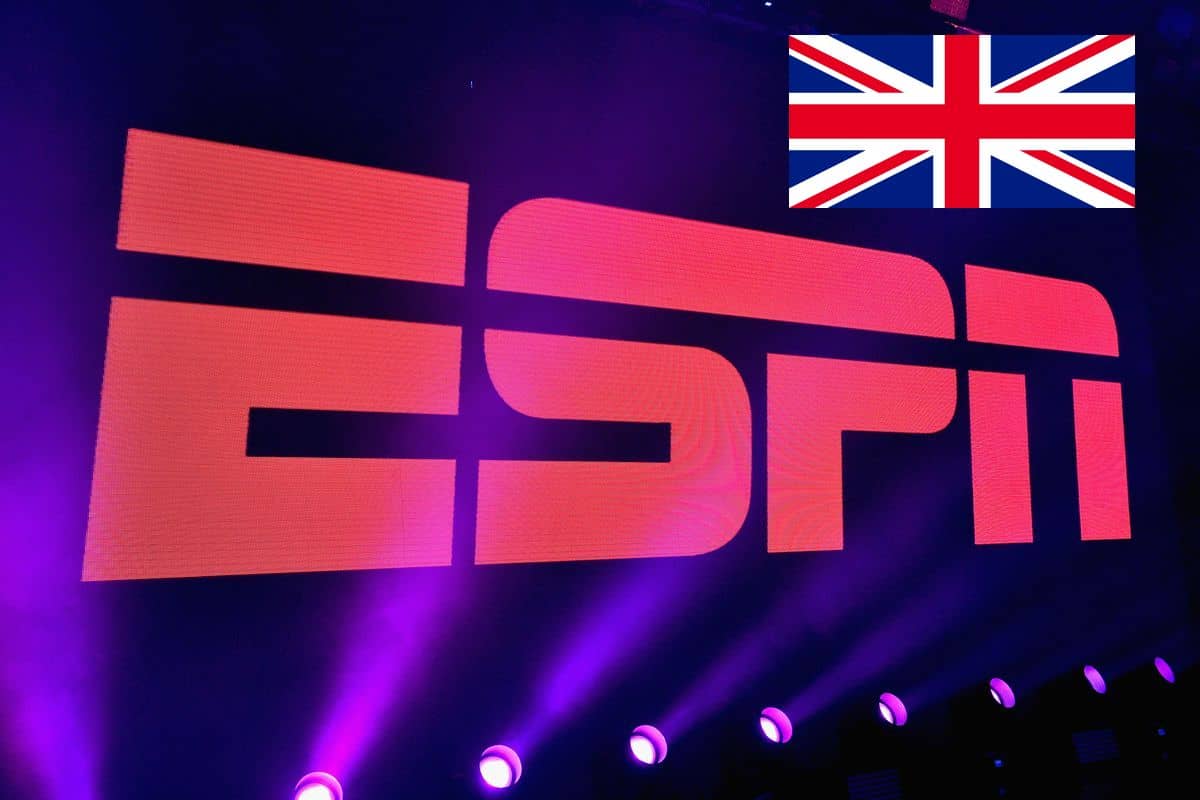 If you are a sports fan, ESPN needs no introduction. Founded back in 1979, ESPN has become one of the most successful sports networks in the world, with a viewership totaling over 91 million people. Unfortunately, the network prevents you from accessing their streaming service if your IP address is outside of the U.S. using geoblocking. As a user in the U.K., it will be impossible for you to access its content. There is, however, a way – and it requires using a VPN.
ESPN's senseless geoblocking of UK users can be easily overcome with these VPNs:
NordVPN – Best for ESPN – NordVPN is the best provider when it comes to accessing US servers. There are literally thousands of them, each encrypted with the powerful NordLynx protocol by default. Neither ESPN nor China's Great Firewall can resist your efforts to get through.
Surfshark – Thoroughly modernized VPN offering with automatic provisions that always seem to work for unblocking US sites abroad.
ExpressVPN – Our favorite provider for top network speeds; they even ship with a built-in speed test.
CyberGhost – Best for less tech-savvy users, with a simple but effective "unblock streaming" option.
PrivateVPN – Great for power users who want total control over their VPN configuration.
Whether you live in the U.K. or are simply traveling there, these geographical limitations are easy to overcome with the right VPN provider. By using a VPN service, you not only open yourself to a wider range of content, but can be confident that your information and identity will remain anonymous no matter what. In this article, we will explain how to choose a good VPN provider, give you our recommendations, and explain why you should be watching ESPN.
Unblock sports streams anywhere with the right VPN
First thing's first – avoid using free VPN services. Free VPNs do not have strong security features, so using one does not keep your devices, data and identity protected. As for the rest of the criteria, below are the features you will need in order to watch ESPN from the U.K.:
Fast connection speeds – In order to stream content fast and without buffering errors, you will need a provider with unlimited bandwidth and no speed caps. Otherwise, you may experience delays and long buffer times while you are on ESPN.
Network size – Every recommended network on our list has plenty of servers for you to choose from.
Device availability – In order to use a VPN, you'll need a provider with software compatible with your device and operating system. Top VPNs have apps for a wide variety of operating systems.
Strong security features – A good VPN will keep your data secure. Opt for a provider with 256-bit encryption or better; that way, your information and browsing history will be uncrackable.
Zero-logging policy – Make sure the VPN provider has a strict no-logging policy, which means that they do not store your information or create records which third parties can use to trace back to you.
Top VPNs for watching ESPN outside the US
Now that you know what to look for in a VPN provider, take a look at our top picks for watching ESPN in the UK (or any other country worldwide):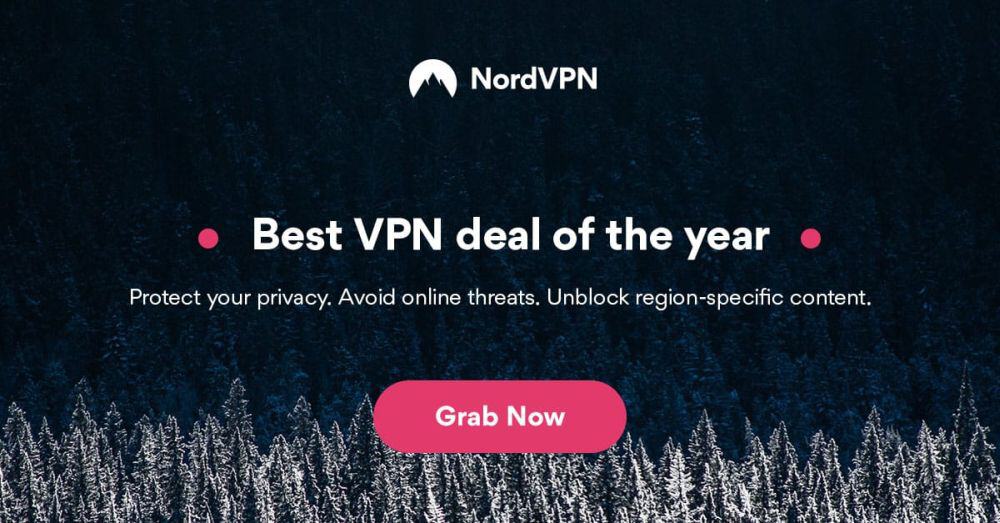 NordVPN is our top choice for unblocking ESPN in the UK. They're best known for their massive network of over 5,500 servers in 58 countries. This makes it one of the largest in the industry – and it's always growing. Further, there's a variety of specialty servers that appeal to more advanced users. Functionality includes onion over VPN, anti-DDoS, double VPN, P2P, dedicated IP address and obfuscated servers. These are useful for specific cases such as superior online gaming or hiding the fact the fact that you are using a VPN.
NordVPN uses strong 256-bit AES encryption, which is practically unbreakable – even for governments and large criminal enterprises. Encryption protocols include UDP, TCP, L2TP, SSTP and others. Furthermore, NordVPN's no-logging policy is considered to be one of the best in the industry. The no-log policy covers everything starting from IP addresses to browsing history, helping make sure your identity stays protected. The automatic kill switch comes as a default and protects you when your VPN goes offline as a final layer of security.
Despite NordVPN's complex features, the software is intuitive easy to use. You have the option to pick a server from a graphical map, which serves as a visual aid. There is live assistance available to all users at any time of the day, and you have the option to connect up to 6 devices to your account. NordVPN is available on Windows, Mac OS, Linux, and many other operating systems.
Read our full NordVPN review.
Pros
Very fast speeds make this a strong choice for 4K streaming
GooglePlay users rating: 4.3/5.0
2,048-bit SSL keys and DNS leak protection
Extra-secure Double VPN for data encryption
24/7 Live Chat.
Cons
Not much
Can't specify City or Province in App.

Surfshark hasn't been around for very long–just since 2019–but they've already established themselves as one of the best VPNs for accessing American streaming sites abroad. They've since grown their network to encompass 3200+ servers in 65 countries, with plenty of nodes throughout the US. But, Surfshark won't have you fishing around for that one server that works to unblock ESPN–oh no. They all just work.
If this seems like black magic, it's actually just a smart load-out of features on Surfshark's part. In addition to their unbreakable 256-AES-GCM encryption, each server benefits from access to built-in smart DNS, obfuscation, and even NoBorders censorship-busting methods. Your app will use any and all of these provisions to tunnel through US geoblocks, enabling access to live sports in the UK or anywhere else.
Surfshark never logs your activity either, so stream in confidence.
Pros
Every server optimized for unblocking Netflix, BBC iPlayer, Hulu, and more
Diskless server network ensures you leave no trace behind
Zero restrictions on simultaneous connections, apps available on every major device
VPN home jurisdiction in British Virgin Islands is ideal for privacy
Support staff manned by actual human beings 24/7.
Cons
Speeds occasionally suffer a noticeable drop
Apps don't allow for much manual fiddling for power users.
Read our full Surfshark review.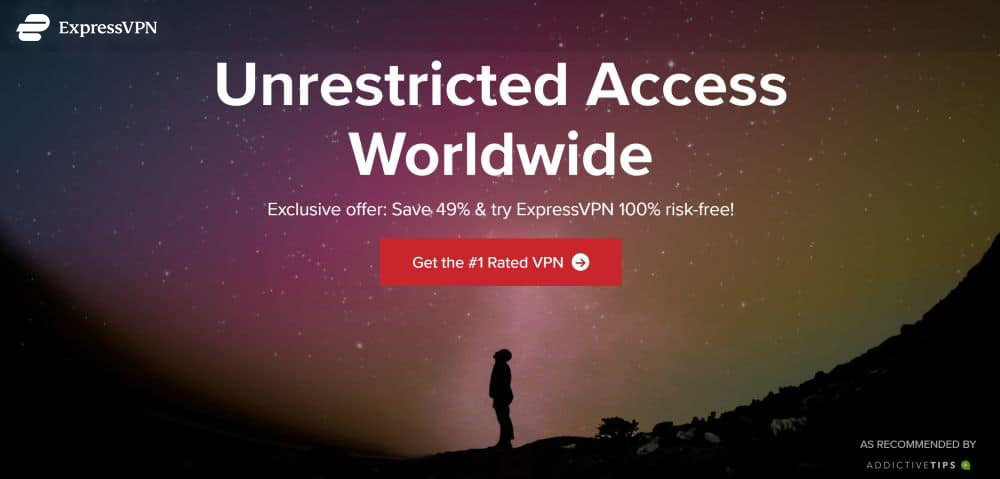 ExpressVPN provides a satisfying combination of speed, security, and user-friendliness. True to its name, ExpressVPN is one of the fastest services on the market thanks to a vast network of 3,000+ high-tech servers spread across 94 countries. This is particularly useful for streaming content on websites like ESPN, because it means you get fast load times, no buffering and high-definition quality.
In terms of security, ExpressVPN is outstanding. With a 256-bit AES encryption and five encryption protocols, including UDP and SSTP, your data is well-protected. Furthermore, a strong no-logging policy that covers traffic, browsing history, and more, gives you extra protection. ExpressVPN's apps also comes with an automatic kill switch (for Windows and macOS devices), so even if your connection gets interrupted, your data will remain hidden from others.
With ExpressVPN, you know you will be able to watch ESPN hassle-free from anywhere in the world. Unlimited bandwidth, no speed caps and a built-in speed test ensure that you can watch videos at high quality – whether you're watching ESPN or other stream services like Hulu. The provider has wide software availability, including Windows, Mac, Linux, Apple TV and some routers in the list of devices served.
Read our full ExpressVPN review.
Pros
Unblocking Netflix, iPlayer, Hulu, Amazon Prime
Fastest servers we have tested
Torrenting/P2P allowed
Strict no-logs policy
Great customer service via chat.
Cons
Slightly more expensive than some other options.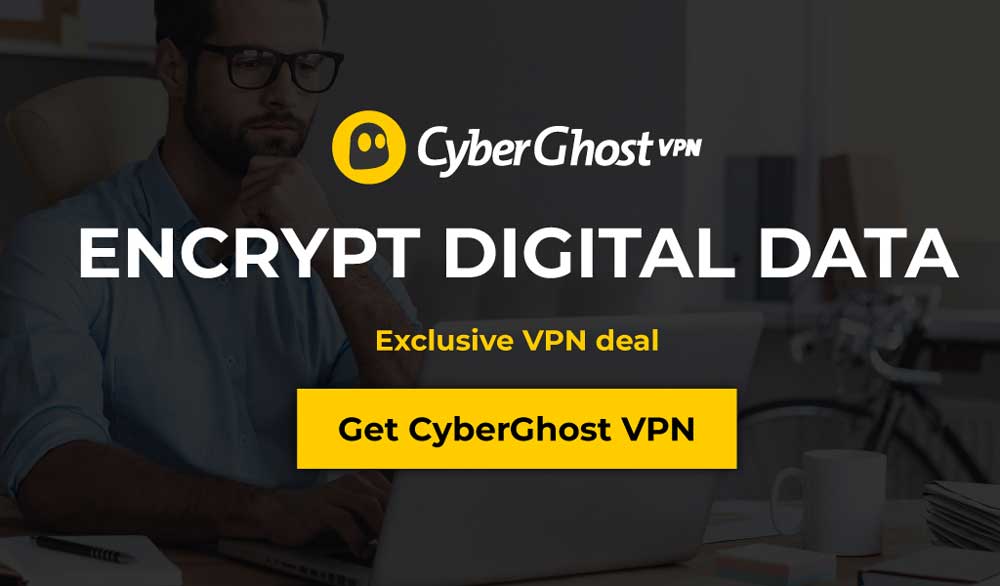 CyberGhost is for people who don't want any hassle – just an easy-to-use and reliable VPN service. CyberGhost's software are is available for a wide range of operating systems, including Windows, Mac OS, Android, and many more. As soon as your app launches, you are given the option to choose between six different profiles, including "surf anonymously", "unblock streaming", and "unblock basic websites". "Unblock streaming" is particularly good for accessing broadcasts and videos that are only available in specific locations, which makes it ideal for accessing ESPN while abroad.
With over 5,500 servers in 80 countries, CyberGhost gives you a wide range of options to choose from. This number includes 500 servers in the United States alone, which makes it great for watching ESPN in U.K and any other corner of the world. The service's security is impressive too. 256-bit AES encryption ensures that your information is impossible to process. Specific protocols include OpenVPN, which blends speed and security, as well as censorship-beating PPTP. The no logging policy indicates that nothing, from your browsing history to even your email address, is stored.
Read our full CyberGhost review.
Pros
Unblocks US Netflix in App
3,600+ servers, 55+ countries
7 simultaneous connections
Zero logs
45-days 'No-hassle' money back guarante.
Cons
Doesn't work well in China.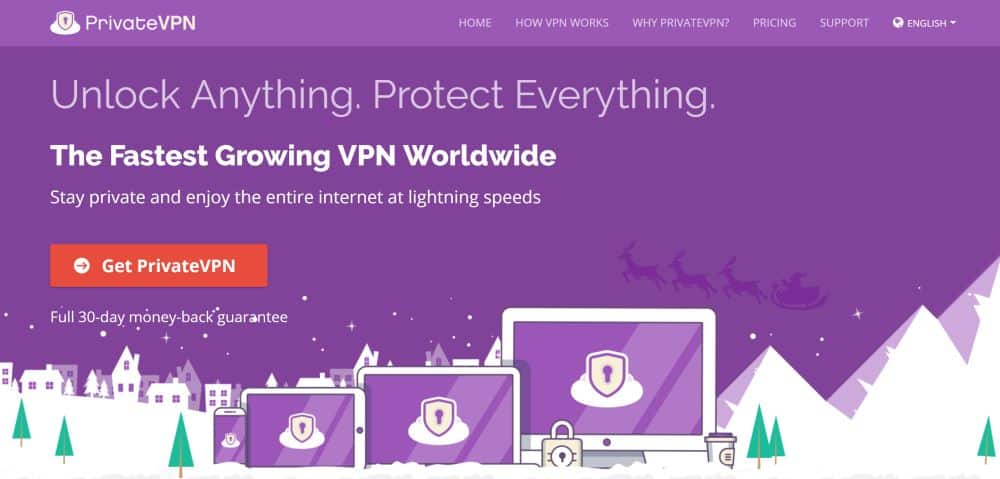 PrivateVPN is excellent for streaming for a number of reasons. The number of servers may appear small at first glance – around 150 servers in 60+ countries – but each server is extremely reliable and speedy to boot. Getting a US IP that unblocks ESPN for UK residents and visitors takes minutes, and the apps are easy to install on a variety of devices and operating systems, including Windows, MacOS, and Linux. Cool extra features include a DNS leak test, which stops your ISP from seeing that you're watching a banned website – and there's also a kill switch to protect your identity even if your VPN gets disconnected.
In terms of security, PrivateVPN is amongst the industry leaders. It uses state-of-the-art 256-bit AES encryption, and unlike most VPN providers, lets you choose how strong you want it to be. You can use 128-bit keys for faster speed and lower latencies, switch to a protocol like PPTP to overcome censorship filters, switch to L2TP for fast but less secure streaming, and more. No matter what you do, you'll also be protected by a no-logging policy that doesn't store traffic logs, IP addresses, timestamps, and more.
Read our full PrivateVPN review.
Unblocking ESPN with your VPN in 3 easy steps
The hard part is over – all the complicated-sounding details are out of the way and you are minutes away from watching your favourite team play live on ESPN. So now that you have picked the right VPN provider for you, how do you get started? Follow the step-by-step description below and enjoy your secure, fast connection.
Step 1 – Download and install
In this step you will need to download and install the app.
Open your browser and go into your new VPN account.
Download the app that is compatible with your device and operating system (e.g. Android smartphone).
Launch the app and sign in using the same account information. The app will automatically connect you to the fastest available server, but since we will be unblocking ESPN, connect to the fastest server in the U.S.
Step 2 – Choose a server and test your connection
Now that you are connected to the internet with a VPN, it's important to test the connection before you continue browsing.
Go onto ipleak.net – this page will run an automatic IP address lookup test.
Give it a few moments, and in the top right corner you will see a list come up called "Your IP Addresses".
If you see the server you connected to in the U.S., you are ready to watch an array of sports content. If, however, you still see the U.K. under the IP addresses list, there may be a leak and you need to contact your VPN provider.
Step 3 – Enjoy the game
You are now ready to start exploring ESPN, completely free from blackouts. Whether you want to watch game replays, video highlights or get access to exclusive interviews, your VPN now allows you to do so without having to leave the comfort of your London apartment or Victorian cottage.
All about ESPN
ESPN is amongst the biggest global cable channels, and the fourth most viewed cable network in America. The WatchESPN app launched in 2011 and has already promoted a massive increase in mobile usage. According to ESPN, upon launch, users viewed 101.9 million minutes of video content in a year, and the largest growth came from mobile devices. With Watch ESPN, you can view the following simulcasts:
ESPN
ESPN2
ESPNU
ESPNews
Longhorn Network
ESPN Goal Line
For users in the U.K., ESPN FC – which is everything you need to know and watch about football (soccer) – was launched in 2013 and brings you all the possible highlights and behind-the-scenes content you will need.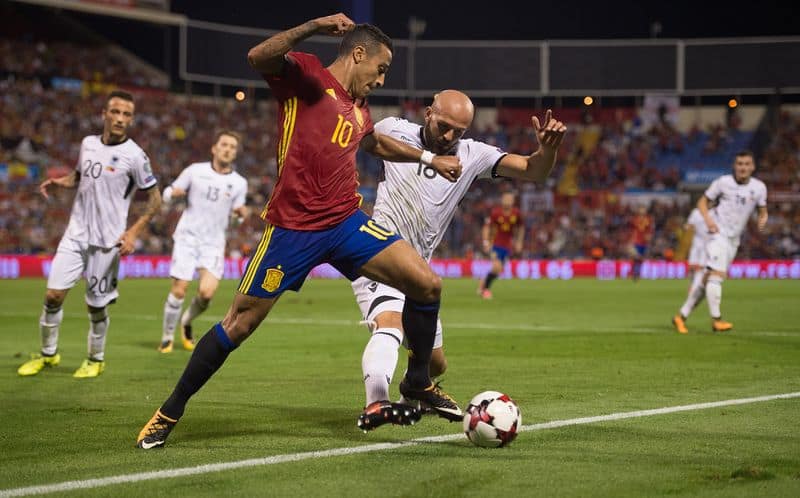 Aside from all its live sports broadcasts, ESPN also offers viewers a range of sports talks, show and documentaries. For example, "Broke" is a show about NBA players. Surprisingly, 60% of retired NBA stars lose all their money within five years of retiring from the league, so Billy Corben's documentary looks into the causes. ESPN is not sticking to one type of content, either – in 2017, the network received its first Oscar for O.J.: Made in America.
Why is ESPN unavailable internationally?
ESPN's broadcasting rights are fairly specific in terms of the audience and geographical locations. The advertising slots held by ESPN have been sold with a specific viewership in mind, particularly for the big games, so broadcasting to the rest of the world would be against their agreement.
As a result, ESPN blocks access to IP addresses from outside the U.S. If you attempt to download WatchESPN without a VPN, you will be shown an error message stating that the service is unavailable in your country.
Can I watch ESPN in the U.K. for free?
Although you can opt for a VPN provider with a free service, we do not recommend you do so.
Firstly, the connection speed will not be good enough for the video quality you are trying to achieve when watching live sporting events. Unless you have a quality VPN, buffer-free streaming is nearly impossible to get and the last thing you want is delays or loading errors while watching a big game.
Furthermore, free VPNs are only free because they cut costs in other places. With smaller networks and weak security features, your account information is at constant risk of being exposed. If someone tried to get a hold of your data, they can do so fairly simply since free VPN providers have been known to sell user information and history to interested parties. We therefore suggest you opt for a paid VPN service in order to stay secure online and get faster connection speeds. These days, they only cost a few dollars, and you can even take advantage of generous trial periods if you really need a free VPN for a limited time.
Conclusion
Whether you missed the last big game or want to see exclusive interviews with your team's players, ESPN has one of the biggest varieties of sports content worldwide. While the service is not available in the U.K., picking one of our recommended VPN providers will allow you to install and start enjoying ESPN within moments. Don't miss out on the next big sports story – stay up to date already now.
What is the first thing you'll be watching with your brand new access to ESPN from abroad? Leave us your thoughts and comments below!