Access All Firefox Menus From A Single Button On The Toolbar
Firefox looked very different a few years ago; it wasn't all neat, clean, and minimal like it is today. Before, the browser looked like any other app with menus in the menu bar. When Chrome began to gain popularity with its very minimal design, people began to realize there was a better way to access application settings. Firefox began an overhaul of its UI and has since changed considerably. It now lets you add your most frequently used features as buttons on the toolbar while hiding the menus that used to appear on its menu bar. To access them, you have to hit the Alt key and they will appear momentarily. The thing is, while these menus may have been hidden for the sake of a 'cleaner' browser, they house important features and are very much needed. If you don't like hitting the Alt key to access them, give All Menus Button a try. It adds a button to the tool bar that encompasses every single menu on Firefox's menu bar for you to access.
These are the menus you see if you were hit the Alt key with the Firefox window active.

When All Menus Button is installed, a button is added next to tool bar that will give you access to the File, Edit, View, History, Bookmarks, Tools, and Help. The Menu bar option lets you toggle the visibility of the menu bar. When visible, the menu bar doesn't automatically disappear after a few seconds like it does if you were to make it visible by hitting the Alt key.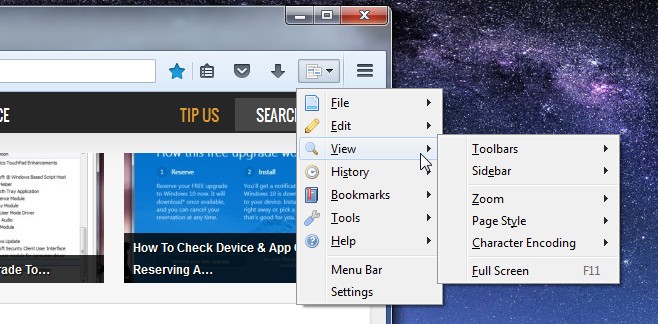 The Settings option lets you customize which menu items are listed by the button, and on the menu bar itself.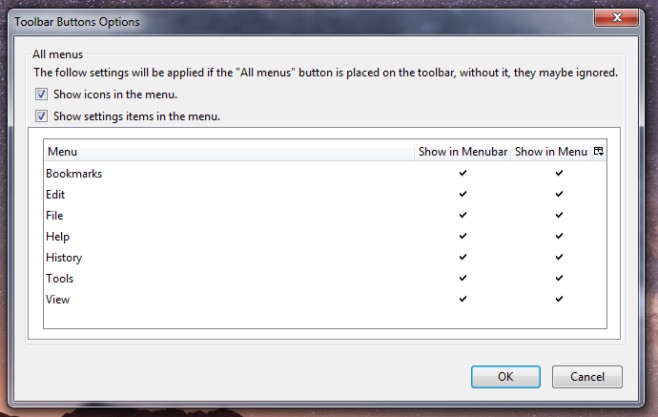 Overall, All Menus Button leaves nothing wanting, gives you complete control over the menu items you see, and works flawlessly.
Install All Menus Button For Firefox