Block Star Wars Spoilers And Browse The Web Safely In Firefox
It's amazing the lengths people are going to in order to prevent the new Star Wars movie from being spoiled. The lengths people are going to in order to spoil the movie for those who haven't seen it are pretty impressive too and it's more or less the dark side versus the light side. If you're putting watching the movie off until the lines grow smaller at theaters, or you just can't make a show that isn't on the weekend, you're likely treading very carefully on the internet. Spoiler Jedi is a Firefox add-on built to aid you in keeping the movie a surprise. Once installed, it analyzes the words used on a web page and lets you know if it might contain spoilers or not.
Install Spoiler Jedi and visit a page that might have spoilers of the movie. We tried the add-on out with one of the results that came up after Googling for reviews of the movie. The add-on detected the page as one to potentially contain spoilers and blocked it. There is of course a 'Continue' button at the bottom of the filter that you can click and proceed to the page.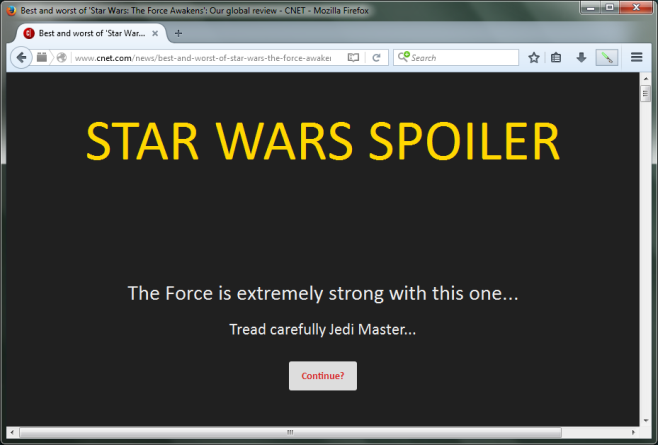 If you're a Chrome user, try Force Block: the Star Wars spoiler blocker which does more or less, the same thing. The one big difference between the Chrome extension and this Firefox add-on is that the Firefox add-on is smarter. The extension seems to mark any page with just the name of the movie as a potential spoiler but the Firefox add-on analyses the words used on the page and only blocks a website when it's necessary.
Install Spoiler Jedi For Firefox