How To Clear EXIF Data From A JPEG In Firefox
Images, particularly those we capture on our phones contain EXIF data. EXIF data can be perfectly harmless when it includes information about the camera/program used to create an image. It can be less harmless when it includes location information with the image. The average smartphone camera captures a lot of information. All this information is added to your image in the form of EXIF data. iOS doesn't make it easy to view EXIF data on your iPhone. Android is more relenting in this regard but there isn't an easy way to remove this information. It's always a good idea to clear EXIF data from an image before you upload it. Picture Exif Cleaner is a Firefox add-on that lets you clear EXIF data from a JPEG image.
Install Picture Exif Cleaner and click its button in the toolbar. You can use this add-on to both view and clear EXIF data from a JPEG. When you click the button, a new tab opens with the add-ons interface. Click the 'Browse' button and select the JPEG file you want to view and clear EXIF data from. If you select the wrong image, click 'Reset form'.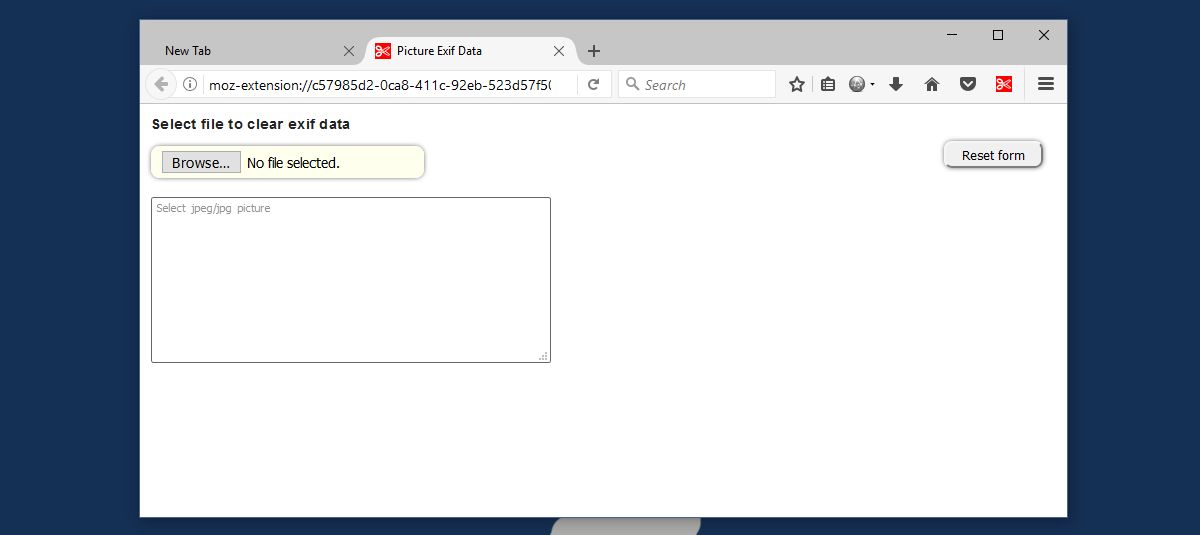 Picture Exif Cleaner will show you all EXIF data it finds. You can scroll through it. It isn't formatted very well which is one of the add-on's shortcomings.
To clear EXIF data from a JPEG, select it and tap the delete or backspace key. You can select what data is removed. You can also edit the EXIF data. All you have to do is select it, and type in whatever you like.
When you've cleared/edited the data, right-click the image and select the 'Save image' option from the context menu.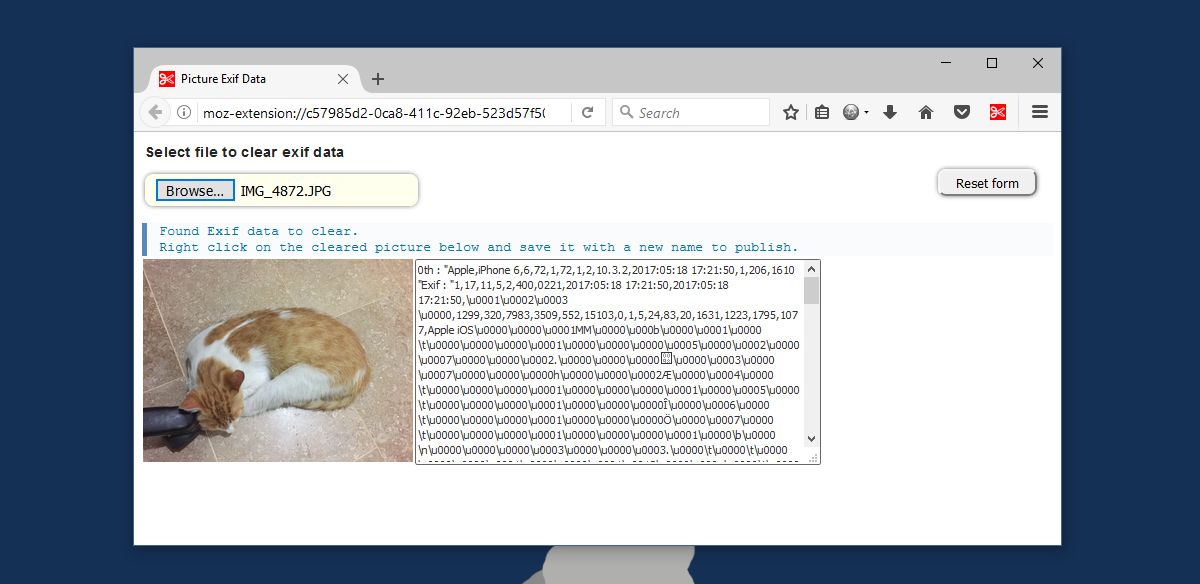 The add-on will save a copy of your image free of all EXIF data. It is now safe to upload this image anywhere you like.
Picture Exif Cleaner only supports JPEG or JPG images. It's disappointing that it doesn't at least support PNG files. The preference for JPEG is probably there because it's the format most cameras save photos to.
Having a tool that can clear EXIF data from a JPEG in your browser is pretty useful. If you upload family photos from your desktop to Facebook, it's a good idea to have a convenient tool that can purge the EXIF data. If you take photos with your iPhone or a camera, this add-on is all the more useful for removing EXIF data. iPhone and Android users can probably find an app that can remove the data but cameras don't come with apps.
Install Picture Exif Cleaner For Firefox