A Look At The New Features In Firefox 21
The next installment of Firefox i.e. version 21 is now available. The new version brings something for both end users and developers alike. For users who are conscious about their privacy or wondering why their browser is running so slow, Firefox 21 will be a welcome update. Mozilla has added three different settings to its Do Not Disturb feature, as well as a 'Health Report' that collects information on how your browser is performing. The health report can be checked any time, and a third feature will use the data gathered by the report to tell you if your browser's startup time is getting effected due to its health or not. Developers will be pleased to learn about the new Remote Target profiling feature that allows them to connect devices running either Firefox Mobile or Firefox OS to the desktop browser and view them in a separate Developer Tools window of their own.

Do Not Track
Firefox implemented the 'Do Not Track' functionality a while back, making it an opt-in feature. The feature now includes three different options for how websites can (or can not) track you. You can tell sites to not track you, explicitly tell them they can track you, or hide your tracking preferences from websites altogether.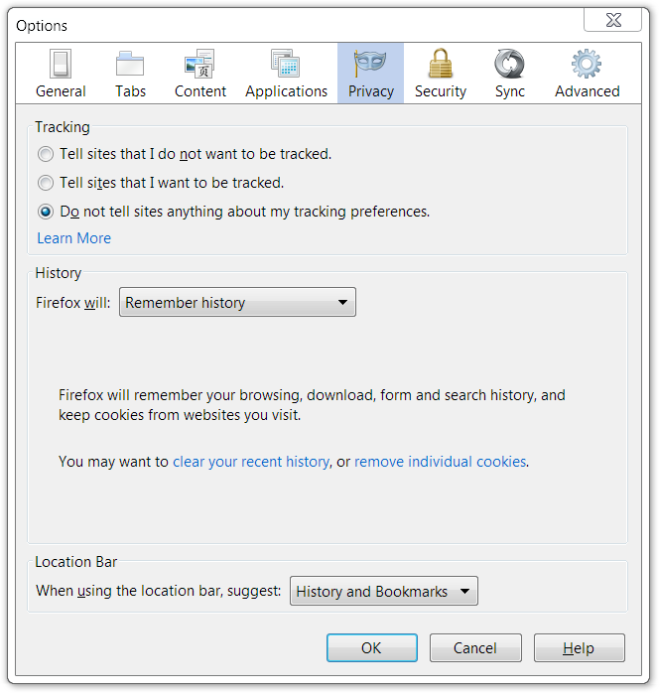 Firefox Health Report
We reviewed about:addons-memory a while back; it's a Firefox add-on that shows you how much memory is being used by the add-ons you've installed. It's a great feature that will help you determine just why your browser is running slow. Firefox has added a new feature called the 'Firefox Health Report' and it collects data on how well your browser is doing. The report can be enabled under Options > Advanced > Data Choices.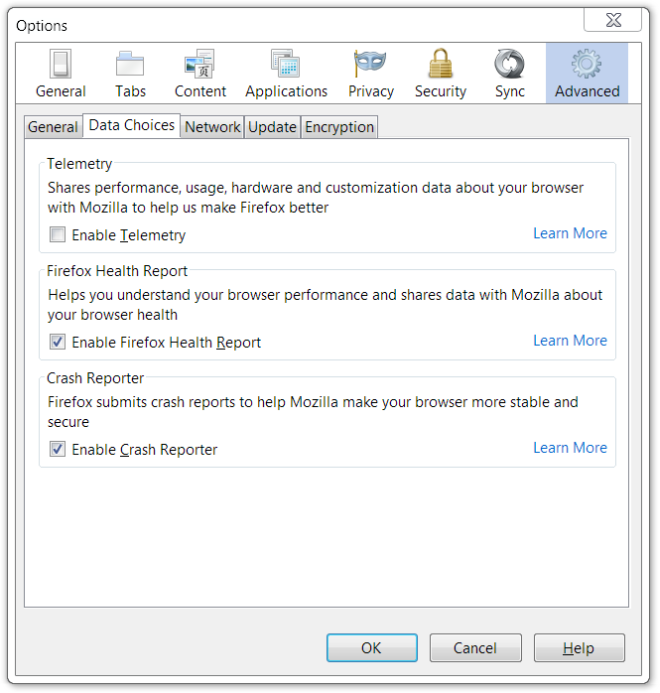 You can view a summary of the data collected by typing about:healthreport in the URL bar.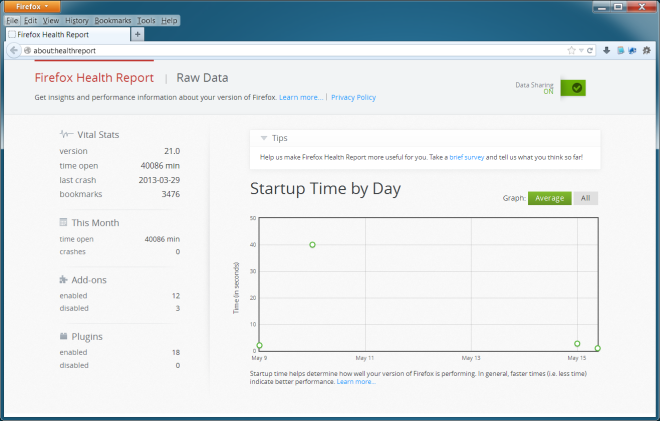 Improve Startup Time
Should Firefox detect that it's taking too long to startup, it will now prompt you and suggest improvements for speeding it up. The feature judges the startup time based on the average startup time for the last five instances when Firefox was launched. If you're not seeing any prompt about it, it means on average, Firefox is starting as fast as it normally does.
Support For More Networks In Firefox Social
Firefox's social API, which allowed users to view updates and send & receive messages from their Facebook friends, has now been expanded to include other networks, though unfortunately, Twitter is not one of them. These new networks that it now supports are Cliqz, Mixi (Japan only), and msnNow. You can visit their respective pages to enable them in your browser. To avoid compromising a lot of your screen real estate, the feature will let you view updates from a only single network at once. You can easily switch between the networks by clicking the navigation bar icon.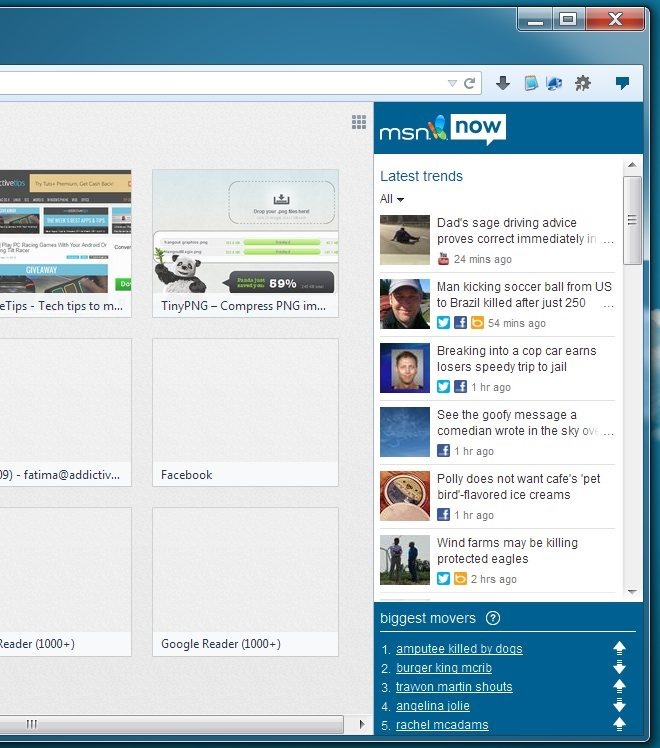 Undo Remove Thumbnail From Firefox Speed Dial
Firefox 13 introduced speed dial a little late in the game, but it allowed many of us to stop relying on add-ons for the purpose. We say the feature was late in coming because Chrome, Firefox's major rival in the browser wars, has had it for a really long time, while Opera has had it for even longer (being the browser to introduce it). The feature was pretty basic upon its debut but in Firefox 21, there has been a small but useful improvement. You can now bring back a thumbnail that you've accidentally removed from the speed dial, or removed without thinking much and decided after removal that you want to keep it. The notification that lets you undo the removal disappears after a few seconds, so you have to decide quickly.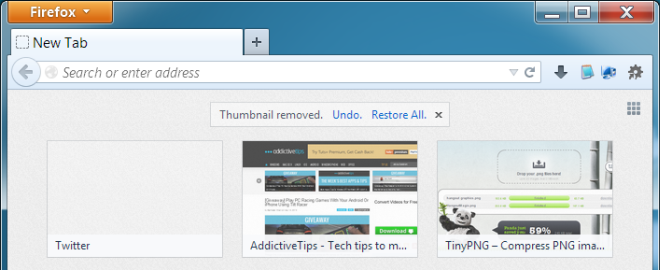 Profiling Remote Targets
Developers can rejoice because as always, this update brings something for them as well! With the new Remote Profiling feature, developers will find it easier to remotely profile devices running either Mobile Firefox or Firefox OS. To enable it, go to about:config and set the value of 'devtools.debugger.remote-enabled' to 'true'. You will have to restart your browser for the change to take effect. Under 'Web Developer' you will now find a new 'Connect' option. Connect your device and you're good to go. Just ensure that you've enabled 'Remote Debugging' on your device and check the relevant documentation from Firefox if you aren't sure how to get it to work for you.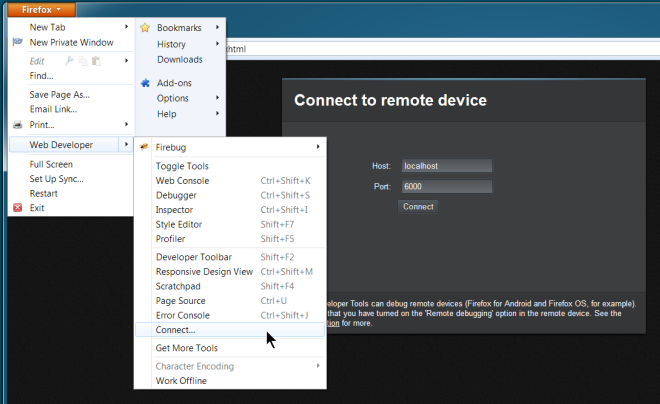 Feature-wise, Firefox 21 is quite a welcome update. Developers have other features to look forward to as well, like the implementation of API libraries, and support for two new HTML5 elements. Overall, the new version is worth upgrading to especially for the sake of Health Report.