How To Clear History For The Current Tab In Firefox
Firefox lets you remove individual entries from your browsing history. It also lets you clean your browsing history for the last one, two, or four hours, or the previous day. You can also clear your history and purge all entries from it. The thing is, our browsing history is useful. We might want to keep some of our history private, but removing it all at once would make for a poorer browsing experience. Forget Tab is a Firefox add-on that can delete your browsing history for the current tab. You need only click the add-on's button to clean the current tab's history.
Forget Tab adds a paint brush button on the Firefox toolbar. When it is blue, it means the current tab has history stored. Click it to clean all entries added to your browsing history from the current tab.

Once clean, the button turns green.

The add-on also gives you a desktop alert and lists the items/links that have been removed from your history. Your history is otherwise left in tact.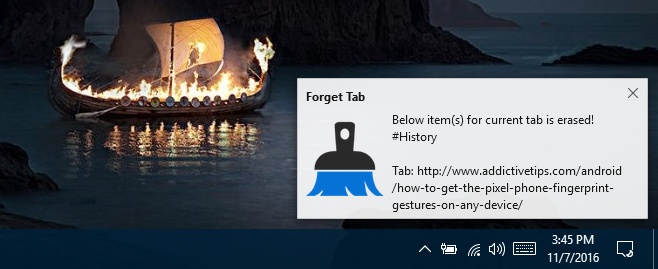 Forget Tab is useful when you don't necessarily need to or want to open an incognito tab but would nevertheless like to scrub a particular set of links from your history.
Forget Tab only scrubs your browsing history and nothing else. If during the course of your visit to a particular website, you filled out a form, or signed into a domain, your session will not be closed when your browsing history is deleted and your form information may be added to auto-fill.
If you've enabled Firefox sync, and history is one of the items you have enabled, the add-on will not prevent history from the tab being synced to other devices. It's likely history from the current tab has already synced to other devices by the time you delete it.
Install Forget Tab For Firefox