How To Send Downloads From Firefox To An External App
Modern browsers have basic download managers built into them. They may not be feature rich but they get the job done. That said, people often use dedicated download manager apps as opposed to the built in download manager in their browser. If you use Firefox to browser the web but prefer to use a different app to handle downloads, Download with is a free Firefox add-on you should check out. It lets you send any download to your preferred app from the 'Save' prompt. You can send the download to a download manager, a torrent client, or even a different browser like Chrome.
Install Download With and go to the add-on's options. In the 'Menu Label' field, enter the name of the app you want to send the downloads to. This will make it easy for you to identify the app.
In the 'Executable file' field, select the EXE file of the app you want to use. In the screenshot below, we decided to route downloads through Chrome so Chrome.exe was selected. Make sure you use the correct file path.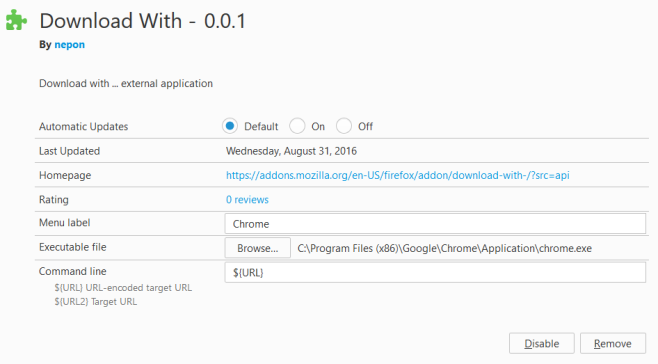 To use Download With, click a download button and wait for the save prompt to appear. It will ask you if you want to open or save the file. Select the 'Download with [your app name]' box, and click 'Save File'. The download will begin in the app you specified. To begin the download faster, have the app you intend to use for downloading open before sending a download to it.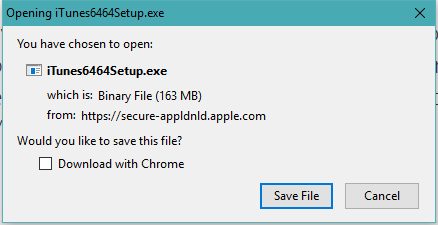 Download With works really well. It can only support one app at a time i.e. you cannot have multiple apps appear in the save prompt. You can however have multiple downloads in progress if the app you selected supports multiple downloads.
Download With saves you the trouble of finding the download link for a file and manually adding it to your preferred download manager app.
Install Download With For Firefox