How To Snooze Tabs In Firefox
Mozilla develops experimental features for Firefox. A user running the stable version of Firefox can test these experimental features out by installing the Test Pilot add-on. A new experimental feature called Snooze tabs has been added via the Test Pilot add-on and it lets you postpone when you browse a tab. A snoozed tab is a tab that you can dismiss until later. You can select a time and date for when the tab will open next. Here's how you can snooze tabs in Firefox.
Install Test Pilot Add-On
To snooze tabs in Firefox, you need to install the Test Pilot add-on and then enable the Snooze Tabs feature. Visit the link at the bottom to install the add-on. Follow this link to enable Snooze Tabs.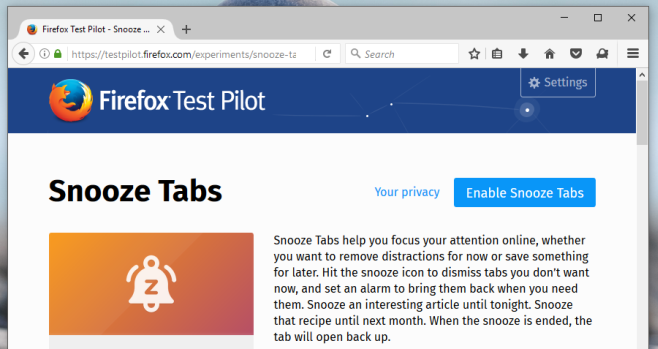 Snooze Tabs
When enabled, Snooze Tabs adds a bell icon next to the URL bar. When you click this button, a menu listing snooze times for the current tab opens. You have six options to choose from; later that same day, tomorrow, the weekend, next week, next month, or whenever you next open Firefox. For each option, you can select a time and date. Click the Day and time next to an option to select them. If you click the title of the option, e.g., This Weekend, the snooze time will be set to the default time for that option.
Click Snooze when you're done. A confirmation alert will appear at the top of the page. Click 'Ok' on the alert to snooze the tab. The tab will close automatically after that.

You can review the tabs you snoozed from the bell icon. Click it and click the 'Manage snoozed tabs' option at the bottom. The Managing Snooze Tabs menu shows the tabs you've snoozed and how long you've set the snooze time for. If you hover the mouse over a snoozed tab, a delete option will appear.
Install Test Pilot For Firefox