Improve The Way Firefox Opens, Closes & Orders Tabs With Tab Deque
All of us felt excited when tabbed browsing first emerged in early web browsers like the Firefox, which revolutionized the way we surf the complex world wide web of connected information, resources, and ideas. Since then, tabbed browsing has become pretty much a standard way of browsing websites on both mobile devices and desktop computers, although Firefox still has one of the most intuitive tabbed interfaces. We've covered a ton of Firefox add-ons that further improve this feature one way or the other. Supertab, for example, brings Windows' Alt + Tab-like switching to Firefox tabs, allowing you to quickly switch between tabs using the keyboard. tabPreLoader is another handy add-on that loads all Firefox tabs on restart instead of just the active one. In this post, we're going to be discussing Tab Deque. Join us after the break to see how this extension can improve your tabbed browsing experience.
Inspired from the 'Activate the last active tab' feature in Opera 12, Tab Deque modifies the default opening and closing behavior of tabs in Firefox. For instance, by default, every new tab opens to the right of all opened tabs; Tab Deque allows you to open a new tab right next to the one you're currently viewing. Additionally, you can swiftly move back and forth between two tabs by clicking one of the two and quickly minimize any tab with a keyboard shortcut.
All you have to do is install the add-on to your browser and Tab Deque handles the rest; no additional setup is needed.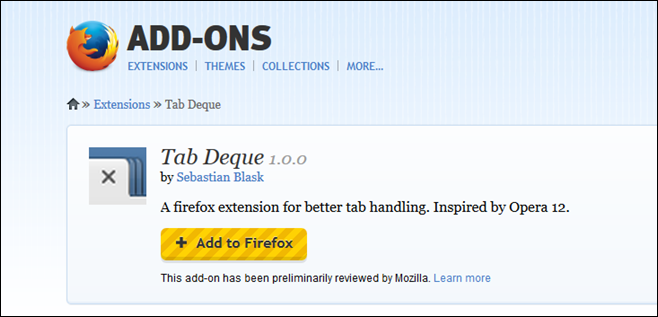 As stated on the extension's page, it makes the following modifications to the way Firefox orders tabs:
When you close the current tab, it opens the next tab from the end of the deque (double-ended que).
Selecting a tab will move it to the end of the deque.
When you open a tab in the background it is added at the beginning of the que, that is, it will be selected after all others have been closed or minimized.
When you open a tab in the foreground, the new tab is selected right away.
Whether opened in the foreground or background, the new tab is opened right next to the current one.
If you click the currently selected tab, it will be minimized and removed from your deque, that is, it will not be selected unless you do it manually.
If all tabs are minimized, you're shown the default Firefox homepage.
Tab Deque is available at the Mozilla Add-on repository absolutely for free. You can use the link below to download it to your web browser.