Locationbar³ Makes Each Segment In A URL Clickable [Firefox]
Firefox users may be familiar with an old add-on called Locationbar2. When installed, it linkified the URL in the location bar so that it worked much like the address bar in Windows explorer. Unfortunately, due to the many version updates and the need for add-ons to be made compatible with newer versions of Firefox, LocationBar2 no longer plays nice with some of the later Firefox versions and it hasn't been updated since early 2011. Locationbar³ is a forked and updated version of that very same add-on that turns every segment of the address in the URL bar into a clickable link.
Install the add-on, restart Firefox and visit any web page of your choice. Press the Ctrl key and hold the mouse cursor over a segment of the URL (you can try it with this page you're reading) and you'll see that the segment has become clickable. The modifier keys work such that if you press the Ctrl key and then click a segment, the page will open in a new active tab. If you press the Shift key, the new page opens in a new window. If you press the Alt key, the new page opens in the same tab.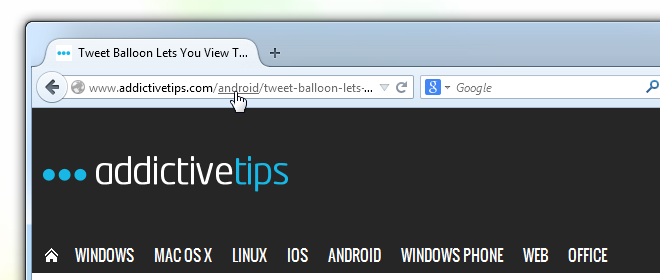 You need only press the modifier key once and the URL will be transformed with each segment being a clickable one. It remains clickable for a second before returning to its normal state. Locationbar³'s preferences let you hide the protocol (http or https) in the URL bar, and also let you enable a new behaviour for selecting the address i.e. double clicking it. You can disable select on single click. Segment selection is enabled when you press one of the modifier keys but you can enable trigger spots at the top or the bottom of the location bar's edge. When you move your mouse over the trigger spot, each segment in the URL becomes clickable briefly. Enabling the trigger spots doesn't overwrite the modifier key functions so you can still use them to make the segments clickable.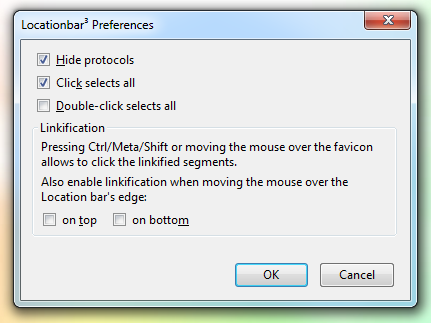 The add-on makes navigation to different sections of a website easier; it's basically like having breadcrumbs for every single website you visit. You may not need the functionality on a simpler website but it can be helpful when you're visiting online forums which may be a little trickier to navigate. For Chrome users, NavigUp is somewhat similar in functionality but far from the same thing.
Install Locationbar³ for Firefox