New Features In Firefox 39 For Desktop And Android
Firefox 39 rolled out a few days ago and it's exceptionally underwhelming as far as features go. If you're a fan of the recently introduced chat service 'Hello' you might have reason to rejoice. The new update lets you share a link to a conversation over social media. Android users might be a little happier though. The highlight of Firefox 39 for Android is the ability to paste items from Firefox's clipboard into editable web fields like search bars or forms. Apart from that, there's the introduction of 'SafeBrowsing' which checks files for malware before you download them. For developers, the highlight of Firefox 39 for desktop is that the web console now stores input history even after you close the toolbox.

Firefox Desktop
Share Hello Link
When you click the Hello bubble to initiate a conversation, the pop-up window features a newly added 'Share link' button that lets you share the link to the conversation over social media. You will first be asked to activate the social networks you want to share the link to but that's easy enough. You can add them by visiting this link.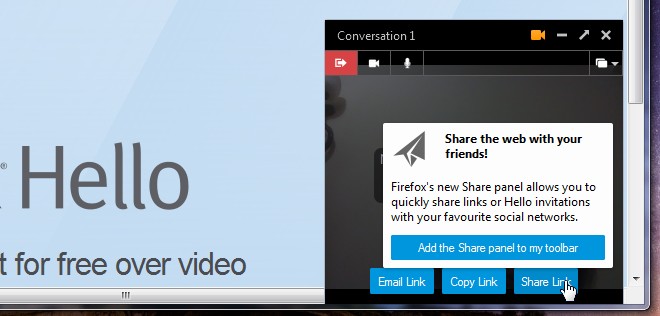 SafeBrowsing
SafeBrowsing is a security protocol that keeps us safe from malicious downloads. The feature was already available on Windows but has now been enabled on OS X and Linux. It's essentially a good thing but at times it does mistakenly identify files as being malicious when they aren't.
Firefox Android
Paste Android Clipboard Content
Firefox lets you copy content from a web page and paste it in editable web content. This might be anything like a form field, a search bar as shown below, or the compose box of Gmail. I'll be honest, I had no idea Firefox didn't allow this before but apparently it didn't. This will most likely benefit web app users.
Incomplete Download Fix
Prior to Firefox 39, if you initiated a download that later failed, Firefox would treat it as a successful download and notify you of the same. Firefox 39 fixes that.
As stated earlier, this isn't a very ground-breaking version of Firefox but when you're on a rapid release cycle you can't expect every new version to be a list of amazing features. You can read the release notes for the desktop and Android version to learn what else is new.
Download Firefox 39 For The Desktop
Download Firefox From The Google Play Store