New Features In Firefox 41 For Desktop And Android
Firefox 41 has hit the stable channel and there are quite a few changes for end users. the update has the usual security fixes and a few new things for developers but it's the features that have rolled out for end users that are the highlight. A few versions ago, Firefox introduced Hello, a built-in tool for voice and video conversations and it lacked an IM option for anyone who might be using a slow connection. With Firefox 41, an IM option has not been integrated in Firefox Hello. Additionally, users can set a profile picture for their Firefox account. It's not going to be visible anywhere inside the browser unless you to the Options page but it is there and will probably help users on other Mozilla platforms and forums. For Android; the login manager has improved somewhat. Users can search for and select login information if it fails to correctly fill automatically, and they can edit the stored login information if it is saved incorrectly. Lastly, when typing a search into the search bar, users can select on the fly which service they want to search with.

Firefox Desktop
IM In Firefox Hello
When you start a conversation in Firefox Hello, an input field at the very bottom will allow you to send text messages and they will appear below the live camera feed. The UI needs work and it seems to be a bit buggy since the IM option doesn't always appear and you have to leave and return to a conversation to get it back.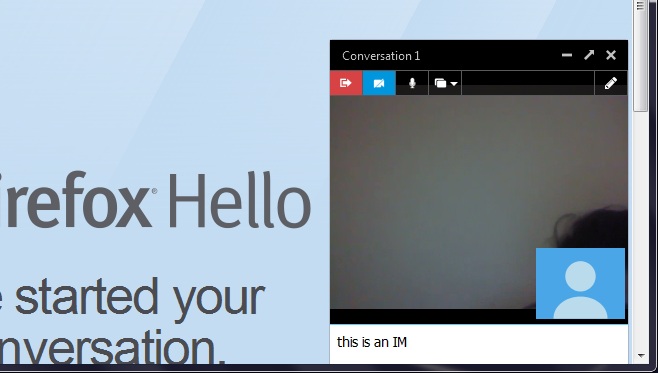 Set Firefox Profile Picture
Click the hamburger icon at the top right of the Firefox browser window and click your account (or sign in if you aren't signed in). Clicking your account will take you to about:preferences#sync where you can tap on the empty profile image area and upload an image, or take on with your webcam, or import it from Gavatar. You will be able to scale and rotate the image.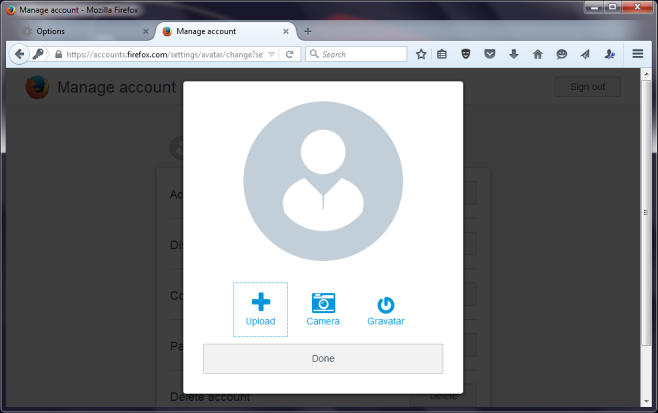 Here's what it looks like once it's been set;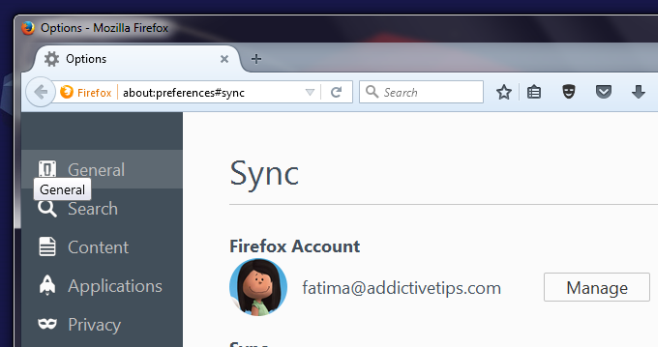 Firefox Android
Manually Search Login Information
This is something that has existed on desktop browsers for ages where you can choose on the fly what autofill information to add to a field. It's handy because websites often fail to correctly identify form fields in a way that browsers can read them and fill them in. This lets you choose from the available information what you want to fill in.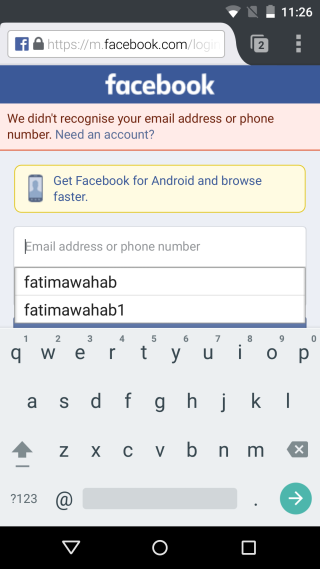 Select Search Provider From The Search Panel
As you type in something to search in the search bar, you will be able to see all the search engines you've added to Firefox and by tapping on one of them, your search query will be sent to that provider. It's easier than first switching to the search provider of choice, and then making the search.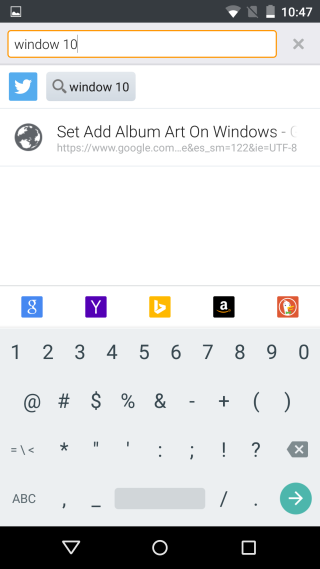 There are of course plenty of other features in this version such as a swipe-to-close function for tabs open in Firefox but it's only available on Android tablets. You can read the complete release notes for Firefox for Desktop and Firefox for Android to learn more.
Download Firefox 41 For Desktop
Download Firefox From The Google Play Store