Clean Up Google Music Removes All Suggestion Cards From Google Music [Firefox]
Google Music, without a doubt, is one of the more popular services introduced by Google. The music manager alone is excellent though some users may not like the web interface as much. Google Music for web has a nice card like interface that's become a popular design theme across many of its apps and services but the cards that appear aren't just for albums and songs in your personal library. They include suggested playlists, suggested music cards, and the I'm Feeling Lucky Mix button. Clean Up Google Music is a Firefox add-on that can clean up most of the suggested content you see in Google Music and lets you select what cards you see and what you don't.
Here's a quick look at the before;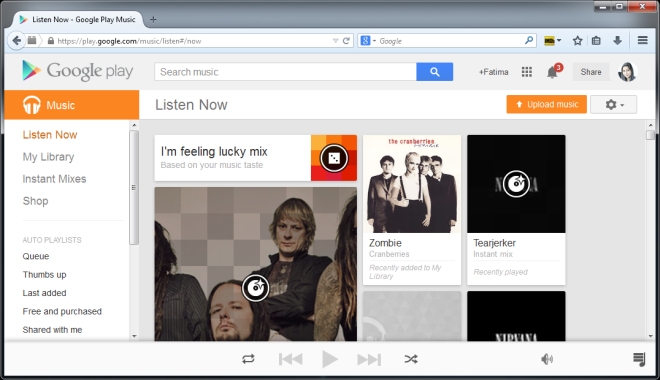 The I'm feeling lucky mix button is obvious in the above screenshot. Other suggestion cards that Google Music adds includes playlist and music suggestions. Install Clean Up Google Music and refresh the page in your browser. By default, the add-on will remove instant auto-mix cards, suggested genres, suggested albums, suggested artists, and it will shrink the size of the cards you see. To hide the I'm feeling lucky mix button, and playlist suggestions, or enable the cards that the add-on has hidden by default, got to its settings. If you're using Firefox 29, click the new three bar options button and then click the Add-On button.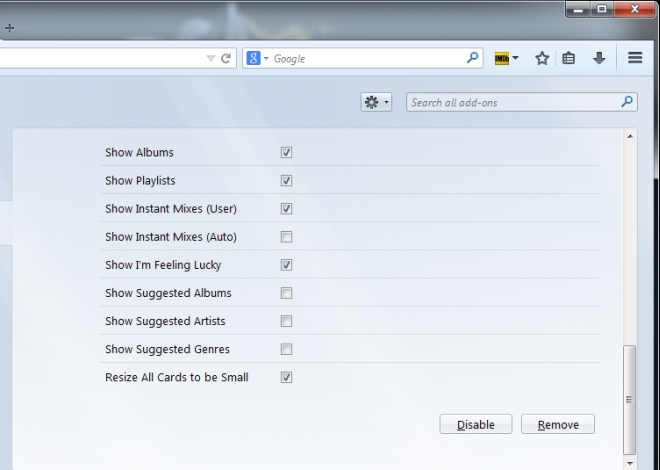 Enabling or disabling a card type is as simple as checking or unchecking an option box. The add-on is restartless but any changes you make will require you refresh Google Music in your browser for them to take effect.
For the most part, Clean Up Google Music can rid you of Google Music's suggestion but there is still some content that the add-on does not remove. For example, any all all free music available from Google will continue to show up. In summary, the add-on will clean up most of the suggestions you see in Google Music though it seems that more artist suggestions seem to load with the other suggestion types hidden. The developer might want to include options for hiding these suggestions in future updates. Alternatively, and assuming it isn't possible to hide the free music cards, the cards could be filtered so that albums in our personal library appear at the top and the suggestions appear at the bottom below them, well out of sight.
Install Clean Up Google Music For Firefox