Schedule Firefox Downloads To Start & Pause At Set Times
A great thing about torrents is that you can suspend and resume them at will. This allows you to download at off-peak hours but unfortunately, the same can't be done for all downloads, and what you have to do instead is to start the download at off-peak hours. Download Scheduler is a Firefox add-on that lets you schedule several different downloads to start at different times of your choice and automatically pause them at a specified time as well. If the servers you are downloading from don't support resuming downloads, this add-on won't save you in the event that you internet connection fails, but it will still allow downloads to commence without you having to initiate them at the right time.
Download Scheduler adds a 'Schedule Link As…' option to the right-click context menu. To schedule a download, simply right-click the download link or button and select the schedule option from the context menu. The add-on will ask you where you want to save the file, and what name you want it to start downloading.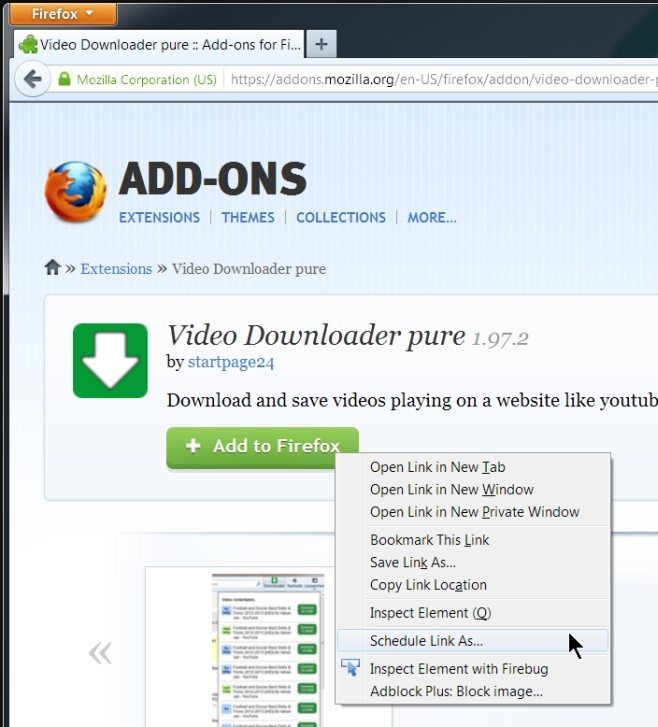 To set the time for the download to start, go to the Add-on Manager and open Download Scheduler's options. Under the 'Start time' field, select when you want to schedule the download. This will apply to all downloads that have already been scheduled. If you change the time and schedule another download, it will start at the new time, whereas any previously scheduled downloads will still begin at their set times. The 'Pause time' field lets you select a time when all downloads will be paused. This is useful so that you don't continue to download during peak hours, especially if your ISP enforces a data limit during those times. Unfortunately, there is no manual resuming option, though the downloads should automatically resume upon hitting their start times again.
Download Scheduler works as it's supposed but it is rough around the edges. What Firefox users might find particularly annoying is the fact that these downloads do not go through the Firefox Download Manager. When you schedule the download, a zero KB file appears on your desktop with the name and file icon to match its type. Once the download is complete, the file shows its real size, but you can't really follow download progress , and there doesn't seem to be a way to cancel the download either, unless you close your browser. Thish also means downloads can't be cancelled selectively. The Taskbar icon does show progress for total downloads so again, you get an aggregate overview instead of an individual one. It's likely this can be resolved if the developer were to route downloads through the download manager.
Install Download Scheduler for Firefox
[via Ghacks]