Search Selected Text On Major Websites From Firefox Right-Click Menu
Did you know that surfing the internet is a great way to achieve flow? That happens when you're so engrossed in your browsing experience that you're all but lost to what's happening around. Agreed, most of us feel guilty about being hooked online for hours on end and learning little more than that a certain celebrity had lived in her car, or that a cat dialed 911. Still, despite its addictions, browsing can be quite the meditative experience, and one way to make it even more so is to make it less visible. With Yet Another Context Search for Firefox, you can search for highlighted text right from your context menu, without the distraction of having to open a new tab and entering your search query there.
Visit the add-on's page from the link at the bottom to install Yet Another Context Search. Once it has been installed, just highlight a portion of text and, from the right-click context menu, click 'Search Google for <the text you selected>' to search for it on Google. Alternatively, you can choose one of the different available search engines from the submenu as well. The extension offers all the options available in Firefox's native search menu.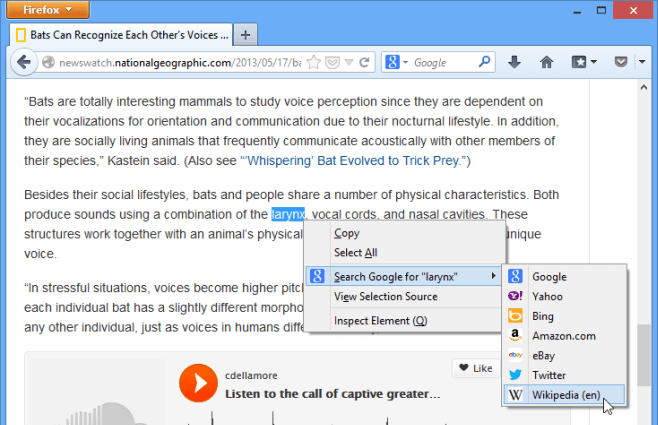 I'm doing a search for the term 'larynx.' As you can see in the screenshot above, I'm spoilt for choice for which search engine to go with. If I choose 'Wikipedia' from the list, the Wikipedia entry for 'Larynx' will open in a new background tab. To open the search in a foreground tab, i.e. bring its tab into focus, click your mouse's middle button instead.
Another interesting feature about the add-on is that the context menu reflects any changes you've made to your search engines in the current session. In other words, if you use Wikipedia for your searches more often, 'Search Google for…' will change to Search Wikipedia for…' in the context-menu. This sensitivity to quicker access gives the little add-on a boost in its quest to shorten search time.
Yet Another Context Search works on Firefox 20.0 or higher. It's definitely a handy little tool to have and if you need a bit of a diversification in the available search engines, you can simply edit the list by clicking the drop-down arrow in the search box found in the URL bar, and clicking 'Manage Search Engines…'.
Get Yet Another Context Search from Firefox Add-ons