Supertab Brings Windows' Alt+Tab-Like Visual Tab Switching To Firefox
If you're like me who constantly faces the need to quickly switch between open desktop files and program windows, then you're likely aware of the Alt + Tab hotkey combination. It is one of the best productivity shortcuts for keyboard junkies like me who can't be bothered to reach for the mouse and move the cursor to the Window's Taskbar button, or minimize the active windows for the purpose – just press the two keys on your keyboard, and Windows immediately shifts focus to the next in line program, or the one highlighted by the user upon repeatedly pressing Tab while keeping Alt pressed. Now imagine if you were given the same functionality for switching between tabs in Firefox. Sounds cool, right? Supertab is small Firefox ad-on that brings this feature to Mozilla's web browser, allowing you to switch between tabs in a similar, Alt+Tab-like visual manner by pressing Ctrl + Tab. Details after the jump.
Using Supertab is super easy as well. Just install the extension to your browser via the link provided at the end of this post. By default, pressing Ctrl+Tab in modern browsers including Firefox switching to the next tab without bringing up any visual list. With the extension installed though, pressing the Ctrl + Tab  and combination brings up a small panel allowing you to select another tab that you wish to open. The list of opened tabs is provided as small menu in the center of your screen and when you let go of the tab key, Supertab switches to the highlighted tab.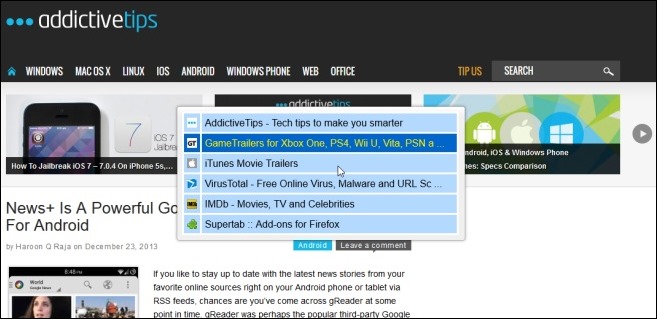 You can also swap the hotkey combination from the default Ctrl + Tab to Alt + Tab if you wish, from Supertab's options screen. To do that, click Options under Supertab from the Add-ons page, and look for the section labelled Trigger Key Combination. Besides modifying the hotkey combination, you can also tweak a couple of other options here, such as setting the maximum tab of tabs to track for each window, and set the extension to focus on the last used tab upon closing a tab. Changes are applied automatically, so you won't need to click any Apply button or restart the web browser.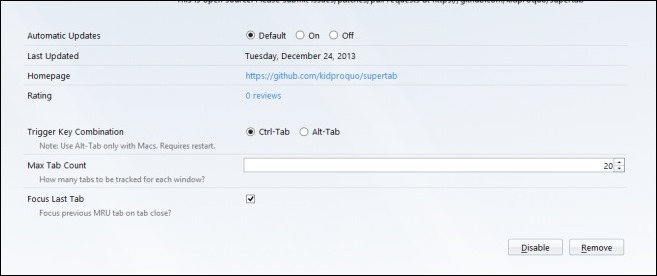 In a nutshell, if you were looking for a way to visually switch Firefox tabs in a method similar to Alt + Tab on Windows, give Supetab  a try.