Tab Groups Helper Makes Tab Management In Firefox More Accessible
The Tab Groups feature of Firefox is a pretty smart way of managing multiple tabs. But the major shortcoming that it suffers with is that the tab groups can only be displayed in a separate interface as small thumbnails. Moreover, Mozilla's open source web browser is not very flexible when its comes to customizing these groups. You can quickly access Tab Groups via Ctrl + Shift + E hotkey shortcut. Or via an on screen button which only appears when you have so many tabs opened. If you work with a lot of tabs, love Firefox's tab grouping but want to bring it directly to the forefront of any webpage, try Tab Groups Helper, which, instead of relying on two interfaces, presents tab groups in an overlaid window.
Once installed, there are two different methods you can employ to use it. One is to manually add its button to the address bar button by clicking Menu > Customize > Add on in Firefox, and then dragging its button to your desired place on toolbar. The second method is much more easier and handy. Simply right-click any tab, and you will see Tab Groups Helper in context menu. From here, you can easily switch between your tab groups on the fly, as well as quickly view or manage your groups in a forefront window.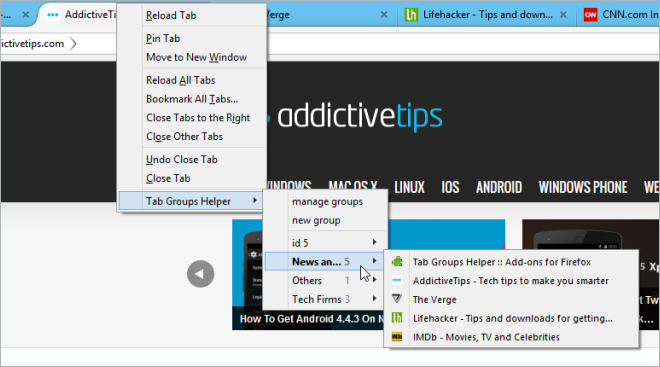 When you click 'Manage groups' or 'show all groups', Tab Groups helper displays all your existing tab groups and the tabs open in that group. The good bit is that it displays the tabs as text accompanied by their favicons, letting you instantly identify which tab or tab group you need to open. The add on also displays total count of tabs in each group. A simple drag and drop allows you to create new groups out of existing tabs. Likewise, tabs can also be moved from one group to the other by dragging & dropping. Existing groups can also be renamed anytime.
Tab Groups Helper also carries a search bar which lets you find a particular tab across all the groups. In case you need to remove a tab from a tab group, simply click the X button next to its name.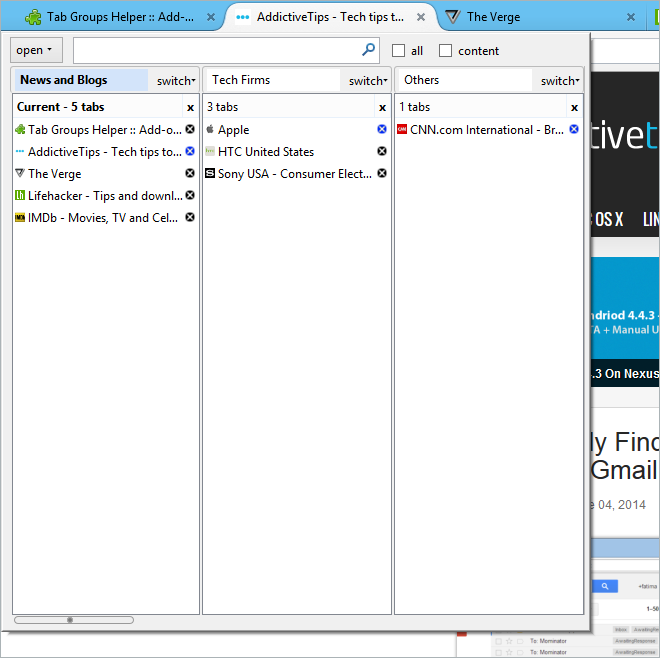 You can also customize the appearance of group previews and menus of Tab Group via its Options. The pertaining settings can be found under the General tab. Other than that the add-on lets you toggle some additional parameters according to your liking, for instance, you can specify total tab group menus in one panel. Additionally, you can also activate the option to bookmark all items in a group under the Bookmarking tab.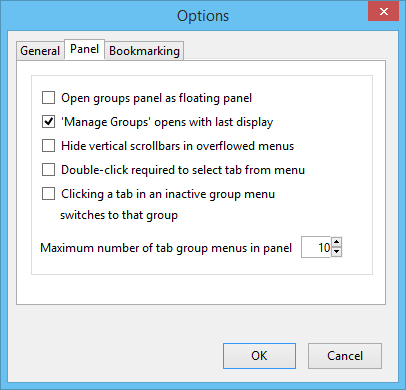 Although, we have covered a ton of tab extensions in the past, Tab Groups Helper stands out from the crowed. It simply provides a much more convenient way of managing tab groups without switching between two different interfaces.
Install Tab Groups Helper for Firefox