Unblock Hulu & Pandora Access With Media Hint For Chrome & Firefox
Some of the best online services are restricted to select locations. If you don't live in the right part of the world, you are barred access to web services like Pandora and Hulu, which make for a great online radio and TV experience respectively. The workaround for most people in this case is to use a proxy that unblocks websites that restrict their viewers geographically, or that have been restricted by court ruling within a country. The only problem with proxies is that, with time, they start to stream slowly when the servers can't handle the influx of users and insert ads on websites that normally don't have them. A Virtual Private Network (VPN) might give you better results, but only if you have a paid plan. Free VPN services are limited on bandwidth, and as their usability is spread across all internet traffic, they tend to slow everything down. Media Hint is a proxy service with a dedicated Firefox add-on and Chrome extension meant to unblock Hulu and Pandora only.
The extensions/add-on is only available on the Media Hint website. If you use Firefox, that shouldn't be a problem since Mozilla doesn't differentiate between add-ons from unknown sources and those from its repository. Chrome is a different story, though not a complicated one. Once the extension is downloaded, Chrome will prompt you that it cannot be installed from the website. All you need to do is open the 'Extensions' page and drag & drop the downloaded file on it. Installation barely takes five seconds, and you are ready to watch TV shows or listen to music.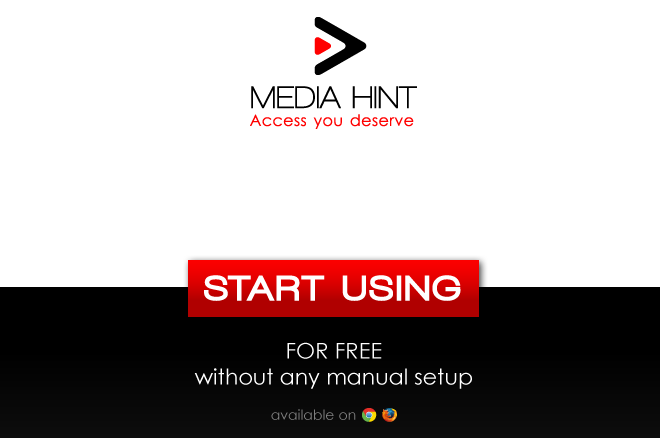 Media Hint is definitely a proxy, but as mentioned earlier, it appears to work differently than most others. What it appears to do is fool these two particular websites into thinking that you're sending requests from another IP, but it doesn't change your IP for all other internet traffic.
We tested both Pandora and Hulu with Media Hint enabled, and observed excellent speeds for both video and audio streaming. There were no hiccups and other websites did not seem to slow down in any way. We tried accessing a few websites blocked as per government regulations, but they remained inaccessible.
Media Hint and its browser extensions are available for free on its website, a link to which has been provided below.
Download Media Hint For Chrome & Firefox